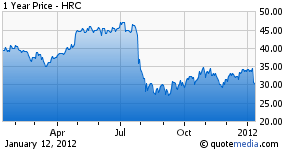 If you're going to run a boring business in med-tech, you had better run it well or nobody will care about the stock. Hill-Rom (HRC) is undoubtedly in a boring business (hospital beds, movement products, surfaces, and so on), but the execution has been more mixed. Margins here are broadly inferior to many other durable equipment companies and the company has lost some of its strangle-hold on the market to Stryker (SYK). With management giving a disappointing early look at first quarter numbers and trimming full-year expectations, Hill-Rom's stock may be on its back for a little while.
Fiscal First Quarter Earnings Following A Trend
Hill-Rom announced late Tuesday that results for the first quarter were going to come in short of Wall Street expectations. Revenue apparently came in at about $381 million, matching the low end of the analyst range and representing just 2% constant currency growth. Earnings are also going to miss, with the company expecting $0.52 or $0.53 instead of the average estimate of $0.55.
Perhaps this should not have been a complete surprise. Analyst expectations had been trimmed multiple times in the past few weeks and months. Although this is not a perfect predictor by any means, more often than not it points to companies with weakening operating performance.
Durable Hospital Equipment – What's The Story?
Is Hill-Rom's performance a sign of deeper problems in the hospital durable equipment space? On first blush, it doesn't seem so. Granted, CareFusion (CFN) recently warned about its quarter as well, but suggested that its equipment business (pumps, dispensing systems, and respiratory) was pretty solid and it was the disposables that were weak. Likewise, in Stryker's early announcement it was the MedSurg business (which includes durable products like hospital beds) that was strongest and Intuitive Surgical (ISRG) continues to place its very expensive robots in hospitals with relatively little difficulty.
A Timing Problem? A Europe Problem?
Although Hill-Rom did trim its growth assumption for fiscal 2012 only slightly, 3-4% constant currency growth is not especially exciting. What's more, management seems to think that performance could be weighted more towards the second half of the year. That's not so different from the expectations out there for ZOLL Medical (ZOLL) – a very different business, yes, but one still largely in the business of durable medical equipment (defibrillators). Perhaps the idea is that hospitals are being conservative early in 2012 and taking a wait-and-see approach as to whether patient volumes and capital budgets will improve. It has happened before, so it's not unreasonable.
Europe may be a more intractable issue for Hill-Rom in the short-run. International sales fell 7% in constant currency terms and would have been down double-digits without including some deals. Unfortunately, it doesn't seem that Europe is going to turn around quickly. Healthcare is largely funded by national governments in Europe and spending has been pared back significantly in many cases. In times like these, it seems reasonable to think that hospitals will do what they must to make older equipment last, reallocate funds to more mission-critical products, and look to substitute with cheaper alternatives.
A Longer-Term Issue Of Performance
Hospital capital budgets have yet to really rebound in a big way, but Hill-Rom has plenty of years of experience in dealing with the ups and downs of the market. The biggest problems with Hill-Rom may in fact be quite company-specific.
While Hill-Rom once held 90% of the U.S. hospital bed market, Stryker has chipped that down to about 70% of the installed base and somewhere in the 60%'s of new orders. While some analysts believe that Hill-Rom might reassert itself as Stryker focuses more on the higher-margin neurovascular business it acquired from Boston Scientific (BSX), I wouldn't make that bet. One of Homer Stryker's more notable inventions was the Circo-Lectric hospital bed and Styker has long been involved in this market. What's more, Stryker doesn't really have a reputation for orphaning its own businesses.
Also troubling is Hill-Rom's relative poor margin structure. Compared to a broad range of durable equipment makers including CareFusion and Baxter (BAX), Hill-Rom does relatively poorly in terms of gross margin and operating margin. Some of this is certainly due to the poor profits of the international business, but it's still an issue.
The Bottom Line
Not unlike tech stocks, low-growth medical equipment companies are often overlooked, ignored, or otherwise left on the shelf by institutional investors and their stocks don't carry especially robust valuations. Although Hill-Rom does indeed have unimpressive topline growth (and little expectation of major acceleration), it at least has margin leverage possibilities if management can improve the international business and present-day returns on capital aren't bad.
With assumptions of just 3-4% revenue growth and slight improvements in free cash flow generation resulting in about 6% FCF CAGR over the next decade, these shares look undervalued by more than 30%. That makes it cheap enough to merit watching, but investors should not expect a big rebound as Wall Street is likely to take a "show me" attitude and migrate towards cleaner 2012 growth stories.
Disclosure: I have no positions in any stocks mentioned, and no plans to initiate any positions within the next 72 hours.