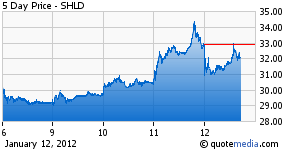 After its huge profit warning, Sears (NASDAQ:SHLD) now seems trapped in a death spiral. Its stores are losing customers because of a lack of investment over the years, and although Sears now sees the need to make up for that investment, a couple of factors are gathering that will make it hard for Sears to have the money to do so, or even to keep funding its activity.
Short term borrowings of $2 billion
Not only is Sears making no money presently and suffering plunging earnings estimates, but its balance sheet from October 31st showed $2 billion in short term borrowings. Those won't be easy to refinance, although Sears might try to make some money by wholesale liquidating of the 120 stores it said it would be closing.
Suppliers losing financing
Already there are signs that suppliers are losing financing when selling to Sears, CIT today announced it wouldn't be financing Sears's suppliers. This will probably be followed by similar moves by other financials, which could quickly put Sears into a "cash only" arrangement with suppliers that would be impossible to manage for a company of Sears' size. If even part of the $4.5 billion in merchandise payables goes this route, Sears will have to file Chapter 11.
Chapter 11 pattern
If Sears does file Chapter 11, which seems increasingly likely, care should be taken to explore the same post-bankruptcy pattern that took place in AMR Group (AAMRQ.PK) and many well-known other bankruptcies, as Sears does fit the mold explained in my articles "Surprised By AMR Going Up?" and "Prepare To Buy Kodak".
Conclusion
Events are unfolding in a way that short term liquidity needs at Sears are greatly increasing the chance of a near-term bankruptcy.
Disclosure: I have no positions in any stocks mentioned, and no plans to initiate any positions within the next 72 hours.