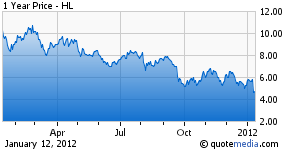 Hecla Mining Company (NYSE:HL), the largest silver producer in the U.S., is a company that I've been considering investing in for some time. After yesterday's sell off in which it fell by more than 20%, though, I'm left feeling particularly bullish on the stock.
Hecla fell on news that one of its mines would be shut down. As such, the company revised its estimate for silver production in 2012 from 9.5 million ounces to 7 million ounces -- a reduction of over 26%. The stock price fell about 20% on the news, although it is worth noting that silver rallied above $30 during this time as well.
Here are my quick thoughts on how Hecla could fit into a portfolio at this time:
1. At the very least, I think there is a dead cat bounce opportunity, in which a quick rally occurs after such a huge drop before the next leg down. If this is true, it probably will have occurred by the time you are reading this article. So there is a day trading opportunity here, although that is not what I am interested in -- I only mention it to outline the possibilities.
2. Hecla's book value is just over $1.1 billion according to its latest quarterly report, and its market capitalization is currently at approximately $1.3 billion -- resulting in a price-to-book ratio of about 1.18. Compared to other similar stocks -- like Silvercorp (NYSE:SVM), a silver mining company with a market capitalization of around 1.24 billion and, like Hecla, has positive earnings and issues dividends -- HL is looking quite underpriced; SVM has a P/B ratio of slightly over 4.
3. Financially, Hecla is still enjoying positive earnings, issuing dividends, and has a P/E ratio of under 12. Coupled with virtually no debt or short-term liabilities (the firm's current assets are more than double their current liabilities), I believe the company is well-positioned to endure a setback like the shutdown of one of its mines.
Last but certainly not least is the price of silver, which has been looking particularly robust of late. Silver's excessive volatility has led me to favor dividend-yielding silver mining stocks -- like Hecla -- relative to the actual bullion in many regards, but either way, a strong silver price portends higher dividends and a higher share price for Hecla, which has already committed to pegging its dividend to the price of silver. I believe we've seen a near-term bottom in gold at $1520 and will be off and running to $2,000 and beyond this year -- and that gold will take silver with it. The only question is whether we see the gold/silver ratio collapse and silver takes off at an even faster rate than gold. I'm not sure if that will occur and don't plan on it, but if it does, Hecla and other silver mining stocks will likely enjoy an even greater upside.
Disclosure: I am long SVM.