I do not want to be labeled a resister.
As such, I enrolled my basic options strategy eBook in the company's Kindle Lending Library program. Amazon.com (NASDAQ:AMZN) allows Kindle users to borrow a book a month with no due dates. The company issued a press release today, touting the success of the program:
Click to enlarge

Because I pay attention to financial media more than anything else, my perception likely gets skewed. It would appear, according to a sizable gaggle of AMZN bears, that the underlying company is a complete and utter mess that can only, eventually, fade to oblivion.
AMZN bears will come around, though. That emotional angst they feel. There's a name for it. Cognitive dissonance. In the face of news clipping after news clipping illustrating Amazon's path to world domination, the bears still find a way to make the leap from near-term and temporary pressure to a long-term Netflix (NASDAQ:NFLX)-like death spiral.
If you look hard enough, however, you can always find somebody to step in and restore sanity to the conversation. Of course, those who have the capacity to take a clear-headed step back from the noise tend to take a big picture view of a situation. That's exactly what Launch's Jason Calacanis did when he argued that Amazon's Prime program sits "at a tipping point":
Click to enlarge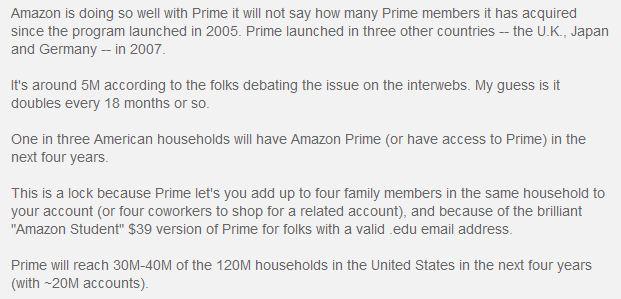 While his whole argument wreaks of cogent excellence, the following four sentences nicely outline Calacanis's thesis:
When you take the $79 leap into Prime, Amazon has you for life.
Prime gives you the joy of consumption without the pain of acquisition.
If you're part of the cult, brands like Netflix, UPS, USPS, Paypal, Wal-Mart, iTunes, Barnes & Noble, iPad, HTC, Target, Targus, Logitech, Best Buy, Dell, Belkin, Random House, Harper Collins are all becoming meaningless.
These are brands that will, in the near future, be largely if not completely replaced by the Amazon brand.
While I generally urge caution when connecting love for a company's products and services (see, e.g., Netflix) with a bullish stance on its stock, Amazon, along with companies like Apple (NASDAQ:AAPL) and Google (NASDAQ:GOOG), represent an exception.
Calacanis did not use the word, but ubiquity can, at least partially, sum up why he's so excited about Amazon's prospects. When I assess an investment, I look for three themes:
Click to enlarge

Diversity of and synergy between multiple revenue streams
If you don't subscribe to Prime or go long AMZN, that's fine. That's your choice. We all make them. However, if you don't submit to the aforementioned three points, they should be waiting for you at Bellevue with their oxygen masks.
If Prime is at a tipping point, Amazon is ready to officially take over the world. Because of near-term pressure (the result of Amazon spending more than normal to reinvest in its business), I've been calling AAPL, not AMZN the appropriate near-term trade since December. With a post-earnings pullback in AAPL a real possibility and Amazon ready to turn the corner into the next leg of its strategic vision, the time to go long AMZN might come sooner rather than later.
Disclosure: I am long AAPL.
Additional disclosure: I am long NFLX June $40 put options.