I've noticed Canadian diversified minerals giant Teck Resources (NYSE:TCK) has been putting in a floor these past few months.
Teck Resources is best known as one of the top producers of metallurgical or "met coal" used as a carbon source in steel making.
I talked about met coal a year ago when discussing the Queensland floods and Australian producer MacArthur Coal, which I mentioned as a likely buyout candidate. Subsequently, MacArthur was bought out by Peabody Energy (BTU). You can see the December 30, 2011, interview here.
At the time, I thought Teck trading at more than $60 CDN was overvalued and over-hyped. It went into a steady decline during 2011. But recently, Teck has climbed back above its 50 and 100 day moving averages. The 200 day average is at $42.76 CDN or $43.23 U.S.
Teck Class B subordinate voting shares (the main issue with 581.5 million outstanding) trade actively on both the TSX and the NYSE. There are also 9.34 million closely held Class A voting shares.
Click to enlarge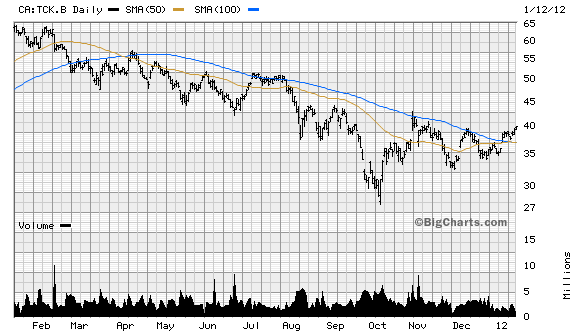 Click to enlarge
Teck Resources currently is No. 17 in the S&P/TSX 60 index by market cap and is a go-to holding for index funds.
If you want a diversified play on met coal, copper, zinc, gold, molybdenum and oil sands, Teck seems reasonable. We've been buying TCK.B this week and again today at $39.60-80 CDN.
Teck and peer Freeport McMoran (NYSE:FCX) are following copper and gold prices, which are both up today. February copper is up 3% to $3.65/lb. February gold us up $14.20 to $1,653.80/oz.
The ECB has indirectly supported the debt rollovers of Italy, Spain and other peripheral nations. The ECB lent three-year money to European banks and the banks are probably big participants in today's successful Italian and Spanish short-term debt auctions. The euro has rallied today, supporting USD priced global commodities.
The ECB has avoided the moniker of "lender of last resort" while achieving the same, in substance.
Therefore, inflationary forces should hold sway for the near-term.
On January 9, Teck announced they were taking over Silverbirch, a partner in the Frontier and Equinox oil sands plays, for $453 million in cash.
Teck had $4.5 billion in available cash as of September 30, 2012. Teck had bought back 4.84 million Class B shares (0.83%) during November and December, as of January 5, 2012. The short position totaled 9.0 million shares on the TSX and the NYSE on December 30.
Given I have not fully reviewed Teck Resources, this is a technical stock trade and is based on today's inflationary action continuing on.
My short-term target for Teck Resources is in the low $40s CDN.
Disclosure: I am long TCK.