Let's check in on the vital retail sales report for December to gain some insight into the direction of the U.S. economy as well as which areas might be worth investing in. As I always say, this report gives you the most important data on the U.S. economy, and that is consumer spending. Consumer spending makes up almost 70% of the U.S. economy, so small changes in this purchasing adds up to big changes overall.
This month was mildly positive, clocking in at a meager +0.1% over last month, but removing autos and gas, the report was flat at ±0.0%. While this number is far from exciting, take into account that both November and October were revised up and seasonal adjustments often make for a hard to read month.
Apparently, consumers did a lot of early Christmas shopping this year, and then eased off in December. Every year since the recovery began, there has been a holiday stare down contest between retails and consumers as each side tries to wait out the other on the way to December 25th. This year, retailers were looking to low inventories to keep their profits up. However, yet again, consumers won the day as retailers ended up discounting pretty heavily, especially for anything related with cold weather, which has just not been forthcoming this year at all.
Let's look at some individual numbers now, and discuss what this means for your investments, and we'll summarize some conclusions at the end.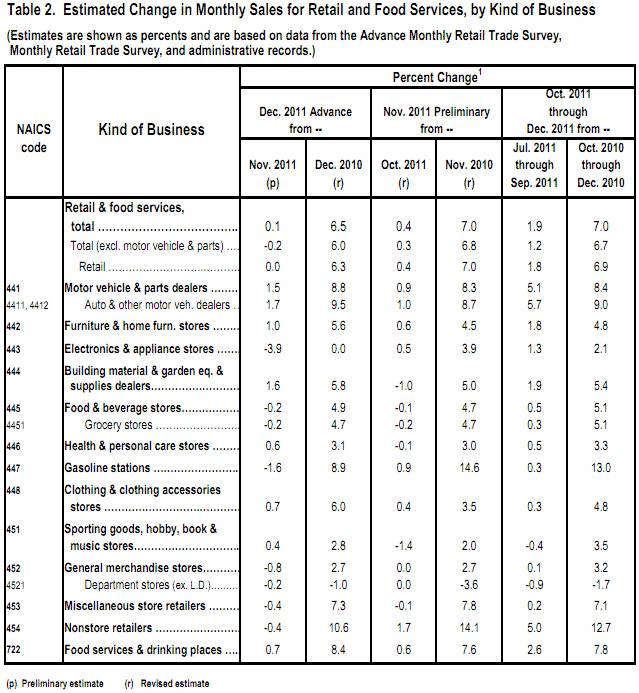 Click to enlarge
The most obvious news is gasoline stations declining by -1.6%. This usually bodes well for the economy, and explains part of the low overall sales increase. Even the year over year number, which has been in the teens and even 20s this year, came down to a more realistic +8.9%. So far this month, gas has recovered somewhat, and oil is pushing the $100 danger zone. Earlier this year in April, I concluded that the economy really started feeling the oil pinch at around $110/barrel, although the economy is stronger now. We need to watch this number, even though it is benign enough for now. Investor note: Despite fairly low valuations, energy stocks have rallied significantly, especially large caps like Exxon (NYSE:XOM) and Chevron (NYSE:CVX). It''s probably better to hold off and see if the crisis with Iran blows over before adding or initiating positions. Hess (NYSE:HES) still looks like a great opportunity to me though.
The other notable number is electronics falling -3.9%. This volatility has been caused by Apple's (NASDAQ:AAPL) iPhone 4S, which had been selling like hotcakes the previous two months. This month, the number seems to be going back to its pre-4S doldrums. Investor note: Apple has rallied significantly since I recommended it two months ago due to a rush of iPhone sales. It's better to hold here and ascertain the quarter from the report.
There are only a few more things to go over, and two of them are my two favorite retail sales investment ideas for several months running.
Construction continues to rebound as seen in building materials' +1.6% monthly and +5.6% yearly increases. This is very exciting for the U.S. economy and employment, as construction is a large driver of growth and jobs. Investor note: I'm still sticking with steel. Nucor (NYSE:NUE) and even U.S. Steel (NYSE:X) should benefit from a construction rebound, and with residential multi-family continuing to expand, I'm still sticking with Home Depot (NYSE:HD), which has been an excellent performer.
Autos, coming in at +1.7%, also continues to gain, as I have expected. This has been a great trend through the second half of the year, and yet many auto makers stocks still haven't taken off. Autos sales still have a long way to run toward cyclical highs,and at this point, autos and related industries are still my number one investment theme. Investor note: GM (NYSE:GM) and Ford (NYSE:F) continue to have valuations that could make one cry, although both have risen 20% recently. Johnson Controls (NYSE:JCI) is an interesting one as well, being tied to batteries and new auto technologies. Miners are finally heating up, and Alcoa (NYSE:AA) turned in a strong revenue report. Palladium in Stillwater Mining (NYSE:SWC) is another possibility.
The strangest number came out of non-store retailers, which has been a complete monster all year, finally declining by -0.4%. This was a big surprise to me, but the trend is still very strong at +10.4% for the year.
Food fell slightly, down -0.2%, but this continues a leveling of food prices.
Finally, with most areas of little interest this report, it's always worth watching a great economic leading indicator in restaurants, and that turned in a healthy performance at +0.7%. A good number here always lends itself well to consumer confidence.
Overall this report was somewhat disappointing, given the early Christmas rush and excitement. Obviously, consumers are still exercising caution when it comes to spending. Still, strong auto recoveries and upward revisions to previous months, as well as falling gas expenditures, make this report better than it appears on the surface. Let's keep a cautious but optimistic eye on the numbers moving into the new year, and next month we'll see how sales are holding up post Christmas and with gas prices rebounding somewhat.