A stock that I have been bullish on since December and starting out the beginning of 2012 with a little over a 5.5% gain is General Electric (NYSE:GE). General Electric is a Dow 30 member and a conglomerate that is made up of technical, service and industrial components. If investors are bullish on the U.S. economy, seeing improving conditions in the financial sector and forecasting industrial growth for 2012 then General Electric may be the stock for you. Investing in a conglomerate can have its advantages and disadvantages. Some of the disadvantages include layers of management, slower stock price movement and to understanding the many sections to GE's business. Advantages are one segment performing and one segment slightly underperforming; being diversified can help in a declining market to increase shareholder value. General Electric has three major components: Industrial, financial and technological. If you believe the Dow going higher on continued strength from the industrial, financial and technology sectors then here's my case for going bullish on General Electric.
1) General Electric is outperforming the S&P on a 10 day, 1 month and 3 month basis. General Electric is starting out the New Year with a 5.71% gain compared to the S&P gain of 3.23% In one month General Electric is up 14.61% compared to the S&P gain of 4.02% gain. Lastly in three months General Electric is up 16.91% compared to the S&P gain of 7.94%
2) General Electric is above their 50, 100 and 200 day moving averages.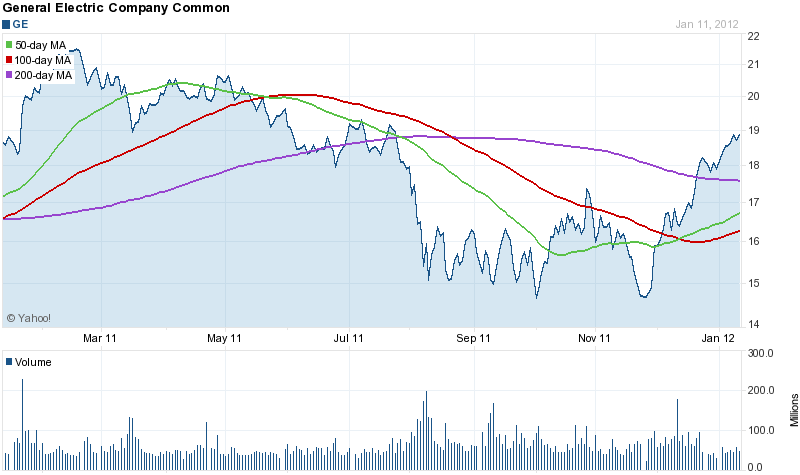 Click to enlarge
(Click to enlarge)
3) Look for continued growth in aviation and healthcare sectors in General Electric. Both of these components for General Electric are expected to make gains on a year over year basis.
4) General Electric's capital segment is showing positive signs of growth on a year over year basis.
5) For 2012, I'm looking for General Electric to sway away from large acquisitions and focus on their core businesses.
Weather investors went bullish on call options or bought stock, ever sense 11/28/2011 General Electric has been going higher. While the current run-up might caution investors, I believe General Electric still has some more room to the upside. General Electric reports earnings on January 20, 2012 and is expected to earn 0.38 per share. Except for Q3 of 2011, General Electric has exceeded consensus estimates their last 8 quarters.
My short term target on General Electric is 19.53 and my long term view on General Electric is 20. Recently Credit Suisse increased estimates on General Electric through 2013.
When it comes to options there are a variety of strategies that investors can employ. Two option plays that I would like to present are buying in the money call options and using a vertical call spread.
Trade 1:
If you're bullish on General Electric and expect the momentum to continue heading into earnings then buying ITM calls on General Electric may be the way to go. I prefer ITM calls as opposed to OTM calls because of a lower breakeven price needed to achieve profit. I currently bought the April 17 calls on General Electric for 1.99. Take 17 + 1.99 and this equals 18.99 the breakeven point. The April 17 calls are currently going for 2.17. I am looking for General Electric to get to 19 and hold or move higher from here before earnings. I don't like betting on earnings plays, so if the stock continues to make gains I will be looking to take profit before earnings. The most I can lose on this trade is 199 dollars per contract, but there are no limits to the upside. Don't expect this to be a grand slam trade, just looking to capture small movements in the stock using call options. So far since January 4, 2012 the 17 calls have held above 1.99.
Trade 2:
If you're feeling bullish on General Electric, but want some protection using a bullish vertical call spread can be another good option strategy on General Electric. Investors can look at doing an April 18/20 vertical call spread for about 1.00. Currently the April 18 calls are going for 1.45 and you can sell the April 20's for .45 making this a debit for 1.00. Investors who just own calls and want to hold, can also look to sell calls which would take (trade one above) into a vertical call spread. Taking 18 + 1.00 and this equals 19 the breakeven point. This trade offers a 1:1 payout and can be figured out easily by taking (20-18=2) take 2 and subtract this from what you paid (1) and this equals 1.00 of max profit. As with trade one above I would look to take profits if General Electric gets in the mid-19 range.
Sometimes playing upside momentum can be challenging, but knowing where you want to enter and exit a trade is an important factor when using options. If investors are expecting a stalling or small selloff on General Electric shares, making these types of trades mentioned above may be the better move after earnings. Thanks for reading, Good Luck!
Disclosure: I am long GE. Currently own April 17 calls on General Electric