In June of last year, I wrote about RBS preferreds and an opportunity with the preferreds that currently have suspended dividends – Royal Bank of Scotland Value Play.
I was early: the shares tanked in tandem with the common and the European gyrations.
But others have picked up on this idea, including Vivian Lewis the editor of Global Investing Newsletter, and the Series RBS pr M, N, P, Q, R, S, and T are up 20% this year. Series RBS pr E, G, and I, which have dividend suspensions until April 2013, are up 21% YTD.
UBS, JP Morgan Chase, Standard & Poor's and Morningstar all have Buy recommendations on RBS common. The Buy recommendations focus on the progress that the bank is making in divesting itself of non-core assets, but none of these address the political risk that the UK government may throw a curve at the bank's intent to resume dividends as early as March 30, 2012.
If the bank resumes dividends on schedule, and using a dividend yield of 8%, which is comparable to other like-rated preferreds, the Series S could see a target price of $20 - $21.
click to enlarge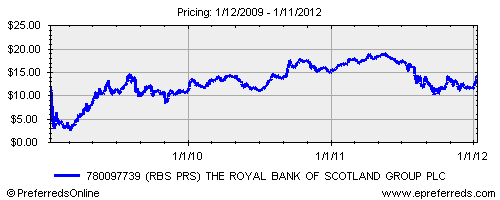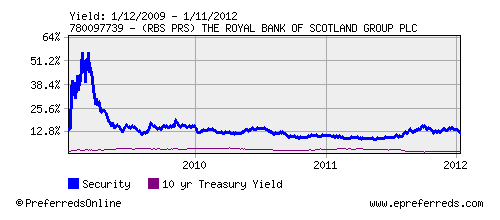 Disclosure: I have no positions in any stocks mentioned, and no plans to initiate any positions within the next 72 hours.
Additional disclosure: I own RBS series Q and R.