Retirees focused on generating yield from their savings have sought dividend-paying U.S. equities as short-term rates remain at ultra-low levels. Retirees should focus on high-quality U.S. equities during this uncertain market environment. Due to a weak economic environment and stubbornly high unemployment levels, interest rates will likely remain low well into 2013.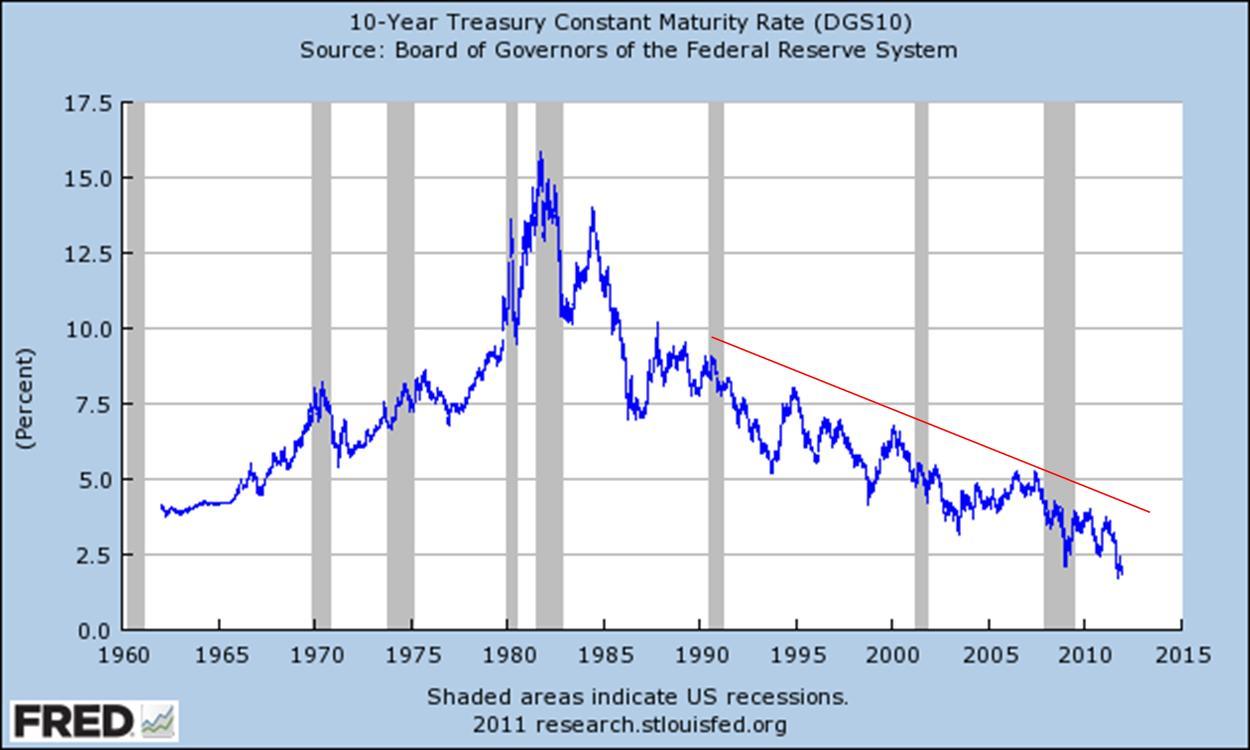 With the 10-year U.S. treasury below 2.0%, equity market investors can find yields in high-quality, large-capitalization companies at relatively modest valuations.
When seeking out long-term dividend stock holdings, I look for equities with strong and durable business models and strong margins at decent valuations. Strong EBITDA margins point to the value proposition of the company. Companies with EBITDA in the single digits point to low value add business models. Below is a list of high-quality equities that investors should contemplate for their portfolios for the next decade.
AT&T Inc. (NYSE:T) – telecom
Dividend Yield: 5.9%
EBITDA Margins: 31%
Price to Earnings: 15.2x
Market Capitalization: $178.8 billion
The company operates an entrenched business model with millions of residential and commercial customers. Its strong dividend and low leverage make T a strong pick.
Duke Energy Corporation (NYSE:DUK) – utilities
Dividend Yield: 4.6%
EBITDA Margins: 34%
Price to Earnings: 15.6x
Market Capitalization: $28.6 billion
The company operates as a regulated utility, providing a stable source of earnings. The company has pricing power and its rate growth should provide earnings growth.
Altria Group, Inc. (NYSE:MO) – tobacco
Dividend Yield: 5.5%
EBITDA Margins: 41%
Price to Earnings: 17.7x
Market Capitalization: $62.0 billion
MO is a cash cow that provides investors a strong dividend yield in a low growth, yet stable market. MO is a market leader in the U.S. tobacco market with nearly 50% market share.
Yum! Brands, Inc. (NYSE:YUM) – food
Dividend Ratio: 1.9%
EBITDA Margins: 21%
Price to Earnings: 22.9x
Market Capitalization: $26.9 billion
YUM provides investors access to higher growth markets including China, Indonesia, Malaysia, Vietnam, and India. Management has done a good job returning cash to shareholders through buybacks and dividends.
ConocoPhillips (NYSE:COP) – oil and gas
Dividend Ratio: 3.6%
EBITDA Margins: 14%
Price to Earnings: 9.5x
Market Capitalization: $96.7 billion
COP has ownership in various transportation assets including pipelines, which offer stable cash flow.
Eli Lilly and Company (NYSE:LLY) – pharma
Dividend Ratio: 4.7%
EBITDA Margins: 33%
Price to Earnings: 10.0x
Market Capitalization: $48.4 billion
LLY has a pipeline of drugs that provides strong cash flow and healthy dividends.
Disclosure: I am long MO, COP.