Beating the Market Using Momentum as a Filter
On Jul 30, 2009, we published a column on Seeking Alpha titled, "Discipline: The Key to Successful Investing," which highlighted methods we apply in order to to screen for rewarding investment opportunities. One of these tools involves tracking daily new high data in attempt to find cheap companies that offer both timely value and growth propositions. This momentum approach was the core of our very successful investment strategy in the early years of our company (for about 10 years).
Many investors are hesitant to embrace this approach, equating value with price as opposed to traditional valuation measures like P/E and EBITDA ratios. Ultimately, we are searching for value at any price, and it's a plus if a potential candidate is timely. Tracking new highs is a way to let the market come to you and tell you what it thinks is hot even when dealing with uncertain markets. It is then our job to determine what few stocks on this screen will offer superior investment returns.
This approach is what led us to buy Cpi Aerostructures (NYSEMKT:CVU) and Orchids Paper (NYSEMKT:TIS) in the depths of the 2008 global economic crisis. See TIS GeoBargain Notes and our assessment of CVU based on a past conference call in January 2010. We also wrote about both of these companies on SA in the past (CVU, TIS) Both companies have given healthy returns to investors, ultimately at least doubling in value. So as always, we urge investors to have an open mind so they can ask themselves what the new daily high lists are placing on their plates right now.
The market is clearly telling us that it is excited about stocks that are befitting from the mini energy exploration boom taking place in the U.S. Several articles have begun to highlight this explosive undercurrent. (See SA article, "Shale Oil is the New Energy Boom in the US" and Wall Street Journal online article, "Oil-Drilling Boom Under Way.")
Just look at the following list of stocks and their respective charts that are involved in offering services ranging anywhere from fracking to equipment providers that have been popping up on new high screens. Shown below are recent 12-month highs.
Flotek Industries (NYSE:FTK) - Fracking (extraction) Services
FTK 1-year chart: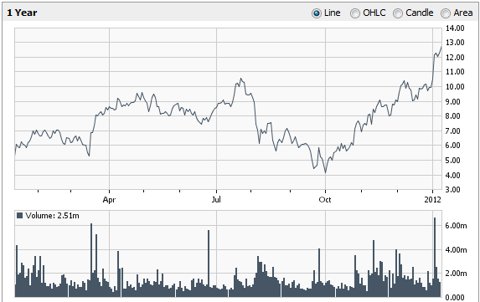 Mitcham Industries (NASDAQ:MIND) - Equipment
MIND 1-year chart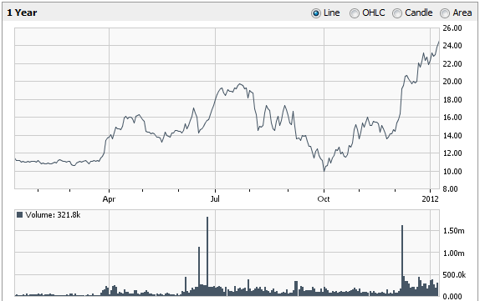 Provident Energy (PVX) - Infrasctruture and Marketing
PVX 1-yr chart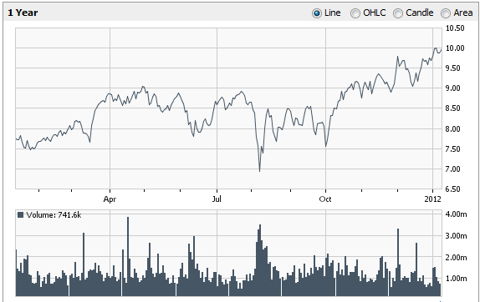 Newpark Resources (NYSE:NR) - Fluids management, waste disposal, and well site preparation
NR 1-yr chart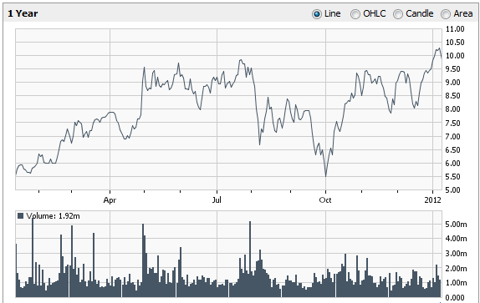 Recent 3-month high
Manitex Intl (NASDAQ:MNTX) - Equipment
MNTX 1-yr chart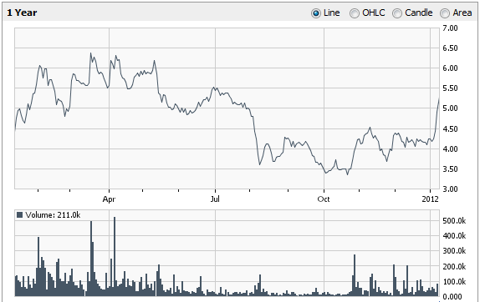 Analyst estimates for FTK, MIND, NR and MNTX all indicate that superior EPS growth is in the cards for the next three quarters (including the December 2011 quarter). There are no estimates for PVX but it has logged impressive EPS growth for the last several quarters.
We are most intrigued by MNTX and MIND which we believe offer compelling growth + value plays. Both sell at P/Es of 10 or less times 2012 EPS estimates and are projected to grow 2012 EPS at least 61% and 35%, respectively. We are still delving into the fundamentals of the MNTX story, but the stock appears ready for a technical break out and may soon flirt with its 52-week high of $6.76 if it can convincingly break through $5.00. We recently gave MNTX our top GeoBargain designation.
Now on to Titan International (NYSE:TWI), one of our current GeoBargains.
In light of the above, what follows is our assessment of the TWI story. It's a company not yet on any new high screens, fully entrenched in the earthmoving market that should be an immediate and direct beneficiary of the energy exploration boom. We predict it will reach its 52-week high of $31.42 during 2012.
On December 22, we coded TWI as a GeoBargin @ $18.99.
Titan International, Inc., a holding company, owns subsidiaries that supply wheels, tires and assemblies for off-highway equipment used in agricultural, earthmoving/construction and consumer (including all-terrain vehicles) applications.
Data ended 1/10/2012. All calculations are based on non-gaap numbers, adjusted for non operating/cash gains and or charges.
Price = $21.28
Trailing EPS = $1.30
EPS Estimates = $2.25
P/E based on Fully-Taxed Trailing EPS = 16.3
P/E based on EPS estimate = 9.45
Criteria Check List
TWI Meets 5 out of 10 of our most important GeoBargain® requirements:
Requirement
Comments
Recent 52-week High(generally within 3 months)
Must Reach $31.42
Strong EPS Growth Rate
As of 3rd Quarter 2010
> 30% EPS Growth Rate a

3rd Qtr. 2011 EPS increased 164%

Full year 2012 estimates implies an EPS growth rate of 54%

GeoPowerRanking (NYSEMKT:GPR); Number of consecutive quarters that EPS is expected to grow at least 30%.
5
10% Revenue Growth

3rd Qtr. 2011 revenue increased 79%.
Full year 2012 estimates implies a revenue growth rate of 25%

Strong Operating Cash Flow and Balance Sheet
As of 3rd Qtr 2011
Yes
Positive Cash Flow

18.9 million for 3rd Qtr 2011

No
Debt to Equity Ratio less than 20%
107%
Yes
Current Ratio is at least 2:1
2.9:1
No
Days in receivables < 90. This shows that the company converts its account receivables to cash within 90 days. (measure of liquidity)
144
Return on Equity is at least 15%
Tracking 18.1%
Minimum Pre-tax Operating Margins of 8%
8.0% as of nine months ended Sept. 30th 2011

10.2% on 2012 analyst pre-tax income estimate.

Preferably Under 50 Million Shares
52.9 Million shares as of 3rd Qtr. 2011
High Insider Ownership (generally greater than 15%)
4.5% as of November 2011
Limited Institutional Ownership (generally less than 20%)
Greater then 20%
P/E Divided by Growth Rate (PEG Ratio) is Less Than 1.
0.30
Additional factors to consider in analysis
Effective Internal Controls: No
Need to raise equity capital: No
Reasons for Optimism
We believe the 2012 company revenue guidance of $1.7 to $1.9 billion is conservative and does not include possible acquisitions. Comments from the December 9, 2011 press release:

We exit the year with much optimism for what lies ahead for ag, construction and earthmoving business ...

There are catalysts that may drive these ranges higher. If the necessary equipment is installed at the respective facilities by September 2012, sales could exceed $2 billion. The 2012 forecast does not include any anticipated acquisitions.

We also believe guidance does not take into account any revenue from its recent acquisition of Goodyear Tire & Rubber's (NYSE:GT) Latin American farm tire business that was consummated on April 1, 2011 .
Favorable industry outlook for earthmoving/mining segment. Through its earthmoving equipment division, the company has positioned itself to be a direct beneficiary of the energy exploration boom currently occurring in the U.S.

Ryan Dezember and Matt Day of The Wall Street Journal state: "Oil-drilling activity in the U.S. has accelerated to a pace not seen in a generation as energy companies, oilfield contractors and landowners rush to exploit newly profitable sources of crude."

From a Seeking Alpha article by David Fessler: "A September report from the U.S. National Petroleum Council (NYSE:NPC) said that U.S. shale oil reserves are "proving to be much larger than previously thought." The NPC indicated that shale oil production could rise to as much as three million barrels per day "depending on access to new plays and continued technology development."

Business plan is not only targeted toward achieving organic growth, but will continue to lean on strategic acquisitions. We are particularly excited about the recent acquisition of the Goodyear Tire & Rubber Latin American farm tire business. During its involvement in this industry segment, Goodyear's market share significantly declined. Being involved in this market was not in Goodyear's wheelhouse. We believe TWI's market expertise in the agricultural industry will allow it to recapture lost market share and put idle manufacturing capacity to work. The company is currently awaiting license approval to operate in Brazil.
Competitive advantage/barriers to entry. Plenty of excess capacity to meet demand, which means its CAPEX needs will not pose liquidity constraints, especially compared to weaker competitors or new entrants into its market. TWI is the only U.S. manufacture to offer both tires and wheels to the earthmoving construction industry.
Bullish conference call. From the 12/13/2011 conference call CEO Maurice Taylor states revenue guidance of $1.7 to $1.9 billion for 2012 is conservative and says "Back orders are 2 to 2.5 times larger then they have ever been" and states "we are having a record year and next year will be even bigger".
GeoTeam overall subjective/confidence comfort level: Pertains to the ability of a company to achieve solid and consistent EPS growth over the next several quarters (from 1 to 10): 7
Potential Valuation Scenarios if the company can achieve its EPS growth goals
Short-Term Potential value based on fully taxed adjusted trailing EPS
P/E 20 * $1.30 = $26.00
P/E 25 * $1.30 = $32.50
Short-term Potential value based on 2012 EPS estimate
P/E 15 * $2.25 = $33.75
Valuation scenarios are not intended to be investment advice, but are scenarios based on some commonly used investment guidelines. They are provided to aid investors in making their own investment decisions.
Caveats:
Missed third quarter 2011 EPS estimate (yet still logged in nice EPS growth).
In theory, a decrease in energy related commodity prices could lead to less exploration activities
High debt to equity ratio
Integration risk with acquisitions.
License to operate in Latin America has yet to be granted.
Operating Cash flow for the 3rd Qtr 2011 was $18.9 million, however we would like to see the company report several quarters of positive operating cash flow, as nine month number is still negative.
High short interest
Internal controls are not effective
Disclosure: I am long TWI, CVU, MNTX, TIS.