Since 2012 is still quite new, let's take a very long-term view of the performance of key assets to the performance of the S&P 500 for cyclical perspective, and then end with a view of the short-term technical condition.
In the charts below, each plots the monthly ratio of the index of a key asset category to the index for the S&P 500. In some of the charts the S&P 500 is represented by SPY and in others by VFINX - both S&P 500 index funds. The red line is the 12-month moving average of the ratio.
We know that most of our readers are more interested in ETFs than mutual funds, but since mutual funds have longer operating histories than most ETFs, mutual funds provide the data needed to do longer term studies. We provide ETF analogs to mutual funds used in the charts.
The lower panel of each chart plots the index for the key asset (in blue) and the index of the S&P 500 (in gold) as separate lines.
S&P 500 Dividend Aristocrats vs. S&P 500
The "buy dividend stocks" story is beginning to morph into the "the dividend play is crowded" cry. Well, we still like dividends. We believe in getting paid a "rent" for the use of our money, but selection is clearly important so as not to overpay.
We admit that there may be greater sensitivity to interest rates for dividend stocks when rats rise than for pure growth, non-dividend stocks - unless the dividends are rising sufficiently to overcome the interest rate rises.
In any event, the historical record over the past 10 years shows that the long-term dividend payers (not necessarily the high dividend payers) of the S&P 500 have kept up pretty well on a multi-year basis with the S&P 500.
The proxy ETF for the S&P 500 Dividend Aristocrats is SDY.
The proxy for the S&P 500 is SPY.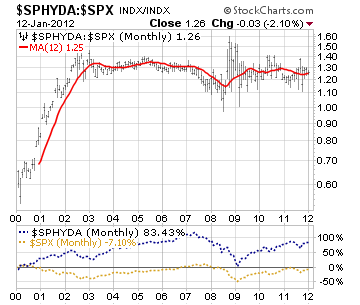 The S&P 400 mid-cap stocks have outperformed the S&P 500 since the 2000 crash. See more about mid-cap and small-cap versus large-cap in our prior article about the Russell market-cap indexes.
A good S&P 400 proxy ETF is MDY.
S&P 400 Mid-Caps vs. S&P 500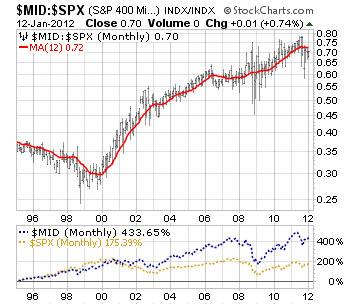 The S&P 600 small-cap stocks have outperformed the S&P 500 since the 2000 crash as well, but not as much as did the mid-cap stocks.
As we see it, mid-cap stocks have broken out of the small-cap realm, hit their stride, have better brand recognition and greater access to equity and debt capital, but have not yet become large-cap enterprises that face more difficult percentage growth challenges.
A good S&P 600 proxy is IJR.
S&P 600 Small-Caps vs S&P 500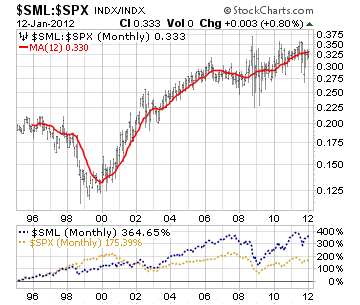 Corporate Bonds vs. S&P 500
Investment grade corporate bonds show a clear countercyclical relative performance to that of the S&P 500. They accomplish that, not by going up when stocks go down, but by simply remaining steady when stocks fluctuate.
A good proxy for investment grade corporate bonds is LQD.
The volatility differences between bonds and stocks shown in the chart is further illustrated by their 10-year mean returns, standard deviations (volatility) and the ratio of the two.
The 10-year mean return for VFICX is 5.56% with a 6.17% standard deviation, while the 10-year mean return for VFINX is 2.92% with a 15.93% standard deviation.
Even ignoring that the S&P 500 has been a round trip ticket to nowhere for a long time, the ride has been much rougher than for bonds.
The volatility as measured by standard deviation for the S&P 500 is about 2.5 times as great as that for investment grade corporate bonds. That explains the shape of the relative return chart for this pair.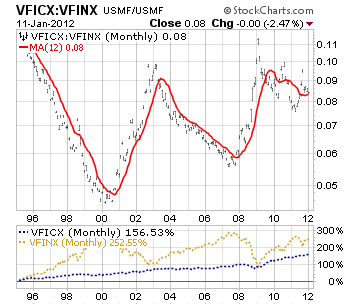 The relative performance charts for intermediate-term Treasuries and intermediate-term municipal bonds versus the S&P 500 are broadly the same as for investment grade corporate bonds.
A good proxy for intermediate Treasuries is IEF, and for municipal bonds MUB.
Intermediate-Term Treasuries vs. S&P 500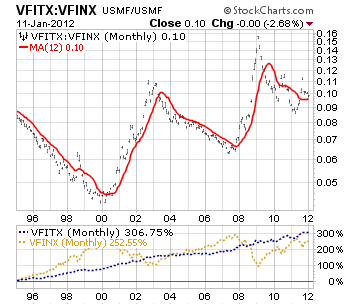 Intermediate-Term Municipal Bonds vs. S&P 500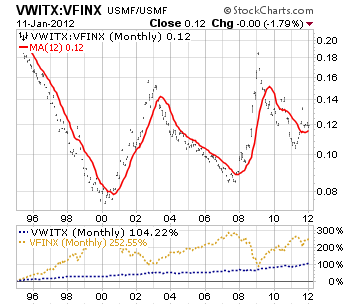 G2 (China Shanghai Exchange vs. S&P 500)
The G7 or G8 concept is a bit of a nostalgic one. The G20 tries to get past that historical view of who is most important in world economics.
The reality today is that the U.S. and China are the G2, and the most important leaders on the world economic stage (although from a negative perspective, Europe plays out its insolvency act).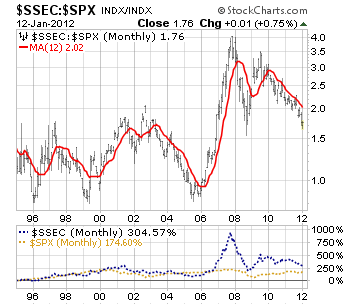 China is quite volatile, but is still in a major growth phase.
Unfortunately, its key stock exchange (the Shanghai exchange) is currently in a multi-year down trend.
According to the exchange, the average P/E ratios for all listed stocks in Shanghai are:
Now: 13.88
2010: 21.61
2009: 28.73
2008: 14.85
By comparison, the current P/E for SPY is 14.01 with a trailing yield of 2.14% and with 3-5 year projected earnings growth of 10.99%.
We don't have a projected growth rate for Shanghai exchange stocks. One might expect similar earnings growth in China, unless they are facing their own earnings slump at this time.
Probably the closest ETF to the Shanghai exchange is PEK, which tracks the CSI 300 (A-shares on both the Shanghai and Shenzen exchanges). A-shares are available only to residents of China and certain qualified institutional investors.
The sector allocation in PEK is heavily weighted toward financials, which may partially explain the poor performance of the underlying indexes, given the concerns that exist over bank capital adequacy and potential residential property and infrastructure loan losses that are likely.
PEK accomplishes its tracking through swaps, which contain important counter-party risks. Here is what VanEck, the sponsor, has to say about that:
IMPORTANT: CSI 300 is a registered trademark of China Securities Index Co. The Fund does not invest directly in China A-shares, but intends to gain exposure to the China A-share market by investing in swaps that are linked to the performance of China A-shares. An investment in the Fund involves a significant degree of risk, including, but not limited to, the following:

The Adviser's ability to manage the Fund will depend upon the availability of China A-shares and the willingness of swap counterparties to engage in swaps with the Fund linked to the performance of China A-shares. A counterparty's inability to to continue to enter into swaps with the Fund could have a material adverse effect on the Fund.

The Fund may suffer significant losses if a swap counterparty fails to perform its obligations under the swap as a result of bankruptcy or otherwise. Given that, at present, there are only a limited number of potential counterparties willing and able to enter into swap transactions linked to the performance of China A-shares, the Fund may enter into swap transactions with as few as one counterparty at any time.

Swaps in which the Fund will invest may need to be reset on a regular basis which may increase the likelihood that the Fund will generate short-term capital gains and/or ordinary income.
Looking at emerging markets generally, they show a stronger historical relative return - although trending down since late 2010.
MSCI EM Index vs. S&P 500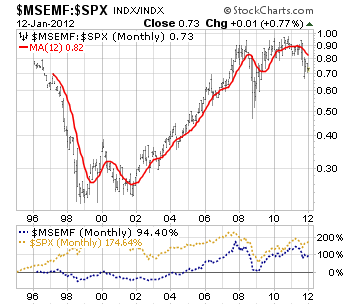 The developed non-U.S. stock markets (MS EAFE) have been weak versus the U.S. for some time.
MSCI EAFE vs. SPY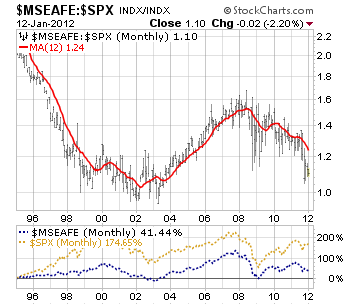 Breaking EAFE down into some of its larger pieces, we see, not surprisingly, that Europe is weaker than EAFE in the aggregate, with more relative volatility. It did better that the S&P 500 leading up to the 2008 crash, but then took a steeper fall.
Good proxy VGK.
Dow Europe vs S&P 500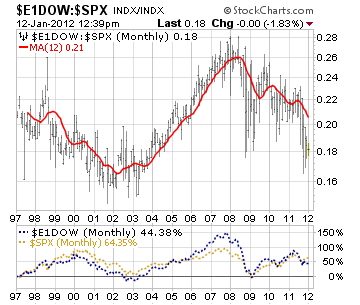 Within Europe, Germany made a stronger relative showing. However, they are in a bit of a pickle now, because their strong export economy is significantly dependent on imports by other European countries, which are entering austerity periods.
Germany represents about 8.4% of EAFE, with the U.K. almost 4 times as important from a weight perspective, and with France and Switzerland also having somewhat larger weightings in the index.
Good proxy EWG.
Dow Germany vs. S&P 500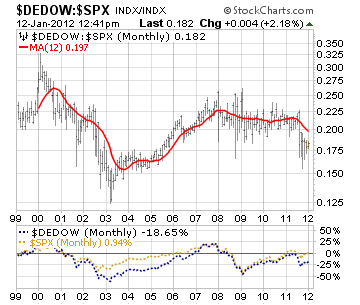 Japan, another large piece of EAFE (over 22% weight) hasn't been doing well for a long time, and has been hammered on a relative basis since two years before the 2008 crash in the U.S.
Good proxy EWJ.
Dow Japan vs. S&P 500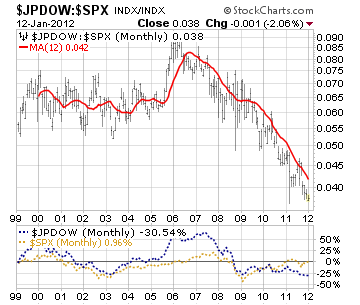 Another small part of EAFE is Australia (about 8.2% weight), a key "picks and shovels" play on China. They provide a lot of raw materials to China's industrial sector. They have been rolling over since 2010.
Good proxy EWA.
Dow Australia vs. S&P 500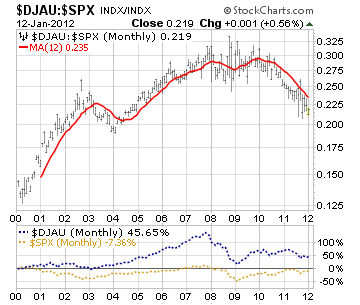 Australia began to decline before China declined in 2007, and went down harder in 2008. They were a canary in the coal mine then (close to literally, because Australia provides a lot of coal to China). Perhaps they provide clues now, as they are rising faster than the Shanghai index (of course, the China banking situation muddies that analysis).
Here is a chart of Australia versus the Shanghai index.
Dow Australia vs. Shanghai Index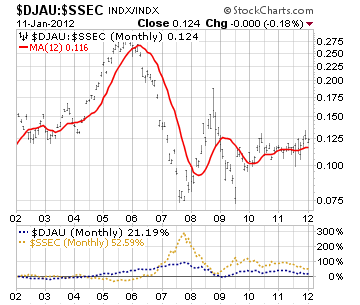 Globally, however, copper is showing weakness, which corresponds to IMF projections and those of many others who predict the global economic slowing.
ETN proxy for copper is JJC.
Copper Metal vs. S&P 500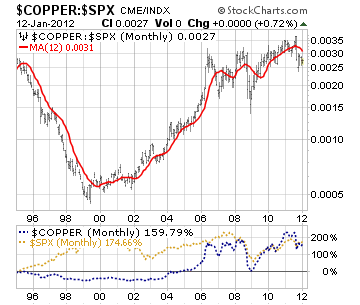 Oil is pushed around by many factors. West Texas crude has been driven not only by global forces as have other grades (such as Brent Crude), due to Middle East problems driving it up and global slowing driving it down, but also by some logistical issues relating to West Texas crude itself.
A so-so proxy is USO, but with contango issues.
West Texas Crude vs. S&P 500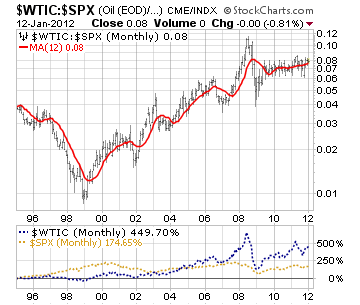 Relating to oil (as well as natural gas) are the pipelines that move the raw material and distillates around the country. They are not oil or gas price sensitive, but they are volume sensitive.
Available as pure plays in master limited partnership form, they are also yield plays. That yield play has given them an extra boost as Treasury rates have declined to historically low levels.
A good proxy is the ETN AMJ, sponsored by JP Morgan. As ETN counter-parties go, they are among the best credits.
AMJ has a management fee that can be avoided by purchasing a grouping of the partnerships individually, but the pipelines involve somewhat more tax complexity with K-1 that AMJ does not. There are other issues in the choice between the two forms that need consideration.
We commented on that in an earlier article about MLPs - "What to own ETF, ETN or individual MLPs."
The largest MLP is Enterprise Products Partners (NYSE:EPD). We used that to represent the group due to size and length of data available.
Pipeline (EPD) vs. S&P 500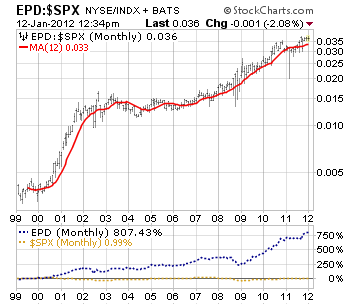 We also think of pipelines as real property - improved structures on land that rent out their use. The other more traditionally thought of real property is real estate, presented by the equity REIT industry.
Good proxies are VNQ, IYR and RWR, among others.
In this case we used the Vanguard REIT mutual fund as the charting proxy.
REITs have also prospered due to their yield characteristics, but have not done as well as pipelines, because they are somewhat fungible.
New buildings can be put up with greater ease and lower cost compared to getting approval for, land rights for and financing for pipelines.
Pipelines are strategic national infrastructure. REITs are not. REITs were more at risk due to the credit crisis than pipelines as well.
Equity REITs vs. S&P 500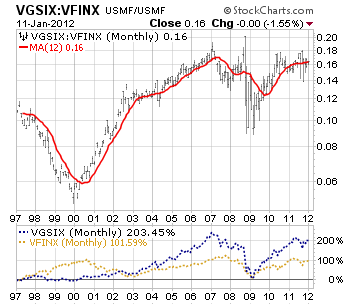 While not real property, gold is thought of by many as real money. Here is how it has done relative to the S&P 500. Very well indeed.
In spite of concerns about recent weakness, a longer-term view on a monthly basis does not suggest the upward trend is broken.
Good proxies are GLD, SGOL and IAU.
Gold vs. S&P 500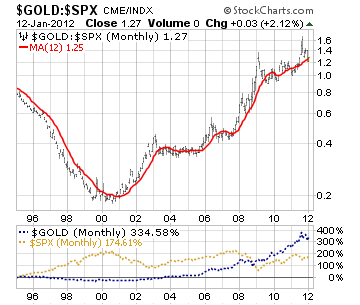 No round trip review would be complete without a look at the ever popular BRIC countries - Brazil (proxy EWZ), Russia (proxy RSX), India (proxy PIN) and China. We already looked at China, so let's close with a quick look at the other three BRIC countries.
Brazil is a natural resource exporter (food and energy), more insulated from Europe than Russia, which depends heavily on natural gas exports to Europe.
In a world with limited water supplies, and where agriculture is the dominant consumer of water, one way for a water rich country such as Brazil to export water is to export grains and meat - much more efficient than moving the water directly.
Bovespa (Brazil stock market) vs. S&P 500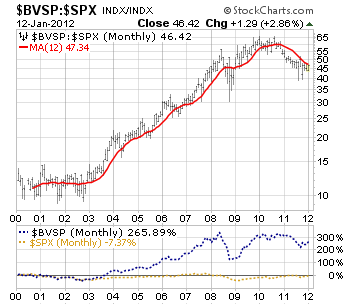 Russia has the benefit of the U.S. and others forgiving the Soviet debt when the Iron Curtain fell. The government has a tidy sum of foreign reserves now.
They are a one trick pony with heavy dependence on energy exports to support the conomy.
Russian Trading System (Russian exchange) vs S&P 500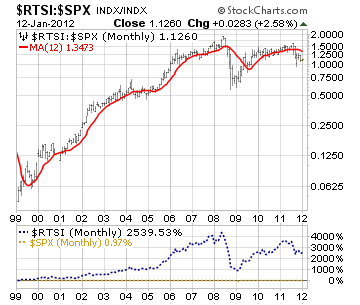 India has not been able to get its act fully together the way China has done. There are key cultural and political factors that have influenced that difference.
The age pyramid for India is more favorable than for China.
China is a rapidly aging society, and unlike Japan, it may become old before it becomes rich.
India, on the other hand, has a nicely shaped age pyramid that gives them a better ratio of the young to the old to support long-term growth.
India (Bombay Stock Exchange) vs. S&P 500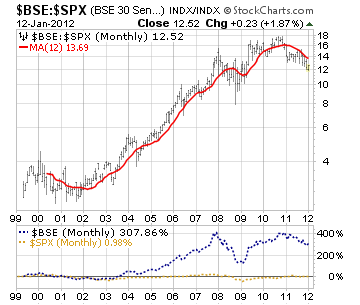 P/E, Yield, and Short-Term Technical Ratings From BarChart
Barchart.com provides daily technical ratings for securities based on 20-day, 50-day and 100-day periods, which they label short-term, medium-term and long-term.
While we think of all of those periods as rather short for "long-term" investors, they do provide an interesting view of what is happening in the market to those securities right now. That might be a good way to wrap up a 10 to 15 year monthly survey.
Here are all of the securities mentioned in this article as analyzed by BarChart. They are sorted in the order of the strongest to weakest net interpretation by BarChart (note these are not necessarily our views - they are BarChart's opinions).
Click to enlarge charts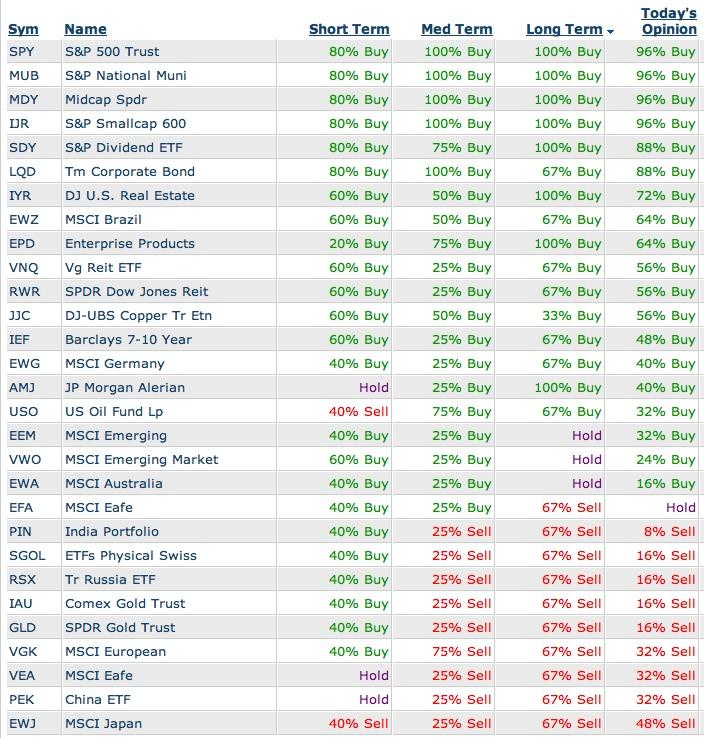 Click to enlarge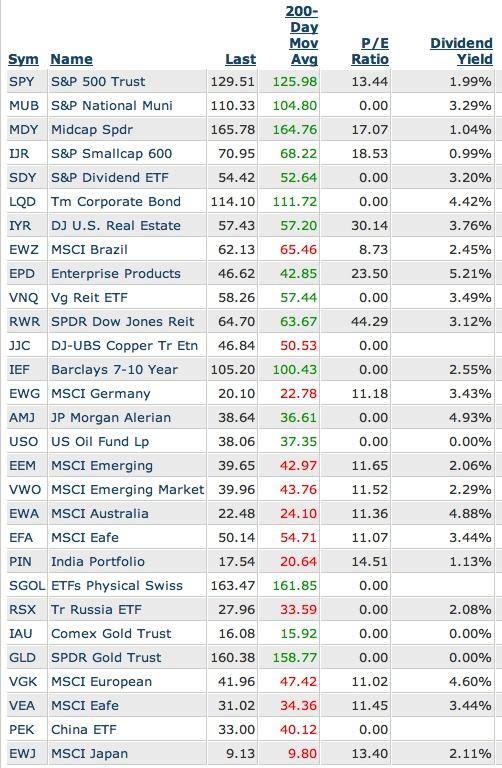 Click to enlarge
Disclosure: QVM has long positions in AMJ, VNQ, GLD, EEM and VWITX as of the creation date of this article (January 11, 2012).
Disclaimer: This article provides opinions and information, but does not contain recommendations or personal investment advice to any specific person for any particular purpose. Do your own research or obtain suitable personal advice. You are responsible for your own investment decisions. This article is presented subject to our full disclaimer found on the QVM site available here.