Amidst their retirement planning, several friends of mine employed outside of the financial industry have recently asked about BAB, an exchange traded fund invested largely in Build America Bonds. With this fund delivering a 2011 return of 21%, few asset classes around the globe had a better year than the traditionally low volatility domestic municipal bond market. For those not familiar with the Build America bond market, it was borne out of the American Recovery and Reinvestment Act of 2009 as a way for state and local governments to finance infrastructure projects. Issuers receive a subsidy equal to 35% of the coupon on the bonds. The taxability of these securities expanded the traditional tax exempt municipal bond buyer base to include pension managers, life insurance companies, and other typical corporate bond buyers, who do not benefit from the municipal bond tax exemption in their accounts.
Why the BAB Trade May Have Run Its Course
Given that both the yield and credit curve were upward sloping, municipal bond issuers got the biggest bang for the buck issuing as far out the curve as possible given that the government was paying a fixed percentage of the interest expense. The preponderance of Build America Bond issuance was thusly issued in the 30-yr maturity bucket. The BAB ETF reflects this fact and has a weighted average maturity of greater than 24 years, an effective duration of 10.7 years, and a weighted average coupon of 6.5%.
Investors who think of municipals as a harbinger in the storm, and are simply impressed with the trailing returns of the BAB ETF should understand that they are taking substantial interest rate risk with funds largely invested in Build America Bonds. How large is this interest rate risk? If I knew precisely, I would have a different trade idea for you, but there is currently a divergence between the domestic equity market's recent rally, and the "flight to quality trade" into U.S. Treasuries. The last time the S&P 500 (NYSEARCA:SPY) traded at its current levels was shortly before the debt ceiling debacle of early August. At that time, the 30-yr Treasury was trading at 4.1%. With its close today south of 3%, there seems to be quite a bit of room for rates to sell off if equity market participants prove more prescient than their bearish fixed income counterparts. Absent further credit spread tightening, an approximately 60bp increase in the 30-yr Treasury, a little over half its recently rally, will lead to a negative price return significant enough to offset the benefit of the bond coupons (6.5%) and eclipsing the annualized dividend yield of the fund (5.2%).
Other Risks
Relative to its contribution to population and gross national product, California issued over fifty percent more bonds than one would have otherwise expected as part of the Build America bond program. This fact is represented in BAB's nearly 25% weighting to that state.
Top Ten State Exposures

Rank
State
Weight
1
CA
25%
2
FL
9%
3
NY
9%
4
TX
7%
5
IL
7%
6
NV
6%
7
NJ
5%
8
WA
4%
9
CO
4%
10
PA
3%
80%
If you are concerned about flagging property values in California or the state's 11.3% unemployment rate continuing to hamper tax receipts, other municipal bond funds may prove better risk/reward. California is well represented in the top holdings of this fund.
CUSIP
Issuer
State
Coupon
Maturity
Fund Holdings ($000s)
Mdy
S&P
Fitch
167593AN2
City of Chicago IL O'Hare Int'l Airport Revenue Bonds
IL
6.40%
1/1/2040
$15,000
A1
A-
A-
13063BNT5
State of California General Obligation Bond
CA
6.51%
4/1/2039
$14,000
A1
A-
A-
34281PLE1
Florida Governmental Utility Authority
FL
6.55%
10/1/2040
$14,000
A2
NR
NR
167505KH8
Chicago IL Board of Education
IL
6.14%
12/1/2039
$11,180
Aa3
AA-
A+
544646ZR6
Los Angeles Unified School District
CA
6.76%
7/1/2034
$9,375
Aa2
AA-
NR
709223A27
Pennsylvania Turnpike Commission
PA
5.51%
12/1/2045
$10,000
Aa3
A+
A+
9151375T6
University of Texas System
TX
4.64%
8/15/2030
$10,000
Aaa
AAA
AAA
18085PLL6
Clark County Nevada Airport Revenue Bonds
NV
6.88%
7/1/2042
$10,000
Aa2
AA-
NR
64966HYM6
City of New York, NY
NY
5.97%
3/1/2036
$9,000
Aa2
AA
AA
13063A7D0
State of California General Obligation Bond
CA
7.30%
10/1/2039
$8,575
A1
A-
A-
13063A5G5
State of California General Obligation Bond
CA
7.55%
4/1/2039
$7,890
A1
A-
A-
130685WB2
California State Public Works Board
CA
8.36%
10/1/2034
$8,500
A2
BBB+
BBB+
$127,520
While the dire predictions of some investment analysts regarding rising bond defaults proved unfounded in 2011, the market's perception of default risk has been creeping higher until very recently. Below is a graph of MCDX. This index is comprised of fifty equal weighted benchmark CDS contracts referencing municipal issuers. Since credit default swap contracts only trigger payment in the event of default or restructuring, it is a good gauge of the institutional investor's perception of municipal default risk.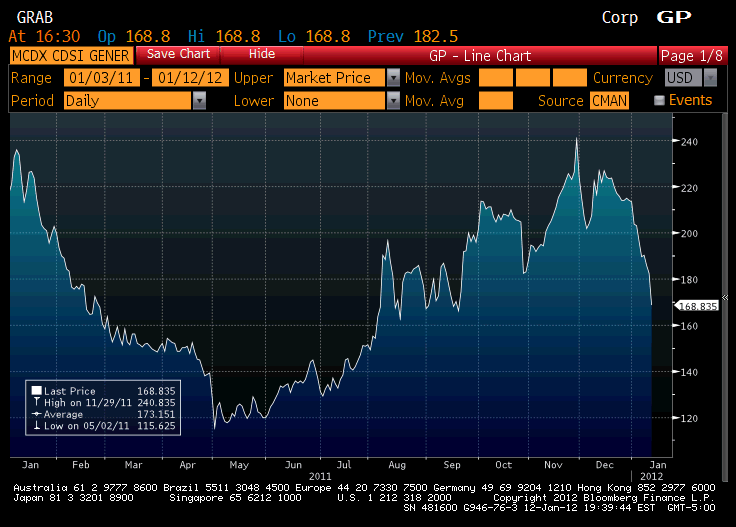 While the BAB program proved a panacea for both struggling municipal issuers and institutional investors battling a declining opportunity set in fixed income credit markets, the average bond in the BAB fund now trades at $112. When the Build America bond program unexpectedly failed to be extended by Congress in late 2010, issuers rushed to market in December of that year to ensure they could utilize the federal subsidies. This extra supply and uncertainty over the future status of the burgeoning taxable municipal subset caused spreads to widen in that month.
As the asset class was orphaned as new issuance ground to a halt, and institutional investors soaked up the available secondarily traded bonds, prices began to rise - setting the stage for 2011's remarkable return. While you are likely to get par back (down from the 12% premium you are paying now to buy the underlying holdings) when the bonds mature on average in 2036, it will not be without interest rate volatility and questions around credit risk in the municipal bond space.
2011's returns are gone, and unlikely to be seen again. Investors in BAB, NBB, or BABZ will likely have to be content with the specter of total returns approaching the dividend yield, with downside risk due to the inherent long interest rate bet. I have advised my friends who sought my consult that this particular investment is not the conservative proposition they sought.
Disclosure: I am long SPY.