School Specialty (NASDAQ:SCHS) is set to be dropped from the S&P smallcap 600 index on the 17th to make room for SunCoke Energy (NYSE:SXC). SunCoke Energy was recently spun off from Sunoco (NYSE:SUN), and being several times larger than School Specialty, is taking its place in the index.
Research shows that stocks removed from the S&P 600 tend to outperform over the next couple weeks after the removal. This anomaly can be explained by the fact that there are index funds that track the S&P 600. When money following the S&P 600 is required to sell a stock, a temporary price deviation can result without any basis in the fundamentals of the company, which don't change just because the stock is dropped from an index.
So there is a good chance that School Specialty will outperform over the few weeks following the index removal on the 17th, but what about the longer term outlook for the company, is it a company to own for longer than a few weeks?
Overall, the fundamentals don't support a longer term position in School Specialty, as its business is doing very poorly. Almost every metric of the company's business activity and profitability have declined steadily over the last several, including revenue, earnings, cash flow, and profit margins.
Just taking revenue as an example, we can see the last four years consistent decreases in each periods sales over the same period in the prior year.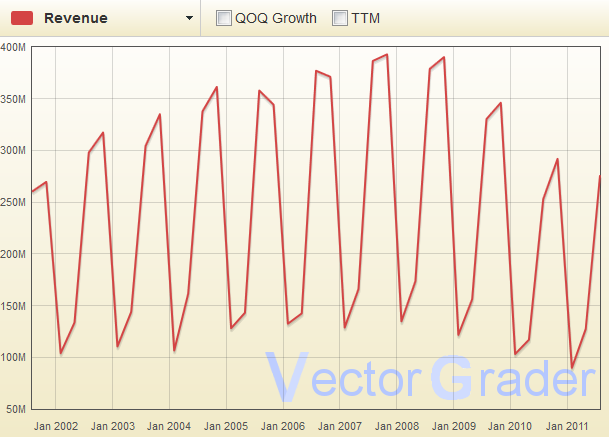 This has been reflected in the stock price, which has lost most of its value over the last few years.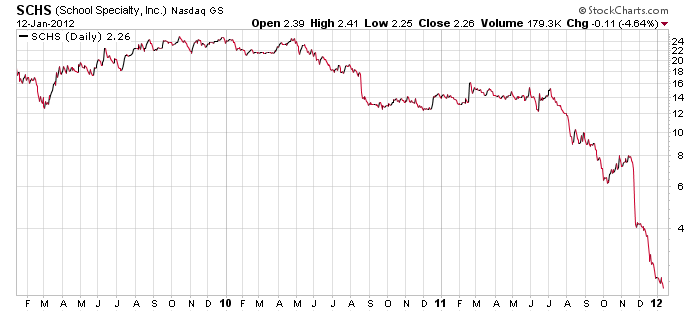 The best that can be said about School Specialty is its low valuation relative to sales, having a price to sales ratio of only 0.06. With such a low ratio, if just about anything goes right for the company, than shares of School Specialty could do very well.
Overall, I think shares of School Specialty have a good chance of outperforming over the weeks following its removal from the S&P 600 on the 17th, due to the temporary selling pressure that may be generated by index funds. However, I don't think there is much basis for a longer term position. The business is doing poorly, yet at the same time the price to sales ratio is only 0.06. This could lead to a massive payoff if something goes right for the company, but is extremely risky as it is very difficult to successfully turnaround a company.
Disclosure: I have no positions in any stocks mentioned, and no plans to initiate any positions within the next 72 hours.