Gold marked its eleventh consecutive year of gains as 2011 came to a close. The yellow metal was up roughly 11% for the year, but well off its highs. In fact, some might argue that gold dipped into bear market territory when it traded down below $1530 per ounce on December 29th.
During the latter half of 2011, several big name money managers sold most or all of their positions in gold (or its proxy GLD). These managers included John Paulson, best known for the billions of dollars he made during the mortgage meltdown and subsequent financial crisis, and Dennis Gartman, known for his commodities newsletter and frequent appearances on CNBC.
Paulson was likely under pressure to lighten up on his gold position. It was one of the few things that performed well for his funds in 2011, and some of his investors were likely demanding redemptions. Gartman has a pretty solid track record in the commodity space. On the other hand, as gold topped $1900 per ounce in August, Gartman noted the yellow metal was getting ready to go "parabolic." Ooops!
As recently as mid December, Gartman declared that he was completely out of gold, and that the bull market in the precious metal was dead. He has since redacted that, and is bullish again. Ah well, it's always good fun to poke at the guys with the big money and the big mouths. But the question remains:
Will gold continue to perform in 2012?
(click to enlarge image.)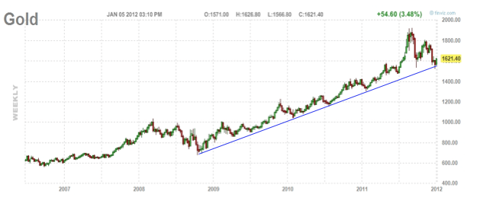 As the above weekly gold chart shows, the recent selloff really just brought gold back to its multiyear trend line, suggesting that the longer term trend is still intact. Still, it seems likely that gold will experience some significant volatility this year, as the sentiment winds are likely to shift back and forth considerably.
Headwinds
One of the major headwinds for the price of gold is the fact that, for the most part, it is priced in dollars and is inversely correlated with dollar strength. In most circumstances, as the dollar rises the price of gold falls, and vice versa. With the European debt woes still in focus, the dollar has remained very strong from the latter part of 2011 and through the first week of trading in the New Year. Both technical and fundamental evidence suggests that the dollar will continue to remain strong throughout the year.
Additionally, by far the largest use of gold is in jewelry, with nearly 50% of demand originating from India and China. Stock markets in both of these countries struggled during 2011, suggesting that these two growth engines are not as strong as we would like to believe. This presents the possibility of a large source of demand easing as we move through 2012.
Tailwinds
Interestingly, this same European crisis that is driving the dollar higher could potentially fuel demand for gold as a currency of last resort. The U.S. is certainly not without its own debt related concerns, helping to bring all fiat currencies under pressure.
We also have globally low interest rates, and though gold does not pay any interest, investors are not losing much by choosing gold over debt securities. Additionally, should interest rates begin to rise as a result of inflationary pressures from worldwide loose monetary policy, gold could benefit on that front as well, as it has historically performed well in inflationary times.
The bottom line is that the volatility experienced in the yellow metal during 2011 is likely to continue, on sentiment driven by changing risk perceptions and a fluctuating yet likely strong dollar.
An Alternative to the Commodity
For 2012, my feeling is that certain gold stocks offer a potentially better risk-reward scenario as a way to gain exposure to the precious metal. Realize that this is not a broad endorsement of the numerous miners, but rather a suggestion that two in particular have the potential to perform over the year.
Certainly gold stocks are impacted by fluctuations in the underlying commodity. However, two miners in particular will pay you to weather a volatile year in gold. Both stocks pay dividends in excess of 2% at current prices. They are Newmont Mining (NYSE:NEM) and Gold Resource Corp. (NYSEMKT:GORO).
Newmont has actually tied its dividend to the price of gold, paying roughly $.05 per $100 on the realized price of its gold sales on an annual basis. This is a policy that was instituted last year and with gold at $1600 per ounce, would suggest an $80.00 per year dividend. This is not the case. There are a number of expense factors associated with how Newmont determines the dividend. They are not doing it all at once, rather they are increasing it on an incremental basis. Over the last four quarters, Newmont has increased its quarterly dividend by $.05 per share each quarter, with the most recent quarterly payment of $.35 paid in late December. Management believes it can continue this incremental increase for several years to come.
Newmont is fairly well known, but GORO is a relative newcomer and a fairly thinly traded stock, averaging less than 200,000 shares per day. The company began commercial production from its operations in southern Mexico in July of 2010, and has been paying monthly dividends since that time. In August of 2011, the company made these dividends official policy and now pays $.05 every month.
Because these two stocks offer the potential for both consistent and increasing dividends, they provide investors a means of gaining exposure to gold with a lower level of volatility than might be experienced by owning the metal itself. That being said, both stocks are likely to swing to some extent with the price of the underlying commodity, so I wouldn't pile into either one of them right now. However, particularly during the first quarter of 2012, when gold is likely to see its greatest volatility before resuming its long-term uptrend, there will be multiple opportunities to build positions in the stocks during the next three months at potentially lower prices, ultimately providing the long term investor with a nice dividend stream along the way.
If you're looking for exposure to gold without having to purchase the metal itself, building a position in these two stocks can provide investors with that exposure and collect a nice dividend in the process. Also, if you are interested in getting some broad perspective on the global gold situation, check out a recent info graphic from Numbers Sleuth.
FXE Update
For those of you who've been following my Tycoon Report pieces, you may recall that I suggested purchasing the January 135 straddle on FXE back in late November at a total cost of $7.15.
As of this writing the straddle is trading for little over $8.40 which, if you close it down now, would yield a profit of roughly 17.5%. Not bad, but the euro has broken down over the last few days and is now trading at levels not seen since the fourth quarter of 2010.
The FXE is likely to remain under pressure but might find near term support around 126, with the next stop being 120 if that level fails. So if you're in this one, now is not a bad time to take some profits, but you may be able to squeeze out a little more. That being said, this will be my last comment on this trade.
Disclosure: I have no positions in any stocks mentioned, and no plans to initiate any positions within the next 72 hours.