I last provided a comprehensive review of the housing market on September 29, 2010 in "Still Expecting Housing to Bounce Along the Bottom Until 2013." At the time, I reiterated the case for housing not to bottom until 2013 with the market mainly muddling along until then. I still hold that view. Accordingly, last quarter, I began transitioning from a bearish positioning to what is now a bullish one on homebuilder stocks. This change is an uneasy one for me - for example, I have long expressed skepticism about homebuilder Toll Brothers (NYSE:TOL) given massive insider selling - but I think the change is warranted in anticipation of a 2013 bottom.
In the first week of January, my brother asked me whether I knew of any good mutual funds for playing the housing market - this is the same brother who was written detailed and insightful analyses on the housing market for me. I casually mentioned homebuilders and gave him a brief case for buying some shares in KB Home (NYSE:KBH), mainly because the stock remains a laggard amongst publicly traded homebuilders in the group. At the time, KBH was 23% off its closing bottom in 2011 which was an incredible 20-year low. Meanwhile, the SPDR S&P Homebuilders ETF (NYSEARCA:XHB) had soared 40% off its bottom led by stocks like Toll Brothers and its whopping 65% jump off the 2011 lows.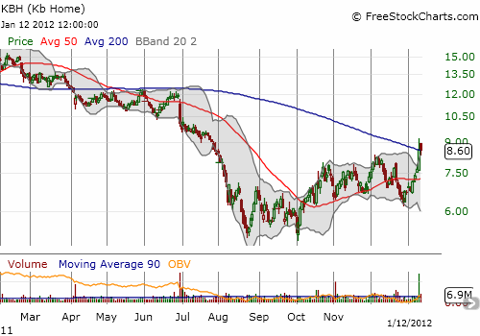 Click to enlarge
click to enlarge
KB Home is trading above its 200-day moving average (DMA) for the first time in 9 months.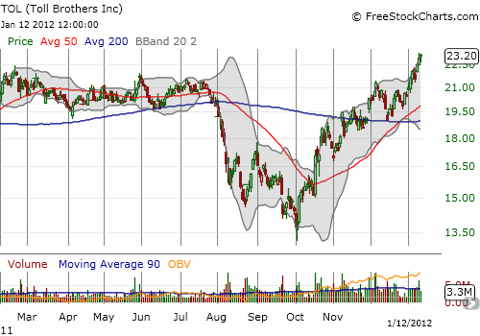 Click to enlarge
Despite falling as much as 41% in 2011's swoon, Toll Brothers outpaced a flat S&P 500 with a 7% gain to end the year
Source for charts: FreeStockCharts.com
Much to my delight, my brother returned to me later that day with a reassuring review of my madness: "I did a little research and I think your call for KBH is spot on." With his permission, I am posting here what he found (with some minor editing - emphasis mine):
I think the homebuilding industry will do reasonably well. 2011 should be the low for the number of new home sales even if prices drift lower a little. The smaller homebuilders are getting squeezed due to lack of access to capital, so even a flat market overall will mean that the large homebuilders are increasing sales.

In the homebuilder group, KBH is the most undervalued…Their revenue/market cap ratio is the highest in the industry. 2011 revenues were $1.3B. Their market cap is $500M. That is very cheap. KBH lost money mostly in 2011, but they had positive operating income the last two quarters and that should continue into 2012. They are undergoing significant cost reductions, and once they get that sorted out their margins should normalize such that they make $2 per share. This should give them a price of around $20 by the end of the year. So the stock could double and still be undervalued.

There are three reasons why people are scared away from KBH right now:

KBH lost money in 2011 with costs 25% more than revenue. However, as I mentioned above, they had positive operating income last quarter and this should continue.
Their margins shrank slightly in 2011. However, they are still high enough, so that they will make decent money from their revenues once their cost structure improves.
They have about $900M in debt. However, this does not start to come due until 2013. They should be able to roll it over (or issue more shares by then).

Several of the homebuilders have run up, but KBH has not mostly because people mistakenly saw weakness in their 4Q report. Also, the dividend should provide some protection to the downside. Ex-div date is around Feb. 4th.
As usual, I was extremely grateful for my brother's analysis. I had actually forgotten that the high dividend yield was one of the clinchers for KBH amongst the hapless lot of homebuilding stocks. I am assuming the payments should be safe given they have lasted this long into housing's extended recovery period.
There are other reasons to stay focused on buying the dips in homebuilder stocks like KBH (or just XHB). The Federal Reserve and investors alike appear ready to turn up the heat to force a bottom in this market. For example, famous bond investor Bill Gross is now buying mortgage-backed securities in anticipation of a move by the Federal Reserve into the MBS market.
The Federal Reserve issued a report on housing earlier this month called "The U.S. Housing Market: Current Conditions and Policy Considerations." In that report, the Federal Reserve made it clear that it does not think a sustainable economic recovery can take place without improvements in housing. Bernanke and staff laid out the well-known facts about the housing market's misery, including some dramatic charts reminding us of the historic nature of housing's bubble and collapse. The Fed paper offers a myriad of proposals for potentially repairing the housing market. Interestingly, the Fed warns that pricing pressures will likely persist in the near-term, and the way out of this mess will cost money. Policymakers must decide where the ultimate burdens will rest (lenders, investors, taxpayers, homeowners, some combination, etc..). The Fed even discusses moral hazards and tries to walk the fine line between easing credit and creating lax lending standards.
The Fed also appears keen to help clear the housing market by supporting government and investor efforts to convert foreclosed homes into rental properties wherever practical. Homebuilders are increasingly exploring this business. For example, on April 4, 2011, Beazer Homes USA (NYSE:BZH) established a pre-owned homes division designed for "…acquiring, improving and renting recently built, previously owned homes within select communities in markets in which the company currently operates." Lennar Corporation (NYSE:LEN) has a wholly-owned subsidiary called Rialto Capital Management which has worked since 2009 to invest, workout, and/or oversee distressed commercial and residential real estate loans and properties, including mortgage-backed securities. The subsidiary currently has about $600M in committed capital to invest through a private equity fund. These are just two of many modes of transmission through which the Federal Reserve can sponsor aggressive action.
Here are some key points and statistics from the Fed's 28-page paper that interested me:
The combination of weak demand and elevated supply has put substantial downward pressure on house prices, and the continued flow of new REO properties-perhaps as high as 1 million properties per year in 2012 and 2013-will continue to weigh on house prices for some time. To the extent that REO holders discount properties in order to sell them quickly, the near-term pressure on home prices might be even greater.

The price signals in the owner-occupied and rental housing markets-that is, the decline in house prices and the rise in rents-suggest that it might be appropriate in some cases to redeploy foreclosed homes as rental properties. In addition, the forces behind the decline in the homeownership rate, such as tight credit conditions, are unlikely to unwind significantly in the immediate future, indicating a longer-term need for an expanded stock of rental housing.

Fannie Mae, Freddie Mac, and the FHA together hold about half of the outstanding REO inventory and so might be able to aggregate enough properties to facilitate a cost-effective rental program in many rental markets.

The data cited earlier suggest that a government-facilitated REO-to-rental program has the potential to help the housing market and improve loss recoveries on REO portfolios. The FHFA released a request for information on August 10, 2011, to collect information from market participants on possible ways to accomplish this objective and received more than 4,000 responses.

Perhaps only about half of homeowners who could profitably refinance have the equity and creditworthiness needed to qualify for traditional refinancing.

It should be recognized that other types of loan modifications may be socially beneficial, even if not in the best interest of the lender, because of the costs that foreclosures place on communities, the housing market, and the broader economy. However, although policymakers might very well decide that the social costs-while obviously difficult to gauge-are great enough to justify additional loan modifications, lenders are unlikely to be willing to make such modifications on their own. Moving further in this direction is thus likely to involve additional taxpayer funding, the overriding of private contract rights, or both, which raises difficult public policy issues and tradeoffs.

At the same time, the costs of large-scale principal reduction would be quite substantial. Currently, 12 million mortgages are underwater, with aggregate negative equity of $700 billion. Of these mortgages, about 8.6 million, representing roughly $425 billion in negative equity, are current on their payments. These costs might be reduced if it was possible to target borrowers who are likely to default without a principal reduction. However, identifying such borrowers among the many who are current on their payments is difficult. Moreover, targeting principal reduction efforts on those most likely to default raises fairness issues to the extent that it discriminates against those who were more conservative in their borrowing for home purchases or those who rent instead of own. Depending on the requirements for relief, such a program may also give some borrowers who otherwise would not have defaulted an incentive to do so.

Fundamentally, such measures involve adapting the existing housing stock to the prevailing tight mortgage lending conditions-for example, devising policies that could help facilitate the conversion of foreclosed properties to rental properties-or supporting a housing finance regime that is less restrictive than today's, while steering clear of the lax standards that emerged during the last decade. Absent any policies to help bridge this gap, the adjustment process will take longer and incur more deadweight losses, pushing house prices lower and thereby prolonging the downward pressure on the wealth of current homeowners and the resultant drag on the economy at large.
In line with the Federal Reserve's proposals, it seems that the Federal government may soon unload a large amount of foreclosed properties at once. The firesale induced by such action could be yet one more step toward clearing supply and smoothing out a bottom in pricing.
Even if the policymakers manage to repair the supply side of the housing equation, demand could remain lackluster. The Federal Reserve's promotion of rental housing is a key driver for clearing supply that does not rely on conventional homebuyers. According to "Housing's Huge Supply and Demand Imbalance" by Diana Orlick, CNBC's real estate reporter, demand may stay lackluster for years to come. Orlick quotes from Laurie Goodman, Senior Managing Director at Amherst Securities, who thinks that demand will remain weak relative to supply for an extended period of time:
…there is far more distress in the housing market than some of the leading mortgage data providers portray. She counts eight to ten million more foreclosures over the next six years, because she adds borrowers currently in mortgage modifications…

She notes that household formation has been running very low of late, just 5-800,000 a year. A normal level is 1.1 to 1.2 million units a year.

'Even if we go back to 1.2 million units a year, and even if 50% of those are home buyers, which I think is a very, very high number [the rest being renters], that won't be sufficient to clean up the huge overhang of supply we're going to have over the next four to six years,' she calculates.
The article does indicate whether or not Goodman takes into account the likelihood of success of further interventions in the market. Regardless, critiques like Goodman's are helpful reminders of the on-going risks in the housing industry.
Whatever form a housing bottom takes, all things considered, I am guessing it will not be explosive. The subsequent recovery could be so slow that it will be hard to notice. Regardless, on balance, there are enough reasons to believe that conditions do not get worse after 2013, and that is reason enough to start positioning in 2012. The on-going risks mean that there should be plenty of time to buy the dips and steep discounts the stock market is sure to offer in the coming months.
Be careful out there!
Disclosure: I am long KBH.