Black Box (NASDAQ:BBOX) is scheduled to announce third quarter financial results later this month. While one analyst still remains remarkably bullish on the company, others would be wise to take a more critical view of its results and forward prospects. Black Box currently faces significant challenges to its business model that threaten to displace both its marketplace relevance and the future cash flow the company generates.
Its core business of selling, installing and maintaining phone and data equipment, which accounts for over 80% of its revenues, is quickly being disrupted by the evolution of cloud, hosted and other remotely deployed technology solutions which have seen significant and well documented adoption rates amongst small and medium sized businesses in recent years. Black Box also offers investors a mixed record of long-term value creation attributed to a capital allocation/acquisition strategy that has produced little in the way of increased earning power or stock price appreciation over the past decade.
M&A Follies
Black Box began life as a catalog company in 1976, naming the company after one of its best-selling products, little connectivity "black boxes". As the catalog business grew less fashionable towards the end of the 1990s, Black Box looked for ways to augment its revenue and grow the business quickly. M&A became the answer. In 1998, the company made its first acquisition of a data business (low-voltage cable installer) in Florida and acquired several other similar businesses over the next few years.
These acquisitions, which by 2000 included data as well as telephony businesses, opened up new revenue streams for the company and were collectively coined "on-site services". By 2001 it was clear Black Box liked the potential it saw in expanding its revenue mix further into telecom on-site service companies and quickly jumped in with both feet, going on an acquisition rampage. Over the four year period starting in fiscal year 1999 and ending in fiscal year 2002, Black Box acquired 84 companies or nearly one company every 17 days.
click to enlarge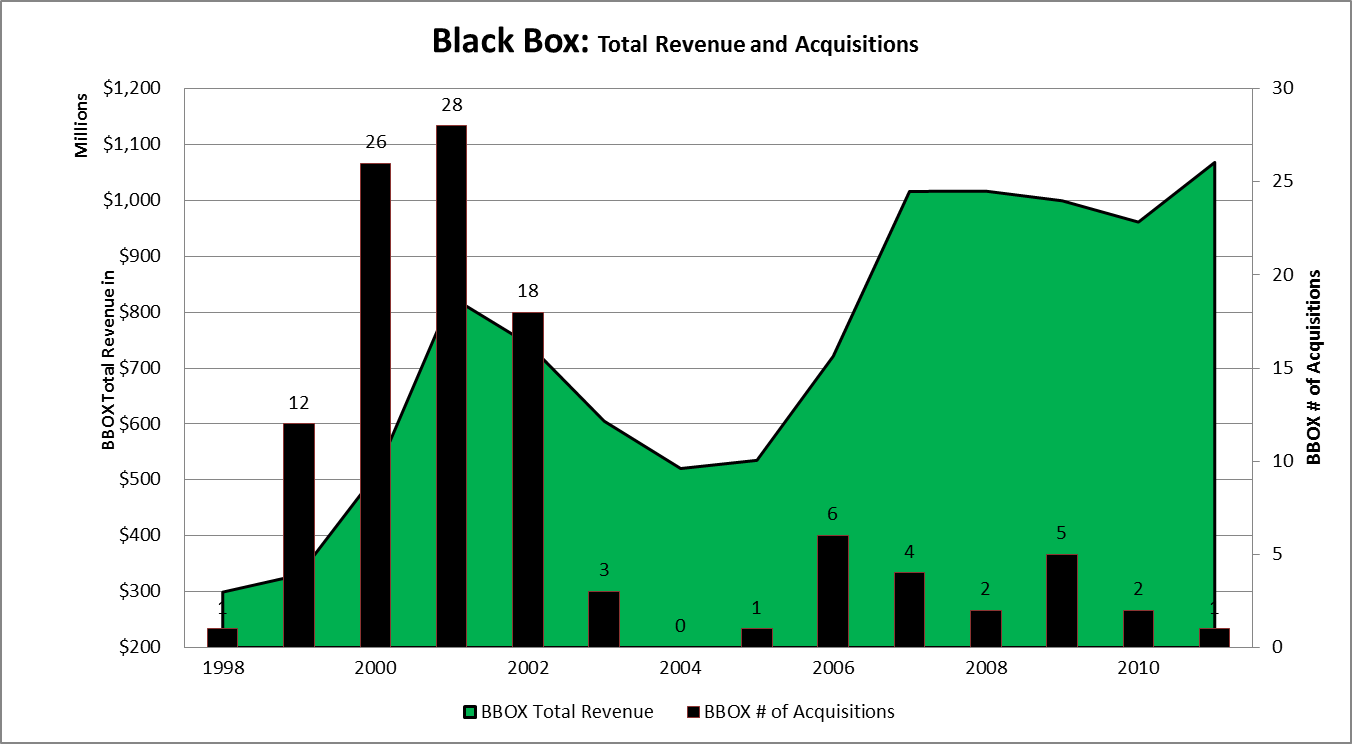 Surprisingly, as Black Box acquired more and more small telecom VARs in the early 2000s, its total revenue was actually decreasing and its organic revenue was in a free-fall. In 2005 and 2006 Black Box made two major acquisitions, buying Norstan, Inc., a publically traded company that was losing money and NextiraOne, LLC, a privately held company owned by Platinum Equity,LLC. These two acquisitions alone added $500M to Black Box's top-line sales and temporarily stemmed the decent.
Selling Profits, Buying Revenue
Anyone willing to look beyond the headline revenue numbers could see the fixation on volume was starting to have effects on other parts of the business. While Black Box's revenues matured, other metrics across the company fell. The company had radically altered it revenue mix by making acquisitions of businesses that performed voice and data services and, the more companies it acquired, the faster its gross and net margins fell. As of March 31, 2011, Black Box's gross margin stood at 33.4% for fiscal year 2011, down significantly from the 43.6% gross margin it posted in fiscal year 2000.
The interesting part of the decision to trade margin for volume is that, historically, gross margins in the three key revenue categories delineated by Black Box have stayed consistent over time. The hotline (catalog/internet) business has earned around a 50% gross profit margin over the last decade and the voice and data service businesses (collectively on-site) have combined for around a 30% gross profit margin. With margins in the respective revenue categories mostly consistent across the decade, the drop in gross and net profit margin Black Box incurred from 2000 to 2011 can be nearly all be attributed to the shift in mix toward on-site services which now account for greater than 80% of the company's revenues. Some might then ask why a company would consciously choose to deploy capital from a higher margin business and plow it into a lower margin business, a very good question.
Earning Power
When acquisitions become the weapon of choice for creating long-term shareholder value, their intent should always be aimed at maximizing real economic benefits to the company, not merely managerial domain. When real economic benefits are realized in the combination of two companies, shareholders will benefit over time as the business increases its earning power.
A business's true earning power is a subjective measurement without a clear definition and not everyone will always agree with what the correct metrics to measure it are. Most, however, will agree that using some derivative of profit is correct. So when measuring Black Box's comparative earning power, it's important to use a broad basket of metrics to try to assimilate the best understanding of where it stands presently and how it has changed over time.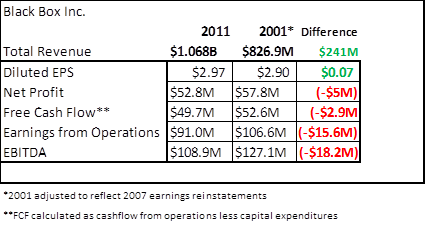 Shareholder Burden
To examine the true cost to the shareholders, you would need to carefully study how much cash the company deployed into acquisitions over the time period. On the graph below, you can see Black Box has spent $778 million on the acquisition of companies and share repurchases from 2001 to 2011; an amount far greater than its total market capitalization today.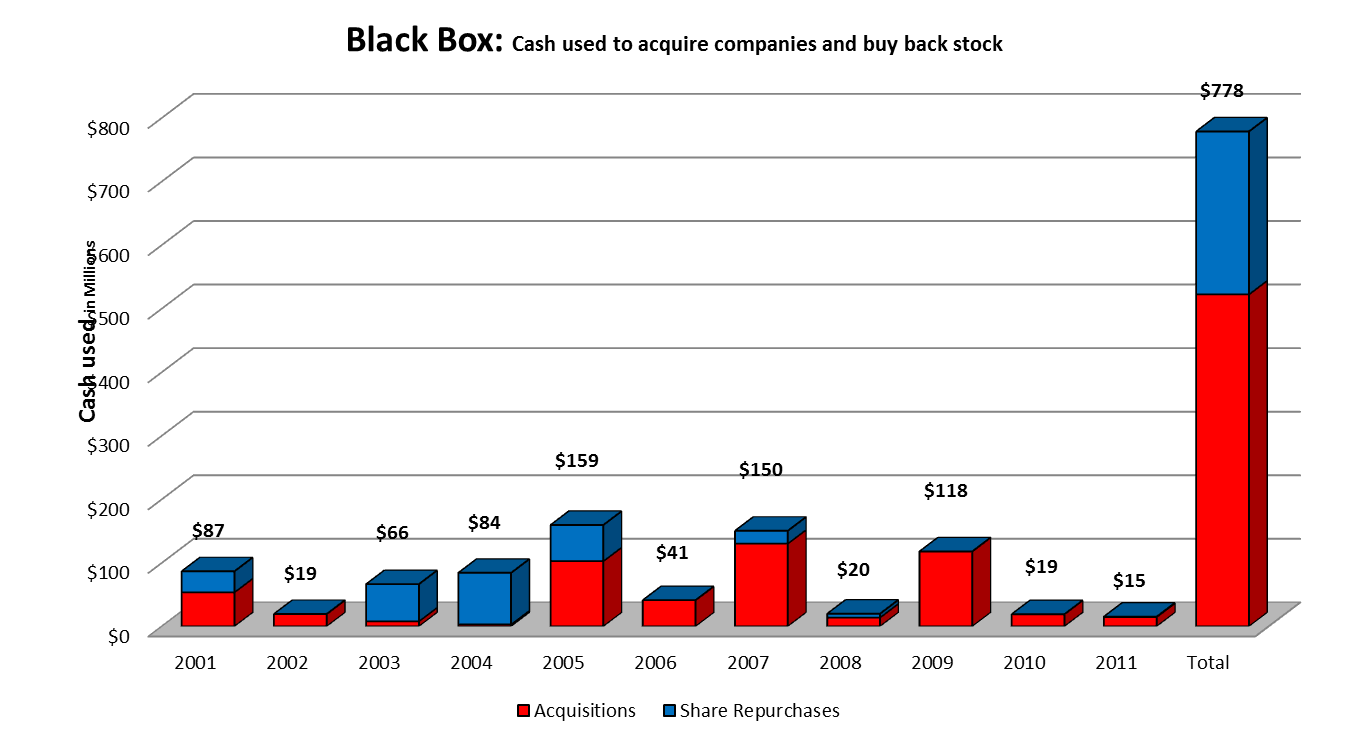 Valuation
After all the acquisitions and share buybacks, what is the company worth today? Based on its market capitalization, the company is worth about $488 million as of the market close on 12/16/2011. In December of 2010, Black Box held an analyst day presentation at their headquarters, having several of the management team present on their division's performance. At the end of the presentation during the Q&A portion (1:56:29), someone asked an interesting question pertaining to the company's M&A methodology and how Black Box values the companies it purchases. To answer the question on how it values acquired telecom VARs, its CEO stated that deals are based on historical data as well as "looking out a few years…" hinting that some form of a future cash flow analysis would be incorporated. He concluded by saying Black Box "typically does deals in the 3-5x EBITDA range.." as a general rule when acquiring telecom VARs.
Black Box, by way of 100+ acquisitions over a relatively short time period, has become a market maker for establishing the price of privately held voice and data VARs in the industry. However, it wears both the hat of teacher and student when it comes to evaluating its M&A practice and concurrent operating business. Its operating business is essentially no different from those of the businesses it acquires; it is the sum of its parts plus whatever premium/discount an investor might place on the entire business. Using its very own valuation model, we can now get an idea or starting point of what Black Box might consider to be a fair value for its business. Using the same framework, we can also compare the change in its internal value over time. This, of course, is simply conjecture as an investor will also want to incorporate the business's future cash flow prospects when determining a present value.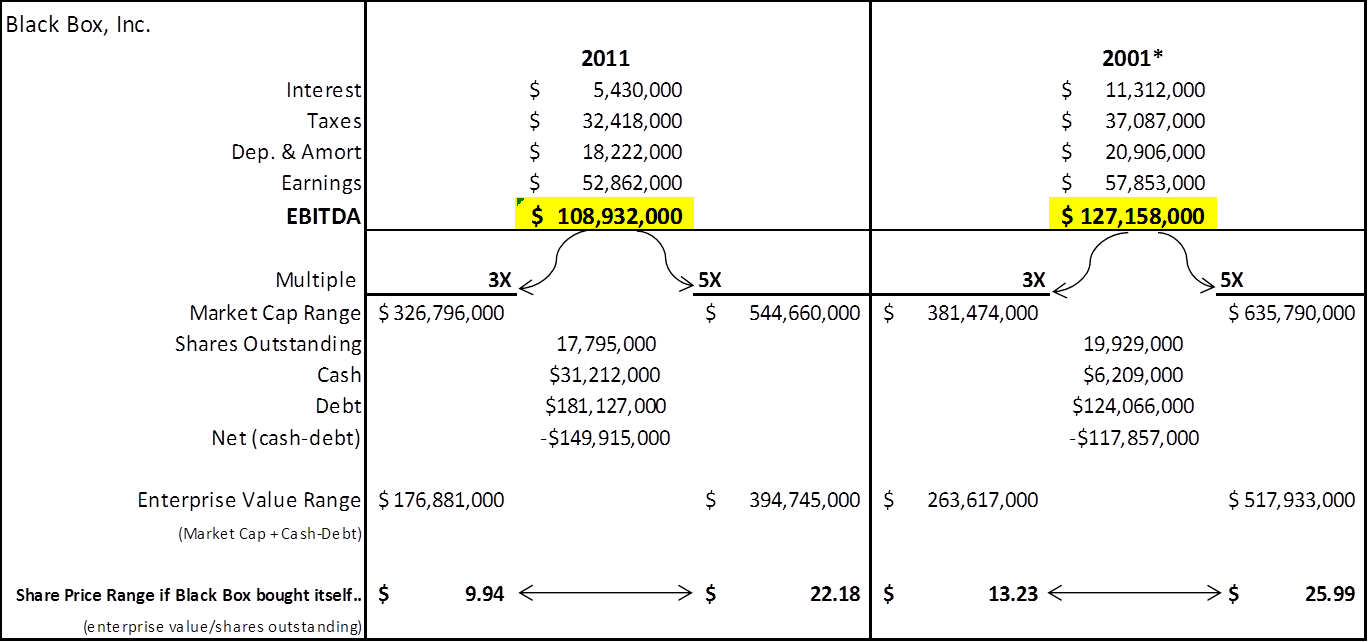 Today
The last decade can be characterized as one of change and transformation for Black Box. The company has long left its roots as a catalog business and today is a massive conglomerate of small voice and data VARs across the country and around the world, a makeover that has brought both new opportunity and left the business exposed to new threats. At the core, its push further into on-site voice and data services will force the company's hand in addressing several significant challenges to its business model.
One of the most prominent challenges is the fact that the company currently generates the majority of its revenue today from a technology and trade that is quickly becoming obsolete; selling, installing and servicing on-site PBX and other equipment. While still in relative infancy, the adoption trend trajectory away from on-site equipment is sure to accelerate as cloud-based platforms continue to improve their scalability to larger deployments and businesses become better educated on the cost-saving potential offered.
Other challenges that will need to be addressed include the changes to its employee talent set as expertise in software, virtualization and hosting become much more important than hardware and the continued commoditization of voice and data equipment that will pressure prices and permanently impair margins going forward.
Black Box also controls a vast network of branch offices, a by-product from years of M&A activity. Like a movie rental chain in 1999, these were a significant advantage in the past, allowing the company to cast a wider net on a rising tide, however, these could become a significant SG&A and fixed cost liability in a cloud-based future. Finally, goodwill, a significant portion of the company's assets, could change leverage ratios should it be deemed impaired in the future.
Forward View and Conclusions
The rearview mirror is always viewed with the clarity of 20/20 vision. Shareholders have a right to question the motivations and results of any capital allocation strategy that consumes massive investment but doesn't result in substantially higher earning power or total returns over a long period of time. Markets tend to penalize companies that don't increase value with retained capital by discounting their assessment of future earnings based on a "what will they do with the money" analysis.
Shareholders today should acknowledge that a strategy built on increasing revenue is not good enough. They would be wise to demand a plan that generates substantial inflation-adjusted earning power as the best bet to earning a good rate of return on any capital left in the business.
When Black Box announces its quarterly earnings in a few weeks, investors need to look past the current P/E multiple and other historical metrics of business value. Listen for a well-articulated strategy that not only addresses revenue growth but is also carefully crafted to produce long-term returns for shareholders and position the company to be competitive in the rapidly evolving marketplace it competes in.
The game is changing for companies like Black Box and using shareholder capital to increase revenue by purchasing VARs selling dated technology will not produce acceptable rates of return on invested capital. Should the company continue to follow this legacy path, expect to see the results of new marketplace dynamics manifest in its future business results.
You can read this entire paper here.
Disclosure: I have no positions in any stocks mentioned, and no plans to initiate any positions within the next 72 hours.