TV, movies, and theme parks - we humans love to be entertained, and we greatly reward those who entertain us. We found 3 dividend stocks who capitalize on this endless fascination, which may be some of the best stocks to buy in 2012 for undervalued growth and income within the Cable/Film/Broadcasting Industry:
Valuations: Compiling Industry Averages is a bit messy for these firms - although they all operate within the Cable TV industry, and Disney (NYSE:DIS) and Viacom (VIA.B) also are active in the film industry. Viacom and Time Warner Cable (TWC) currently look quite undervalued on a PEG basis, while Disney is very near the 1.00 undervalued PEG threshold. TWC also looks undervalued on a cash basis - its Price/Free Cash/Share is only 3.15 vs. the 10.05 industry average .

Covered Calls: Even though Disney's next annual ex-dividend date isn't until December, you can create your own much higher virtual dividend by selling covered call options, and, you won't have to wait to get paid - option sales are credited to your account within 3 days of trading, often the same day. Unlike dividends, which often qualify for a 15% tax treatment, options are taxed as short term capital gains.
The TWC and VIAB call options currently pay from over 4 to 6 times the amount of their dividends over the 5-6 month period for these trades. (The call and put options listed for Disney and Time Warner expire in July, and those listed for Viacom expire in June.)
You can find additional details on over 30 high yield Covered Calls trades we've discussed in our recent articles in our Covered Calls Table.

Cash Secured Puts: What do you do if you want to own a stock, but you think the current price is too high? You can sell cash secured puts at or below the stock's current price, get paid your put premium $ now, and achieve a lower break-even - essentially, you'll get paid to wait. If you want to play it more conservative, you can sell put options at strike prices even further below a stock's current price and get an even lower break-even. However, the further "out of the money" you sell, the less put premium money you'll receive.
TWC's puts have a break-even closest to its 52-week low. Similar to the call options, these put options pay 4 to 7 times the dividend payouts during this term:

(Note: You can find more info on over 30 high yield Cash Secured Puts trades in our Cash Secured Puts Table.)
Financials: TWC's Debt/Equity ratio of 3.5 is higher than the industry average. of 2.16, but its 1.44 current ratio is better than its peers' 1.06.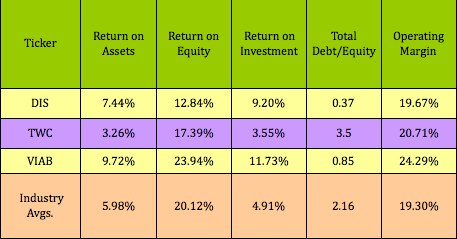 Performance: Although Disney and Time Warner are flat for the past year, they've picked up steam in the past month. Viacom has posted solid gains during the past year, quarter, and month, and continues to have its fans thus far in 2012:

Disclosure: I have no positions in any stocks mentioned, and no plans to initiate any positions within the next 72 hours.