The Overview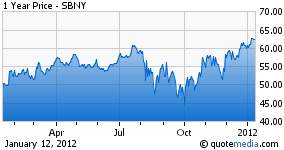 The banking sector has recently been dominated by headlines from major movers such as Bank of America (NYSE:BAC) and Citigroup (NYSE:C). Bank of America, which was down 61% last year, recently slashed about 20% of its managing directors across its Asian investment banking division. Citigroup, in conjunction with Goldman Sachs (NYSE:GS), is planning to market approximately $1 Billion in bonds backed by commercial property loans as early as next week. The intense scrutiny focused on major banks has resulted in a majority of the smaller regional banks flying under the radar, some of which are extremely attractive and are much more fundamentally stable than the major banks. A prime example of this is Signature Bank (NASDAQ:SBNY), which should be considered by investors to be a solid alternative to investing in "Too-Big-To-Fail" banks.
The Niche
Signature Bank is a Northeast Regional Bank that engages in the provision of business, personal banking products and services. It operates in a very specific niche, with its 25 branches located in the New York metropolitan area. Signature Bank has recently experienced growth buoyed by its multifamily project loans, which are in high demand. In fact recently released Census Bureau data showed a 181% jump in starts for multiunit construction projects during November, which in turn put lenders such as Signature Bank "in high gear," as Investor's Business Daily notes. Signature Bank is also benefiting from the fact it isn't over-diversified in multiple target markets across the nation; it is instead focused on dominating a very specific niche in the Northeast, whose economy has remained strong and is expected to continue to remain strong in 2012. In fact, according to Matthew Kelley, a Managing Director at Sterne Agee & Leech, Inc., the economy of the Northeast and New England, which has an unemployment rate of 6% to 7%, is performing much better than national economy. Mr. Kelly also notes that an increasing share of the mortgages market is returning to regional banks that are originating the mortgages and selling them in secondary markets.
Signature Bank's regional focus also acts as a buffer against negative developments in areas such as Europe, which is still reeling from its sovereign debt crisis, and other negative macroeconomic indicators. As Mike Shafir, a Senior Research Analyst at Sterne Agee & Leach, Inc., notes, many of these regional institutions " have catalysts that aren't affected by the macro." It should be noted that CRT Capital Group's recent report named Signature Bank as one of the regional banks having the most potential exposure to a U.S. debt downgrade; however, CRT Capital Group acknowledges that regional banks are nonetheless well prepared to weather the immediate effects of a downgrade, which "is not likely to result in broad capital raises for the regional-bank group." Also Signature bank has weathered economic hardships before, but was one of the first banks to successfully repay its TARP funds during the Great Recession. The company was recently awarded No. 4 on The Street's list of 10 Most Efficient Actively Traded U.S. Bank and Thrift Holding Companies. Overall, Signature Bank is positioned as solid company that operates in a very strong target market; furthermore, the company has significant growth and exhibits a degree of resilience to negative macroeconomic conditions..
The Result
Signature Bank has posted very positive fundamentals, especially coming off a strong 2011 3Q. Its 2011 3Q EPS increased 26% compared to its 2010 3Q EPS figures, with the average EPS growth of the last 3 quarters at 40%. Signature Bank's 3Q also saw a 3.8% earnings surprise and a 20% increase in sales year-over-year. For the current quarter, estimate revisions are up and Signature Bank is expected to post a 16% EPS increase year-over-year. This recent growth has been marked by demand for Signature Bank's multifamily project loans, which many analysts expect to continue on to 2012.
Signature Bank's attractive growth has been continuing for some time now. Its 3-Year EPS Growth Rate is at 35%, while 2011 EPS is expected to increase 35.77% from that of the year before. The 3-Year Sales Growth Rate is also very positive, coming in at 22%. These numbers highlight the ability of Signature Bank to weather the economic tides and to continually deliver strong performance.
Signature Bank is also relatively profitable. Its Annual Pre-Tax Margin was a very strong 34.6% while its Annual ROE was 11.7%, which is relatively high for companies in the banking sector (Bank of America has a 4.4% Annual ROE, while Citigroup has a 6.7% Annual ROE). According to SNL, Standard Bank's 3Q ROA was a solid 1.13%, while its Debt/Equity Ratio was at a manageable 59%.
The Verdict
Out of the 18 analysts currently covering Signature Bank, none have initiated a Sell or Underperform call; furthermore, 9 of them consider SBNY either a "strong buy" or a "buy." Signature Bank also has seen increased institutional buying and currently boasts 8 quarters of consecutively increasing fund ownership. Signature Bank's regional focus has allowed it to harness the growth of a strong target market and has largely left it unscathed from macroeconomic hardships. This is reflected in its extremely positive EPS and Sales Growth, as well as its profitability. Overall, anyone interested in investing in the banking sector should definitely take a look at Signature Bank and regional banking stocks in general.
Disclosure: I have no positions in any stocks mentioned, but may initiate a long position in SBNY over the next 72 hours.