By Mark Bern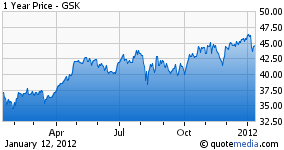 GlaxoSmithKline (NYSE:GSK) is a large, global drug company based in the United Kingdom. The company derives 45% of revenue from the U.S. market. It largest drug, Advair (for asthma) is beginning to lose some market share to generic versions (not all of which are FDA approved). There is a division of opinions on how fast generic sales will grow. Sales were down over the first half of 2011 by only 5% in the U.S. But the global sales of Advair are expected to top $8 billion for the full year, a slight rise over 2010 from $7.8 billion in 2009. In 2010, U.S. Advair sales represented about 9% of GSK's total revenue, so this debate is worth considering. I tend to agree with those that believe that generic adoption will be slower than is often experienced with most blockbuster drugs based upon the company's assessment and results thus far. Additionally, GSK's next generation replacement drug, Relovair, is due for FDA approval later in 2012 and is expected to be another blockbuster waiting to happen.
GSK has a relatively strong pipeline with at least 10 new drugs scheduled to complete phase III trials in 2012. Several have blockbuster potential, albeit not at the same level as Advair but still in the $1 billion plus range. Thus, revenue growth is expected to slow over the next few years but not go negative.
One thing I really like about GSK is that the attempt to restructure the R&D effort is proving to be a success. GSK is actually reducing the time and cost it takes to brings drugs to market having a beneficial effect on the bottom line. The result, I believe, will be slow revenue growth accompanied by higher growth in earnings and cash flow. This should have a positive effect on dividend growth as well.
While I don't expect the double-digit growth we once expected from big pharmaceutical companies, I do believe we could see growth in earning per share averaging 7% and dividend increases of 6% over the next five years.
The current price is $44.42 per share (at the market close on January 12, 2012) and the dividend of $2.17 provides a yield of 4.9%. If you reinvest the dividends you should be able to expect an average total return of about 11%-12% per year over the next five years. The company's balance sheet is in good shape and cash flows are starting to grow better than over the last five years. This is a company that should appeal to long-term income-oriented, conservative investors.
For readers who are more interested in companies that pay a rising dividend I have created a similar link to a list of articles I have written on that subject here.
Disclosure: I have no positions in any stocks mentioned, and no plans to initiate any positions within the next 72 hours.