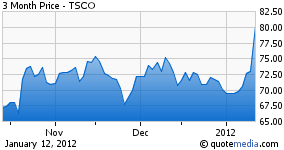 One of the major winners of Thursday's trading session was Tractor Supply (NASDAQ:TSCO). The operator of retail farm and ranch stores rose 10% to close at an all time high of $80 after raising the full-year 2011 earnings target, once again.
Third quarter results
Revenues for the quarter rose a whopping 20% year-on-year to $1.24 billion, above $1.20bn expectations. This includes a one-time positive effect of 6.6% due to the fact that there was an extra working week for the quarter. Same-store sales, a key gauge of operational performance of a retailer, rose 7.6% on an annual basis.
CEO Wright also noted that the continuous focus on inventory management and allocation of resources towards different regions has lowered the business dependency on weather related trends.
On the back of the good quarter, Tractor Supply now expects full year 2011 earnings to come in at $2.97-$2.99 a share, up from $2.85-$2.89 guided before.
Agricultural boom
The company has benefited in a major way from the agricultural boom we have seen in the last decade. Annual revenues rose over 50% in the last 5 years from $2.7 billion per annum in 2007 to over $4.2b billion 2011. Earnings rose even faster, and more than doubled from $1.24 per share in 2007 to an expected $2.97-$2.99 per share for 2011.
In the meantime the stock quintupled, rallying from a low $15 in 2007 to a new all time high of $80 at Thursday's close.
The company has also been completely debt free, retained a lot of earnings and used those retained funds to repurchase over $300 million in shares this year, a major vote of confidence from management for the future.
Allthough the company does not appear to be cheap at 27 times 2011 earnings, continuous growth can be expected from this well-managed enterprise in a steadily growing industry. Long term holders of the stock (which traded as low as $1 in 2000) have seen the rewards already. For those interested to pick up the stock for the long haul, wait for a serious correction which undoubted will come after weather-related factors will cause a dent in quarterly earnings at some point in the future, which should provide an interesting entry point to pick up this long term growth brilliant.
Disclosure: I have no positions in any stocks mentioned, and no plans to initiate any positions within the next 72 hours.