Macro View
The U.S. economy continues to have significant headwinds (e.g., high unemployment, European credit contagion, weak housing market, high debt levels, etc.) and the year-end "relief rally" is likely to be short-lived.
The global economy is being weighed down by a debt problem that took over two decades to create. Given the significant build-up in peace time debt, we believe that the debt problem will take years to sort out, providing significant uncertainty and market volatility. The leverage that has been built up in the system will not unwind for years to come.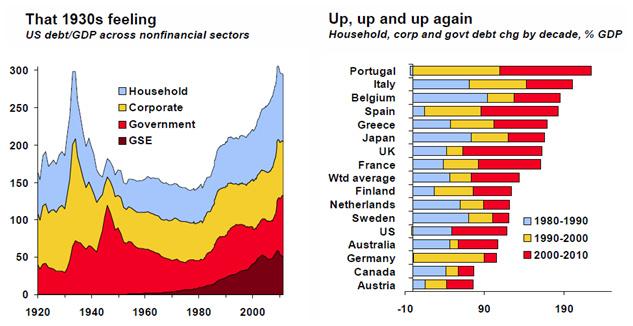 Click to enlarge
(Click to enlarge)
Our central belief is that in a low interest-rate world, income investors are experiencing dwindling incomes from their risk-free assets (e.g. government bonds and cash equivalents). With ultra easy monetary policy the Federal Reserve will continue to pick the pockets of savers by keeping rates low. We do not foresee interest rates at the short end of the curve rising any time soon as the debt burdens of sovereign governments as well as consumers are simply too high.
Stable Income Streams
As central banks drive down short-term rates to deal with high debt levels and low growth rates, investors have been flocking to dividend stocks in search of yield.
That said, any pullback in the market should be an opportunity to add to your favorite dividend stock positions.
There are currently 17 stocks in the S&P 500 that have a dividend yield over 5% (see table below).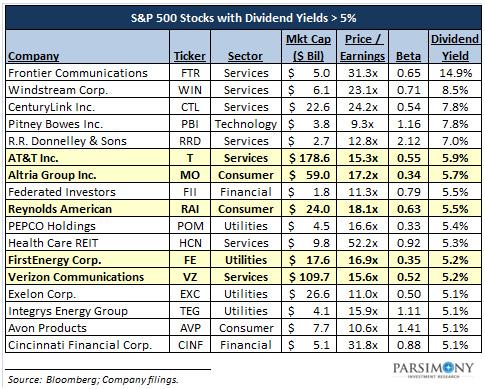 While this is not an exhaustive list of high-yielding dividend stocks, this sample portfolio would yield 5.8% with an average beta of 0.81.
Our favorite stocks on the list are highlighted in yellow [AT&T (NYSE:T), Altria (NYSE:MO), Reynolds American (NYSE:RAI), FirstEnergy (NYSE:FE), and Verizon (NYSE:VZ)]. We prefer stable, low-beta stocks in defensive industries. In general, companies with low betas will tend to be less volatile than the general market.
We think that investors should tread with caution with top three stocks above [Frontier (NYSE:FTR), Windstream (NASDAQ:WIN), and CenturyLink (NYSE:CTL)]. These stocks have specific industry risks that investors should fully diligence prior to investing. We will touch on these risks in a future article.
With a diversified portfolio of high-quality dividend paying stocks (like the ones highlighted above), investors can generate a stable income stream that will perform well in bull or bear markets.
Tactical Strategy
Due to the current market rally (which we believe will be short lived), investors should consider waiting for a pullback in these stocks to enter a new position or to add to an existing position.
Most of the stocks above are currently in a positive uptrend. As such, investors should be looking for near-term areas of support as potential entry points. Below are a couple of examples: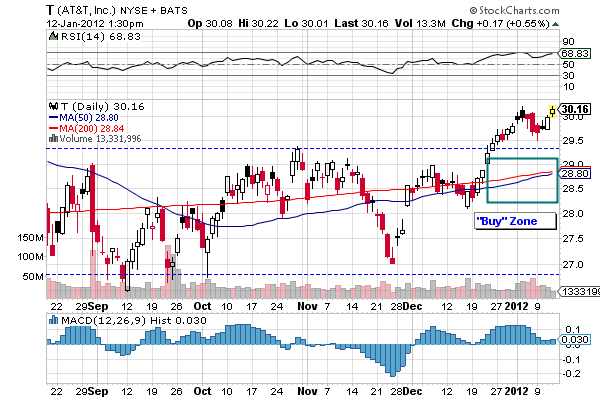 Click to enlarge
(Click to enlarge)
While AT&T has been range bound the past few months, the stock recently traded back above $30 for the first time since July. We think that AT&T will continue its long term uptrend and we would be a buyer on any dips. The 50-day and 200-day moving averages are converging around the $29.00 level and we think that the stock will get very strong support here. Our near-term "buy" zone is $28.25-$29.25.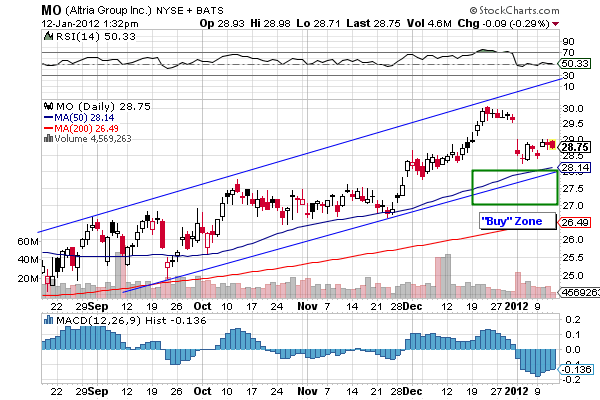 Click to enlarge
(Click to enlarge)
Altria has been trading in an upward range the past few months and we believe that this trend will continue for the stock as investors continue to seek good risk-adjusted yield in a low interest rate environment. That said, the stock should get downward support around the 50-day moving average ($28.14), and we think that investors should consider buying MO on any dips.