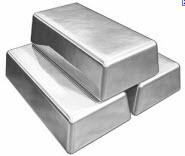 These seven silver related stocks are trading down significantly from their 52-week highs by an average of 40%; nevertheless they have positive catalysts for future organic growth.
Silver has dropped from a high of $50 in April of 2011 to its current low of approximately $30 and dragged these stocks down with it. I posit these out of favor stocks are undervalued, primed to rebound and have significant upside potential as the price of silver rises, based on geopolitical and macroeconomic factors. With the central banks caught in a game of "catch-as-catch-can" in a race to devalue their currencies, inflation will soon become the issue of the day spurring silver higher.
The stocks in question are: iShares Silver Trust (NYSEARCA:SLV), Silver Wheaton Corp (NYSE:SLW), Pan American Silver Corp. (NASDAQ:PAAS), Hecla Mining Company (NYSE:HL), Silvercorp Metals Inc (SVM), First Majestic Silver Corp. (NYSE:AG) and Endeavour Silver Corp. (NYSE:EXK).
Please review the following chart depicting these stocks' current percentage drops below their 52 week highs followed by a brief summary of the Silver Institute's latest report, a review of silver major macro catalysts and a detailed review of each company, including company-specific catalyst or recent news, a recent performance chart and fundamental statistics table.
Percentage Off 52 Week Highs Chart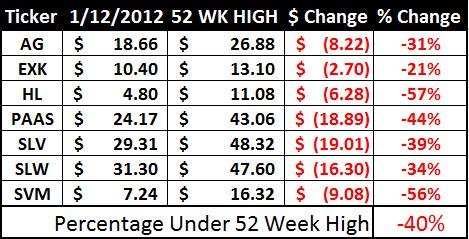 Silver Institute Report Highlights - The Silver Investment Market
The Silver Institute released a report recently entitled The Silver Investment Market which forecasts world silver investment will reach a record high total of $10 billion in 2011, representing a 66 percent increase over the $6 billion posted in 2010. Please review the following highlights regarding other findings from the report.
The outlook for silver prices is bullish for the remainder of 2011 and into 2012;
Silver investment has become a key area of the global silver supply/demand balance;
Since the beginning of 2008, global Exchange Traded Fund (ETF) holdings have grown by 364 million ounces (Moz), to 577 Moz on October 31, 2011.
In 2011, a fresh peak of 41 million coins is forecast for the U.S. Mint's American Eagle silver bullion coin sales, eclipsing last year's record of 34 million coins. Globally, bullion coin sales are on target to post another record high.
The report, prepared by Thomson Reuters GFMS, is a must read for silver investors and covers several key areas of silver investment, including a market overview, who is investing in silver and why, investment in paper instruments linked to silver, physical investment in western and developing markets, silver mining stocks, and an analysis of privately held silver bullion stocks.
The average annual silver price for 2011 was $35.12 per ounce and set a record for the white metal with a staggering 74% gain over the 2010 average annual price of $20.19 per ounce, according to the Silver Institute. Silver's average annual price has increased 703% since 2001.
10 Year Price Performance Chart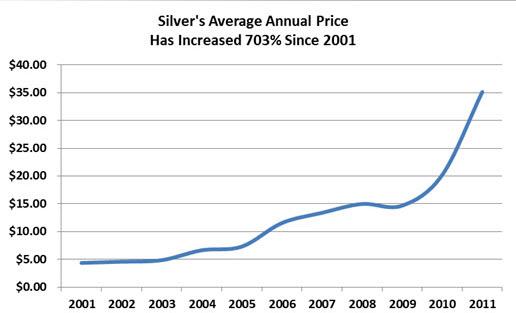 Chart provided by Silver Institute
Silver Major Marco Catalysts
Silver has many essential applications for the environment. By substituting our need for unforgiving chemicals and dropping the quantity of energy needed, silver helps decrease the size of our environmental "footprint".
A major use of silver is in green technologies. It plays a major role in solar energy production. Silver is the main ingredient in the solar panels used to transform natural sunlight into power. It is also used to reflect light to run generators. Silver added to windows reduces up to 95% of the sunlight transmitted indoors cutting energy costs.
Silver is increasingly used in nanotechnology. Silver acts as a sterilizer when added to fabrics, appliances, carpets and air purifiers. It kills harmful bacteria that otherwise would have had to be treated with harsh chemicals. Silver is a major victory for green technology by reducing our reliance on potentially toxic substances.
As fiat currencies continue to devalue, precisions metals will march higher in value. No fiat currency in history has survived to date. It's a race to the bottom for the world's central banks as they continue to one up each other's quantitative easing efforts.
Recently many central banks of emerging markets lowered their interest rates, consequently lowering the cost of borrowing. In most cases inflation will outstrip the yield on savings, creating negative real interest rates. Thus, investors will take flight to precious metals and protect their wealth from devaluation.
Silver is incredibly under-owned by institutions relative to historic levels and relative to differing asset classes.
The long-term trend of the U.S. dollar is lower. Conversely, the long term trend for silver is up. As the dollar's value continues to dwindle and worldwide economies recover, investor focus will swing from deflation to inflation which bodes well for silver.
Company Reviews
First Majestic Silver Corp. recently announced the Company's fourth quarter and full year 2011 production results.
Highlights
Total production increased by 17% to a new quarterly record of 2,101,528 silver equivalent ounces
Total silver production increased by 15% to a new quarterly record of 1,957,657 ounces
Silver production amounted to 93% of total production in the fourth quarter
Total processed ore in the quarter increased by 7% to a record 565,003 tonnes
Chart (Click to enlarge charts and tables)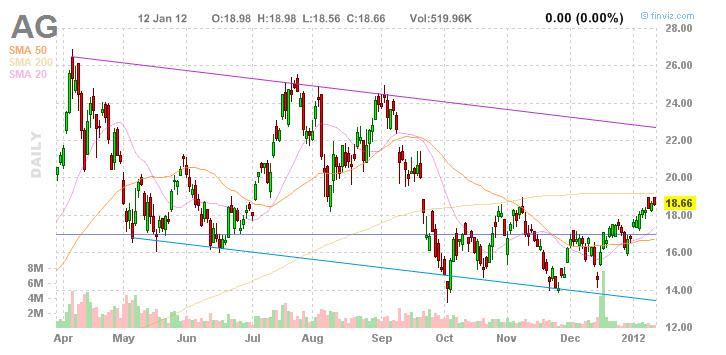 Fundamental Statistics

Charts and tables provided by Finviz.com
Endeavour Silver Corp. recently announced record-setting silver and gold production from the Company's two operating silver mines in Mexico, the Guanacevi Mine in Durango State and the Guanajuato Mine in Guanajuato State for the Fourth Quarter, 2011.
In Q4, 2011, silver production was up 25% to 1,120,780 ounces (oz) and gold production was up 45% to 7,045 oz compared to the Fourth Quarter, 2010.
Production Highlights - Fourth Quarter, 2011
Silver production up 25% to 1,120,780 oz
Gold production up 45% to 7,045 oz
Silver and equivalents production up 29% to 1.4 million oz (at a 45:1 silver: gold ratio)
Revenues down 39% to US$17.5 million due to reduced metal sales (see below)
Metal held in inventory at year-end included 980,000 oz silver and 5,400 oz gold
Due to the correction in metal prices in the 4th quarter 2011, Endeavour management elected to hold a significant portion of the Q4 silver and gold production in inventory rather than sell at the lower prices.
Chart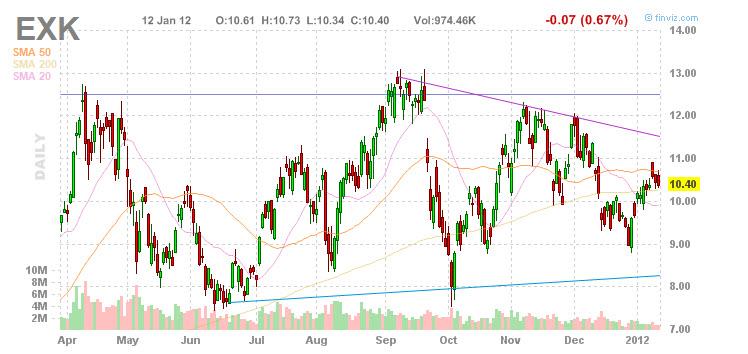 Fundamental Statistics

Hecla Mining Company recently reported that in order to ensure safe and efficient operations for its personnel, Hecla will develop a new haulage way to bypass the rock burst that occurred at the Lucky Friday mine near Mullan, Idaho, on December 14. Creating the bypass and reestablishing mine production is expected to be complete by the end of February 2012.
Hecla's silver output remains within its previous estimates with 2011 production expected at more than 9 million ounces and cash cost estimates remaining unchanged at approximately $1.00 per ounce, net of by-products. For 2012, Hecla expects to increase silver production to more than 9.5 million ounces including the loss of two months of production at the Lucky Friday mine while the bypass is completed.
Chart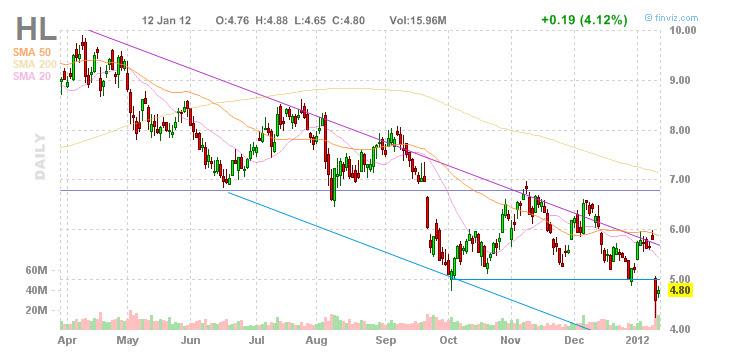 Fundamental Statistics

Pan American Silver Corp. pays a dividend. The fourth quarter cash dividend, in the amount of $0.025 per share, was distributed on Monday, December 5, 2011. Pan American Silver has seven operating mines in Mexico, Peru, Argentina and Bolivia. Pan American also owns the Navidad silver development project in Chubut, Argentina and is the operator of the La Preciosa joint venture development project in Durango, Mexico.
Chart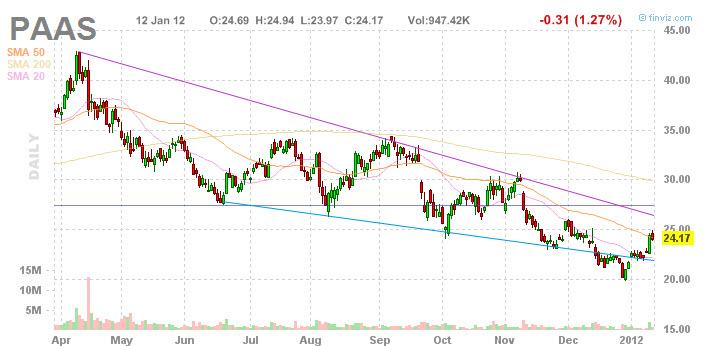 Fundamental Statistics

Silver Wheaton Corp. recently announced that its Board of Directors has adopted a new dividend policy that links quarterly dividend payments to operating cash flows in the prior quarter. Commencing immediately, the quarterly dividend per common share will be equal to 20% of the cash generated by operating activities in the previous quarter divided by the Company's outstanding common shares at the time the dividend is approved, all rounded to the nearest cent.
Chart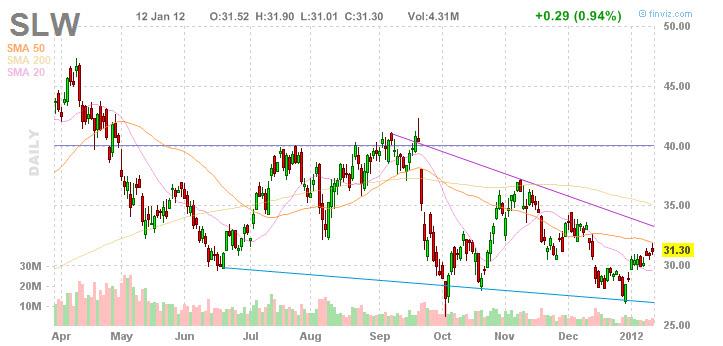 Fundamental Statistics

Silvercorp Metals Inc. recently announced that it has received RMB 269 million cash dividend payment (equivalent to USD $43 million) from its 77.5% owned Chinese subsidiary, Henan Found Mining Co. Ltd. ("Henan Found"), in Henan Province, China. The cash dividend has been deposited at a bank in Canada.
Chart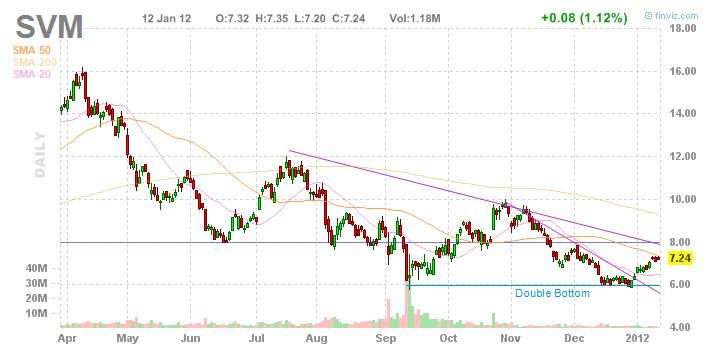 Fundamental Statistics

Fundamental Statistics

Conclusion
With silver's average annual price increasing 703% over the last ten years and central banks caught in a game of "catch-as-catch-can" in a race to devalue their currencies, inflation will soon become the issue of the day causing the white metal to appreciate in value, benefiting these stocks greatly.
These stocks and ETFs are highly correlated to silver and cover the spectrum of miners and bullion ETFs. Layering in to positions and buying a basket of stocks will reduce risk. Nonetheless, this is only the first step in finding winners for your portfolio. Use this information as a starting point for your own due diligence and research methods before determining whether or not to buy or sell a security.
Disclosure: I have no positions in any stocks mentioned, but may initiate a long position in SLV, SLW, SVM, AG, EXK, HL, PAAS over the next 72 hours.