Earlier this week, I had a discussion with a colleague about a worrying trend that is plaguing the United States. I would ask you to take a few moments and think about the food that the average American eats. I suspect that you will find that the average American diet contains copious amounts of sugars and fats. My particular colleague was lamenting about how difficult it is to feed her children a healthy diet because of that. Naturally from there, the discussion moved towards diabetes and the growing prevalence of this insidious disease.
There is a commonly held belief that the consumption of sugar causes diabetes. This is inaccurate. The American Diabetes Association has this to say on the matter:
Type 1 diabetes is caused by genetics and unknown factors that trigger the onset of the disease; type 2 diabetes is caused by genetics and lifestyle factors. Being overweight does increase your risk for developing type 2 diabetes, and a diet high in calories, whether from sugar or from fat, can contribute to weight gain.
The consumption of large amounts of calories is not necessarily a problem as long as there is sufficient physical activity to use those calories. That is the problem. The average American diet is, for the most part, loaded with calories from both fats and sugars. However, the society and culture have gotten more sedentary than it used to be. I can remember my summer breaks from school. My sister and I would be playing outside, either by ourselves or with the neighborhood kids, every day from the time we woke up until the sun went down. We would only go inside when it was raining or when it was time for a meal. I cannot remember the last time that I have seen children doing that today. In effect, we have a society where children are consuming large amounts of calories from the fats and sugars found in the average American diet but are not engaging in sufficient physical activity to burn off these calories. This is a recipe for obesity.
There is further evidence that obesity in children is on the rise. According to the Center for Disease Control, 17% of all children and adolescents aged 2-19 years are obese. This is triple the rate that existed in 1980. The CDC also identifies several trends that make this likely to become an increasingly serious problem going forward. These trends include the following:
Sugary drinks and less healthy foods at schools
Increase in advertising for less healthy food
Lack of daily, quality physical activities in schools
No safe and appealing place to play and be active in many communities
Limited access to healthy foods
High prevalence and availability of high-energy-dense foods and sugar drinks
Increasing portion sizes
Large amounts of time spent watching television and consuming other media
All of these factors point towards a rising childhood obesity rate going forward. Statistically, obese children are more likely to become obese adults than non-obese children. This all points towards an increase in the diabetes rate in the future. Although obesity is just one of several factors that cause the onset of diabetes, it stands to reason that as more people have one of the risk factors then more people will be diagnosed with the disease.
The need to treat the growing number of patients will saddle an already over-burdened medical system with even more costs. Diabetes is a chronic condition that often requires diabetes medications or insulin therapy on a regular schedule. Thus, many people who need to begin these medicines need to continue taking them for the rest of their lives. Diabetes was once thought of as a disease that affected older (60+ years of age) people. That is no longer the case. As childhood obesity rates have increased, the average age of patients diagnosed with type 2 diabetes has fallen. Many diabetic patients now require medications for more than 30 or 40 years! This will increase medical costs due to the need to provide these treatments to a growing number of people.
There is a silver lining to all of this though. After all, somebody has to make the medications and insulins that these new diabetic patients will require. Those companies that are selling these products should see increasing sales and profits as diabetes becomes more and more common.
One company that could benefit from this growth in diabetes care spending is Bagsværd, Denmark-based Novo Nordisk (NYSE:NVO). Novo Nordisk is one of the largest pharmaceutical companies in the world and one of the few large companies focusing almost exclusively on diabetes care. The company current boasts a 24% share of the global market in diabetes care, a 50% share of the global market for insulins, and a 46% share of the global market for modern insulins. The company's large share of the market for medical diabetes products should allow it to disproportionately benefit from the future growth in diabetes.
Novo Nordisk has a strong R&D pipeline of future products for diabetics. The company filed for approval of its new drugs Degludec and DegludecPlus to various regulatory agencies at the end of last year. They also have another drug for type 2 diabetes, IDegLira, in Phase 3. They also have five other drugs for type 2 diabetes in earlier stages of the R&D pipeline. This should ensure that the company will maintain patent protection for its for a number of years going forward and provide protection against the "patent cliff" that has plagued other pharmaceutical companies.
Novo Nordisk's ADR has been rather erratic this year. From April to October, the ADR fell from a high of $132.88 to a low of $94.58. It has been recovering its value since then but the ADR still has not returned to its highs reached earlier this year.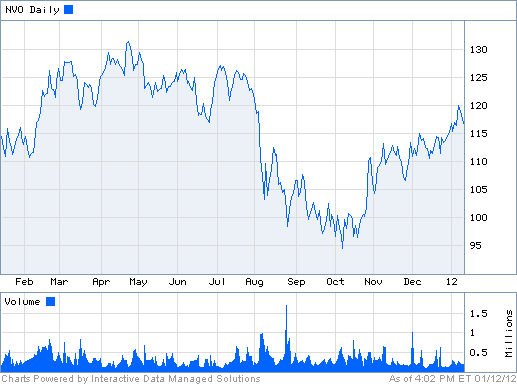 (Click to enlarge) Source: Fidelity Investments
The three-year price history of the ADR looks much better, showing a very positive growth trend.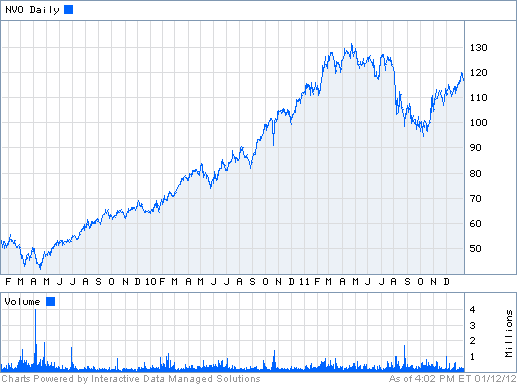 (Click to enlarge) Source: Fidelity Investments
The ADR has also strongly outperformed the S&P 500 over this three-year period.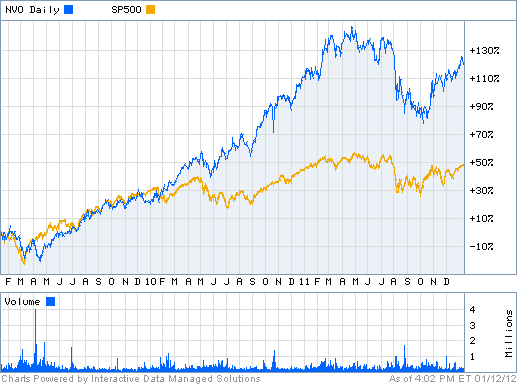 (Click to enlarge) Source: Fidelity Investments
Zack s Investment Research estimates that Novo Nordisk will earn $6.04 in 2012. This represents a year over year growth rate of 14.18% assuming that Novo Nordisk's full year 2011 results come in around analysts' estimates of $5.29 per ADR share. The full year results will be announced on February 2, 2012.
Disclosure: I am long NVO.