I was contemplating whether or not to write a short article on McDonald's (NYSE:MCD). I admire the company's management and how fundamentally strong they have become over the last decade. However, just because a company is great fundamentally doesn't necessarily make the stock a buy. Stocks will often trade below or above fair value of the company for multiple reasons. McDonald's has had a very strong run especially when we consider the market was pretty much flat last year.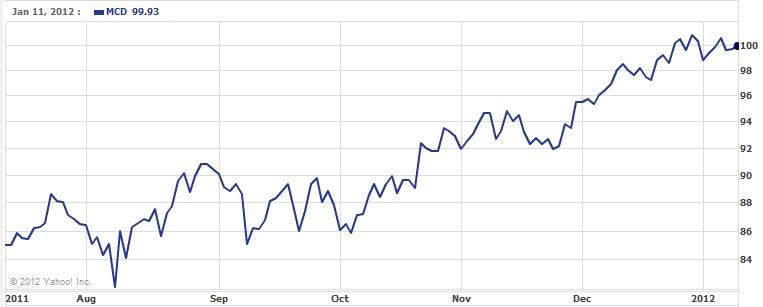 Click to enlarge
I believe that McDonalds' run has been overextended and that it is overvalued by 20%. I put a conservative target of $80 per share. I believe the stock will fall back for a multitude of reasons.

Rising Commodity Prices Will Lower Margins
Labor Costs Are Expected To Rise
McDonald's Tax Rate Is Rising
Valuation Is High Relative To Growth

Rising Commodity Costs
Commodity prices can make or break the earnings for the restaurant industry. Restaurants have no control over the cost of commodities that are essential to their operations.
For example, last year Ruby Tuesday (NYSE:RT) took a large hit after rising commodity prices ate into the companies earnings. Its earnings were 30% below expectations on rising food and gasoline prices.
Yum Brands (NYSE:YUM) has also been taking a hit in margins. Rising commodity prices caused the operating profit to fall 28% in the 2nd quarter of last year.
The cost of beef is normally suppose to decline at the end of the summer months, did not change. This is a change many were not expecting including McDonald's management. If beef prices keep rising, McDonalds will be one of the first to take a hit as beef makes up a significant portion of the company's menu.
Labor Costs
The restaurant industry is a very labor-intensive industry. This means a whole bunch of workers are required to keep each and every restaurant operating. Just like commodity costs, labor costs play an important role in the profitability of the industry.
McDonald's has been heavily expanding into China and plans to open an additional 1,300 new stores there. Yum Brands, which has a very strong base in China, saw a large increase in labor cost. Last quarter alone, Yum saw a 20% increase in labor costs primarily due to the Chinese economy expanding.
Labor costs are not only rising in China, but in the U.S. as well. Last week, Ruby Tuesday mentioned labor cost in the U.S. were on the rise. Labor costs as a percent of restaurant sales increased to 35.2% up from 34.5% from the prior year, primarily due to lower same-restaurant sales coupled with minimum wage increases in several states.
Higher labor costs is not just due to regulation and the economic environment, but also due to improper hiring practices. Chipotle (NYSE:CMG) missed earnings expectations last summer as it hired a large amount of illegal workers at multiple locations. These illegal workers come at a much lower cost and once replaced with legal workers, the labor expenses will rise. Chipotle has also paid legal costs associated with these lawsuits. I am not saying that McDonalds' will see such a scenario, but its important to note that ICE has become stricter in auditing these firms. Do I see a material impact to McDonalds' earnings if these legal situations unravel? Probably not. However, investors should always keep their eyes open as even a scenario like this effects margins.
McDonalds' Tax Rate
McDonald's effective tax rate for the third quarter was 33% to 34%, reflecting a non-cash deferred tax cost related to certain foreign operations. The Company continues to expect the full year effective tax rate to be 31% to 32%.
We pay some of the highest corporate taxes around the world. There needs to be some leveling.
- McDonald's CEO, Jim Skinner
Unlike GE and various other corporations, McDonald's is not able to defer taxes due to its simple business model. McDonald's pays a very high tax rate and there is a strong chance that it will rise based on how the Obama administration currently feels about corporate taxes. This would translate to lower margins and reduce profitability significantly.
Valuation
The last point I would like to end at is valuation. Valuation is ultimately the deciding factor for any investor. While McDonald's continues to make leaps in its business and more than likely continue its growth ahead, I believe the valuation has gotten ahead of itself.
The stock currently trades at a forward P/E of 17. This is more than the average S&P 500 P/E multiple. Of course, McDonald's business has been strong, the multiple implies much stronger growth ahead. While SSS has been positive by a nice amount, it needs to be at least above 6% - 7% to justify the valuation.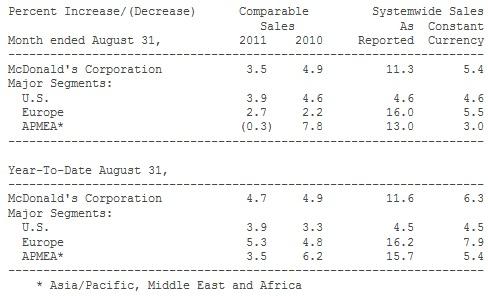 Many investors need to observe certain divisions such as the Asia-Pacific region, which is seeing a huge decline in SSS. This is important to consider as management stated that China is suppose to be a big market for them, but the sales growth has been pretty poor compared to other regions.
I like McDonald's as a company. I believe management is very shareholder friendly with the dividend increases and buybacks. However, I do not believe the stock should be trading at this price for the time being. The market has gotten ahead of itself. I believe the stock should fall back to the $80 dollar range and investors should consider picking shares up then.
Disclosure: I have no positions in any stocks mentioned, and no plans to initiate any positions within the next 72 hours.