Can you believe there are banks out there that not only didn't cut or eliminate their dividends during the financial crisis, but actually maintained - or even raised them?
Looking at the dividend records of these stocks, you'd never know there was a financial crisis.
These are the types of relatively healthy local and regional banks you may not have heard of unless you happen to live in the areas they serve.
I'll give you a closer look at how these companies have performed, but let's first look at the dividend record of the SPDR Financial Sector ETF (NYSEARCA:XLF). This contains big financial institutions such as Wells Fargo (NYSE:WFC), JP Morgan Chase (NYSE:JPM) and Citigroup (NYSE:C).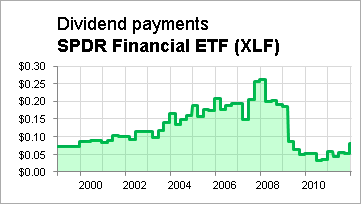 Pretty gruesome isn't it? Some of the banks in this ETF may have been great dividend stocks in their day, but those days are long gone. If they do return, it's likely going to be a long, long time.
Now let's look at the dividend records of some of these smaller banks.
UMB Financial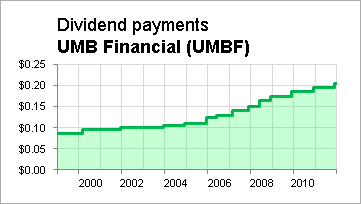 Trustmark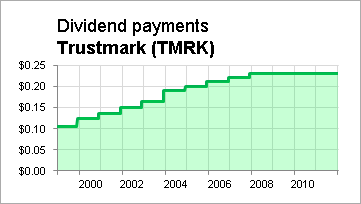 People's United Financial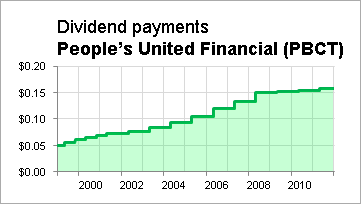 IBERIABANK (IBKC)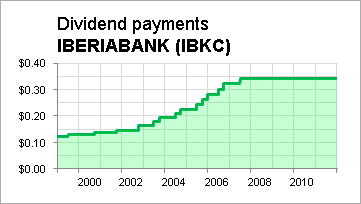 Westamerica Bancorporation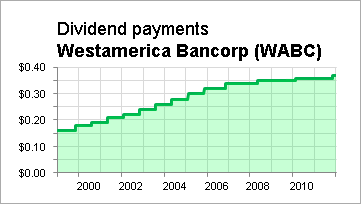 True, some of these banks haven't raised their payouts lately, but they didn't cut them or reduce them to a token penny or nickel dividend.
Beating the S&P 500
What's also interesting is that all of these stocks have not only beat the XLF Financials ETF, but also the SPY S&P 500 ETF if you had invested in them in January 1999. (I picked that date because that's about when the XLF began.)
Here's how a $10,000 investment in each would have fared, assuming you reinvested the dividends. I also indicated what each investment would yield today on the original $10,000.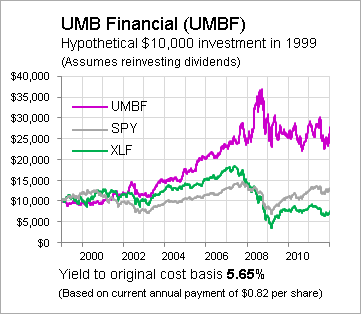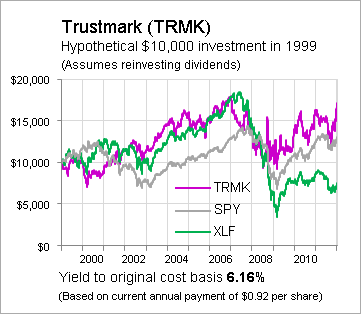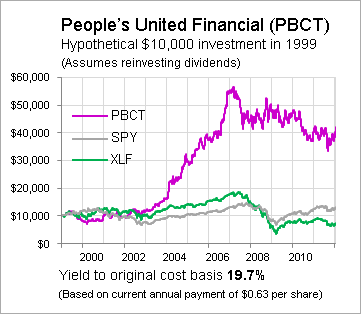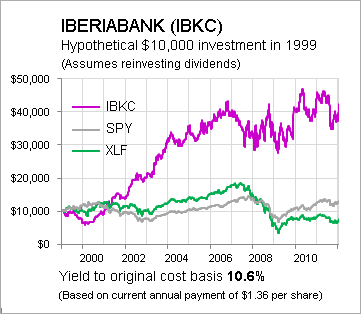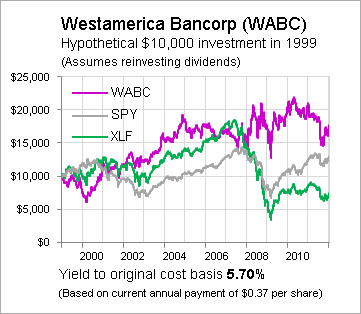 I still need to do more fundamental research into these local and regional banks, but rising dividends is an excellent good first screen as I think some of these institutions could continue to reward investors in the years ahead. And there may be other banks out there that, believe it or not, never cut their dividends even as the worst financial storm in generations killed off some of the larger institutions. (Remember WAMU? IndyMac?)
I'm not saying dividends alone is a reason to invest in a bank, nor are any of these companies "dividend aristocrats," but their impressive records certainly warrant a deeper look.
Disclosure: I have no positions in any stocks mentioned, and no plans to initiate any positions within the next 72 hours.