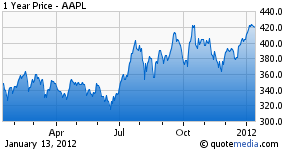 Could Apple (NASDAQ:AAPL) be taking up soccer? It's been reported Apple might buy the EPL rights market covering the British soccer league. Ipads, Ipods, Iphones, and now, Isoccer? What will the tabloids think of next. However, Apple is likelier to buy the TV rights to English soccer than American baseball for a simple reason: That's where their money is.
There's a common thread why Apple bought patents from Nortel (Canadian), took over Anobit (Israeli), and may be contemplating buying the rights to British soccer beyond that these are great ideas. The pattern: All are foreign. Apple is looking outside the U.S. for its growth, and there is a good reason for that.
Apple's awash in foreign cash: $54 billion of its $82 billion in cash and investments lies off-shore. More importantly, foreign cash is growing much faster than its greenback counterpart. Apple added $23 billion to its foreign subsidiaries in 2011, dwarfing the $7 billion added in the U.S. When Apple prints its earnings on January 24, it's a near certain bet that over three-quarters of the cash accumulated will be overseas.
While the $27 billion available in the U.S. is still a mind-boggling number, it's nowhere near the colossal holdings present in Apple's foreign subsidiaries. And remember, that $27 billion is what is available to fuel Apple's U.S. operations and potential stateside acquisitions, buybacks and dividends. A tidy sum, but then again, the $54 billion held overseas is growing much faster and lets Apple do so much more. As they say, follow the money.
Sure, Apple could "unlock" its overseas assets by paying U.S. tax: It's just expensive, on the order of $6 billion to return the $54 billion. It's far easier and cheaper to fill your "hope chest" overseas, whether its patents, flash drive management and engineers, sporting content, and hope Congress will someday pass a tax repatriation holiday as it did in 2004.
Certainly, Apple's got cash in the U.S. There's just less of it and it's more expensive to come by.
We've already seen Microsoft, another cash rich company, go through contortions to avoid tax on overseas income. Microsoft has become grossly lopsided in its balance sheet when it comes to foreign versus U.S. capital: $51 out $57 billion of its cash lies off-shore. It took out $11 billion in debt because of "attractive interest rates" per its 10K, although I think it had more to do with the location of its cash.
Microsoft is well-aware of the difficulty accessing its cash vaults and feels obliged to make investors aware in its 10K.
Should we require more capital in the U.S. than is generated by our operations domestically, for example to fund significant discretionary activities, such as business acquisitions and share repurchases, we could elect to repatriate future earnings from foreign jurisdictions or raise capital in the U.S. through debt or equity issuances. These alternatives could result in higher effective tax rates, increased interest expense, or other dilution of our earnings. We have borrowed funds domestically and continue to have the ability to do so at reasonable interest rates.
The windows giant is borrowing money despite having $51 billion off-shore, just tantalizingly out of reach.
So, if you are wondering what Apple will do next, look where the money is. And, if you're wondering why Microsoft is taking on debt, something it hasn't done in years, you'll know the reason why. Expect gigantic breath-taking deals from Apple and Microsoft in the future: However, they are more likely to be over there, than here.
Disclosure: I am long AAPL.