We start the morning with news that "ratings agency Standard & Poor's could move as early as Friday to downgrade eurozone countries," according to MarketWatch, and by now everyone knows that it's a matter of "when," not "if." Reality has it that private investors have already assigned risk ratings to sovereign bonds, in one degree or another, and any downgrade is only the icing on the sad cake.
Recently I read a Reuters' article by Lawrence Summers, and the following excerpt stood out.
Few would confidently bet that the U.S. or Europe will see a return to full employment, as previously defined, within the next five years. The economies of both are likely to be demand constrained for a long time. But does this reflect an inherent flaw in capitalism or, as Keynes suggested, a "magneto" problem - like the failure of a car alternator - that can be addressed with proper fiscal and monetary policies and which will not benefit from large scale structural measures? I believe the evidence overwhelmingly supports the latter.
Take Keynesian theory for instance, which is often mis-characterized, because Keynes never assumed in his wildest dreams that governments would borrow endlessly without regard for the consequences, even when economic conditions were positive. With Europe going from bailout to bailout, and the need to involve the private investment community in sharing the losses only proves that Keynesian theory, as interpreted, is a failure.
Although I am an advocate of corporate, social, and, just as importantly, individual responsibility, capitalism is not fair because it hinges on freedom and opportunity, and although its flaws can quickly be pointed out, its strength is its appeal to human nature. There's a lot to be said about those that have no social regard for others, but that's not unique to capitalism.
As an example - and it doesn't take much to make simple and irrefutable arguments - China's success is not a result of the government's magical handling of its ideology and the five-year planning nonsense, but the ability to feed off the western capitalist states and their consumers. Yet, as a non-capitalist state, corruption runs rampant. That's how short the book would be if I was to write about the Chinese economic miracle.
The European "soup du jour" continues to have the austerity flavor, but I am afraid that the mindset is one that anticipates a reversal of the measures once the disease is gone. But it's not going to happen, because austerity in itself, especially in a large scale, is a vicious cycle only because eurozone members are too dependent on government for growth - if one can call it that. The reason why corrective measures will take a long time is because the required reform dictates that government must have a much smaller economic role going forward, and the adjustment from public to private will not happen overnight. Austerity is not reform, and as difficult as it is, it's only a small step in the right direction.
Certainly they can keep procrastinating, but the current environment is not conducive to keeping the "status quo" any longer. Either way, there's a price to be paid, but if true reform takes place, the future will look brighter. Otherwise, Europe will linger with unresolved issues, and will eventually pay a bigger penalty, because it has become obvious that the private investment community is not willing to finance the current addictions.
The difference between now, and, let's say, 20 years ago, is that the debt load is much larger and, more importantly, the public no longer trusts government and its "reliable" institutions, regardless of social strata. In short, the emperor has no clothes and pretending will no longer be a feasible approach.
The U.S. must pay attention as well because the American consumer economic condition has been deteriorating for over a decade. I have my own indices that are composed of growth measurements of U.S. retail sales, consumer credit and consumer sentiment, and the first below is consistent with what everyone sees.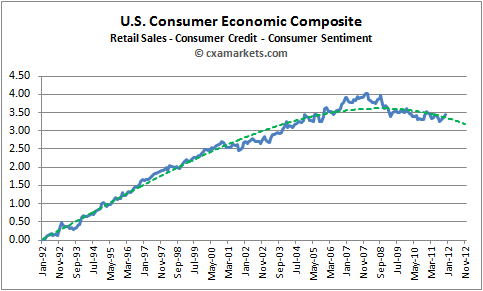 But the second takes a different approach, and although I will not get into the calculations, it was designed to measure cohesiveness and/or discrepancies in the proverbial "walk the talk." I don't expect anyone to take the index to heart, but the U.S consumer has been in a sour mood since the turn of the century, and even the housing bubble only provided a temporary impetus.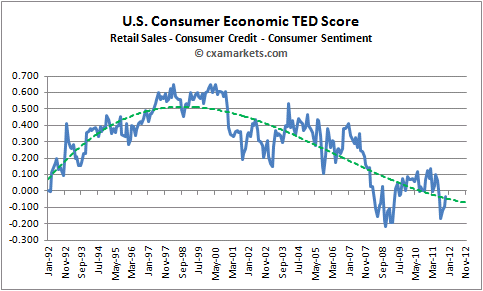 While we appeared to be content with bigger homes and faster cars, the truth was that we were economically squeezed and living a lie, while feeding global economic growth that is slowly crumbling. The fact that unadjusted for inflation the S&P 500 (SPY) is still down 17% from the high in 2000, can be viewed as a coincidence, even trivia. But is it?
Why does the data start on January 1992? Because that's when we were exiting a recession, and to highlight the difference in consumer mood between then and now.
The European Central Bank met on Thursday and left rates unchanged, although the expectation is that the ECB will break the worshiped 1% level a lot sooner than later. But we're already close to zero, and thus far the impact from cheap credit has been non-existent, and Mr. Summers assertion that the problem "can be addressed with proper fiscal and monetary policies" leaves a lot to be desired.
Although many still state that emerging markets will provide the growth that we need, the fact is becoming quickly apparent that without a healthy U.S. and European consumer, countries like China have their hands tied, because their economies are not designed to consume.