In the unofficial corollary to this article, I chronicled the woes of seven stocks I do not see bouncing back from their lows set over the last 365 days. In this article, I look at four under-performing stocks from 2011 that could see some upside in 2012.
Cisco Systems (NASDAQ:CSCO) and Oracle (NASDAQ:ORCL). Down 8% and 11%, respectively, over the last year, Cisco and Oracle make me think old guard in tech.
When you think of the old and new guard in other sectors, you think of still-growing, but now blue chip McDonald's (NYSE:MCD) and its formidable offspring, hyper-growth, high-flyers Chipotle Mexican Grill (NYSE:CMG) and Panera Bread (NASDAQ:PNRA). Based on its consistent performance, few people question the value of MCD as a blue chip to buy today. As Cisco and Oracle both tranisition somewhere, investors ponder whether or not they can slide into the same category as a McDonald's or, say, IBM (NYSE:IBM).
There's always more than two sides to these types of coins, but, to keep it simple, I give in to dichotomy. On the bearish side, I look at something like Cisco's recent, very quiet move to drop its home video conferencing venture. While it's not like this was some huge revenue generator, it's symbolic of a member of the old guard trying to find its way in a new world and, at least in this example, failing.
Meantime, fellow Seeking Alpha contributor Cameron Kaine, who writes about both stocks regularly, argues that as IT spending comes back, so will Cisco and Oracle. As tempting as it is to bet against them, these two companies are nothing like the old guard in retail, for example, that has absolutely no answer for new and innovative ways of doing business.
Target (NYSE:TGT). Thanks largely to Amazon.com's (NASDAQ:AMZN) dominance and few retailers outside of Apple (NASDAQ:AAPL) doing anything imaginative, I'm not too bullish on the sector. This comes at a time when I actually think Americans will start spending more money, even if they do not have it (can you say run up the credit cards again?). I just don't think they'll spend and rack up debt in quite the same ways as they have in the past.
TGT dropped a modest 8% over the last year. As 2012 begins to take shape, it's one of the few brick-and-mortar retailers without its own high-end, exclusive product line that I think can drive higher.
For many people, particularly suburban types, the weekend shopping excursion represents a considerable chunk of the family's leisure and cultural outings for the week. I get the sense that, for whatever reason, middle to upper-middle class folks do not view shopping at Target as slumming quite like they do slithering into a Wal-Mart (NYSE:WMT). Plus, they might live in communities where Wal-Mart stores are few and far between (see, e.g., the San Francisco Bay Area).
Target realizes this. As such, it just feels like they step the atmosphere up a notch in their stores. But, more than that, they're doing what they can to create an experience in their stores and hit ripe markets hard. Several near- to mid-term catalysts could spark TGT shares:
Aggressive expansion into Canada that's not yet priced into the stock. This push across the border accelerates in 2013.
Click to enlarge

Urban format City Target stores start to come online this year in places like Los Angeles and San Francisco. They're already up and running in East Harlem.
While the opening of Apple mini-stores within Targets will not drive significant revenue out of the gate, the move represents a step in the right direction.
Ford (NYSE:F). I've said about all I can say about the expectations surrounding this stock and the frustration it brings. I made two errant and undisciplined trades getting into deep out-of-the-money F calls. My saving grace - I took at least some of the advice I dispense in my basic options strategy eBook by not locking myself into near-term contracts. The calls I own expire in June 2012 and January 2013, therefore if F shares rebound, they save me.
At this juncture, barring excellent or awful news, the stock likely moves up or down on the basis of its chart.
Click to enlarge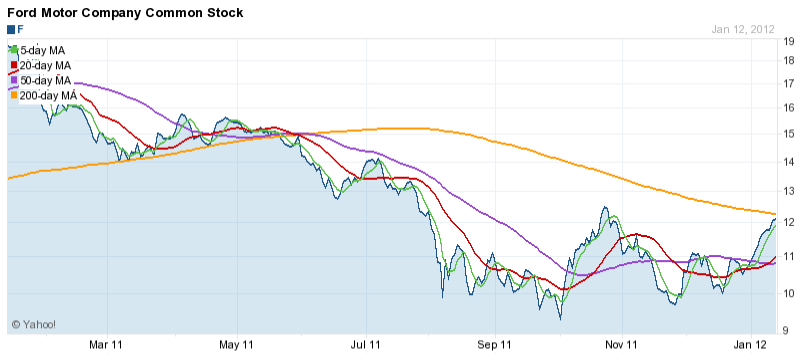 Challenge #1: Close above $12.00 for several days in a row. Hold that level.
Challenge #2: Bust through the 200-day MA like it did the 5, 20 and 50.
Challenge #3: Break resistance around $12.50 and hold for several days in a row.
If the world stays relatively sane and Ford's monthly sales figures continue on their current trajectory, the stock should meet all three challenges.