Charts for utilities, staples, technology and telecomm show weakening. Healthcare and cyclicals are fairly steadily rising. Basic materials, industrials, and financials are showing signs of strengthening (although financials are balanced on a European knife edge).
Earnings estimates from S&P 500 indicate that technology, industrials and telecomm will have the highest earnings growth in 2012 among the 10 sectors, and therefore the greatest reduction in P/E.
However, the sectors that get the most votes from the analyst community seem to be healthcare, technology, industrials and, strangely, both staples and cyclicals (representing the opposite view of risk and economic direction).
These charts and the P/E and earnings growth table may help you sort all that out.
13-Year Chart History
Since inception, only financials (NYSEARCA:XLF) have underperformed the S&P 500 (NYSEARCA:SPY). In fact, because it is not possible for all parts to outperform the whole, financials are singularly responsible for the outperformance of the others.
Were it not for the huge fumble by the financials, other sectors would have to have underperformed as well. Technology (NYSEARCA:VGT) probably would have been below the line, except for financials, as they came off of the dotcom bubble burst.
These two monthly charts show the history of the 10 S&P 500 sectors since the beginning of 1999. Each line is calculated by dividing the sector result by the result for the S&P 500.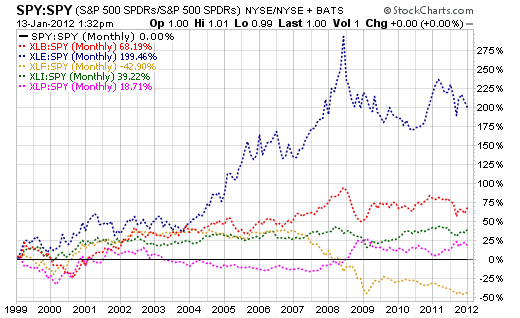 Click to enlarge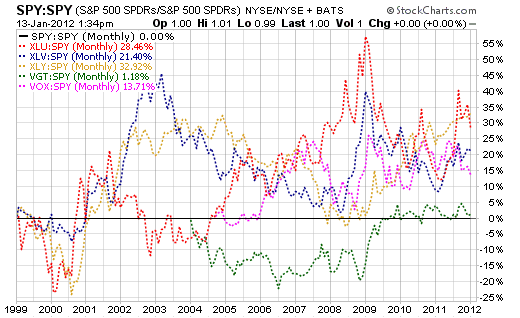 Click to enlarge
5-Year Chart History
This weekly chart for 5 years, shows even more dramatically how the financials have put the other sectors above the S&P 500 index.
Telecommunications (NYSEARCA:VOX) just fell below the index performance recently. We would guess by visual inspection, that industrials (NYSEARCA:XLI) and basic materials (NYSEARCA:XLB) probably would also have been below the line if the financials had not been so terrible.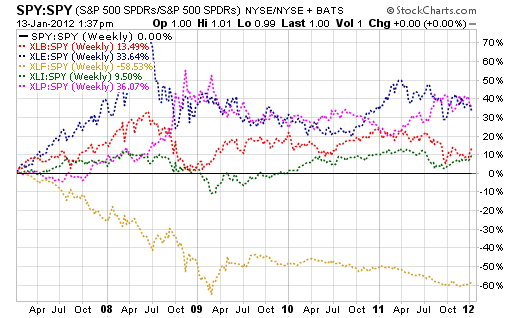 Click to enlarge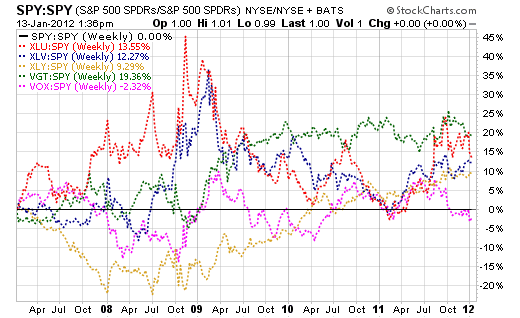 Click to enlarge
1-Year Chart History
Only four of the 10 sectors outperformed the S&P 500 index over the past year. They are consumer staples (NYSEARCA:XLP), utilities (NYSEARCA:XLU), healthcare (NYSEARCA:XLV), and consumer cyclicals (NYSEARCA:XLY).
Financials were still the worst sector but have been rising in recent weeks.
Although staples and utilities are the 1-year leaders, they have been declining in recent weeks.
Utilities, in particular, are expected to have flat to slightly lower earnings, and have high P/E levels relative to their own history. If interest rates have limited downside potential and greater upside potential, then utilities are probably more vulnerable to price correction that some other sectors.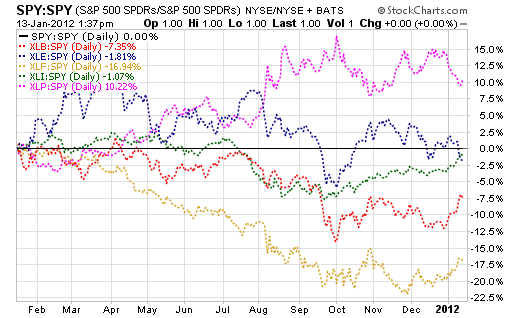 Click to enlarge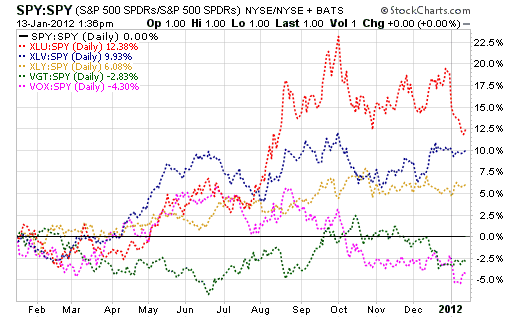 Click to enlarge
P/E Ratio History and 1-Year Operating Earnings Estimates
Standard and Poor's regularly publishes earnings, price and P/E and other data about the S&P 500 index and its sectors. This table summarizes the P/E ratio history over the past few years for the index and its sectors, as well as the S&P estimate of 2012 earnings growth over 2011
The combination of the charts and this fundamental data help with educated guesses about which sectors may do well in 2012.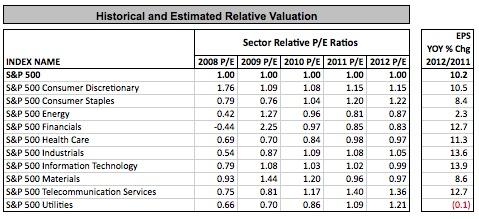 Disclosure: QVM has long positions in XLU as of the creation date of this article (January 13, 2012).
Disclaimer: This article provides opinions and information, but does not contain recommendations or personal investment advice to any specific person for any particular purpose. Do your own research or obtain suitable personal advice. You are responsible for your own investment decisions. This article is presented subject to our full disclaimer found on the QVM site available here.