Need oxygen? Nitrous oxide? Maybe some Helium? Airgas (ARG) can provide just what you need. Airgas is the largest distributor of gas products for industrial, medical and specialty uses in the United States. In addition to its cylindered or packaged gas products (like nitrous oxide, argon and helium), Airgas distributes related chemicals and equipment (hard goods), including refrigerants, ammonia products, welding supplies and safety products. Airgas employs over 15,000 people at 11 regional divisions. Its headquarters is in Radnor Township, Pennsylvania.
At its most recent conference call on October 27, 2011, Peter McCausland, Chairman and CEO of Airgas, announced that, although volumes are still below pre-recession levels, the earnings per share for the second quarter were up 24% from the previous year, providing dividends of $1.03 per share per year.
Rising hard goods product cost had a negative effect on hard goods gains for the quarter. Additionally, there were some logistical disruptions in the supply chain for certain gases; McCausland specifically mentioned argon, helium and acetylene. To adjust for these increased costs, he announced a pricing action for both gas and hardwoods for the new quarter.
Since the beginning of the fiscal year in April, Airgas has acquired five new businesses, with total annual revenue of some $70 million combined. Acquisitions totaled 2 percent of sales during the second quarter.
In his summary, McCausland noted that many of Airgas's customers are becoming larger through consolidation. The expansion of the Strategic Accounts Program (SAP), a sales initiative focusing on smaller numbers of larger clients, thus seems on target. The first four regional companies are now set to convert to the SAP model, with the complete implementation expected by the summer of 2012. Currently, SAP accounts are credited with over $1 billion in annual sales.
Airgas repelled Air Products and Chemicals (NYSE:APD) in February, 2011 and hasn't looked back since, with its stock price increasing around 30% since the rejection and doubling over the last two years as shown below - (click to enlarge):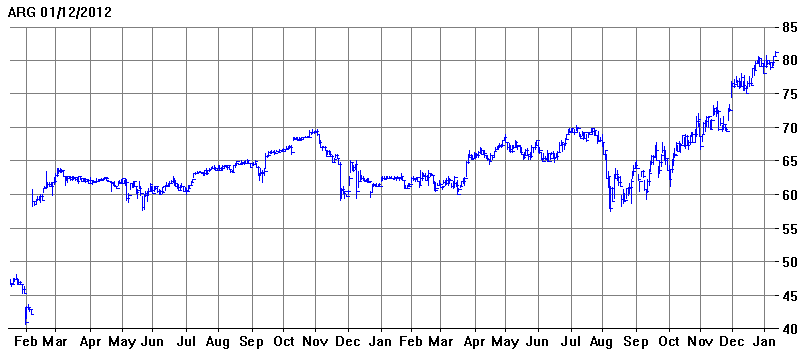 Airgas's Price-to-Earnings (P/E) ration is currently around 24, which is pretty expensive. As a point of reference, Airgas's competitor Air Products & Chemicals P/E is around 16. With Airgas's upcoming conference call on January, 26, 2012, an investor in Airgas might be a little queasy with the stock's large appreciation over the last two years and its pricey P/E. Some bad news in the company's upcoming conference call could cause the company's stock price to decline. An investor in this situation might consider a collar position. A collar can be entered by selling a call option against an existing or purchased stock with some of the proceeds from selling the call option used to pay for a protective put option. The beauty of the collar strategy, is the insurance or protection for the position does not require additional capital to acquire.
Using PowerOptions search tools, a collar position was found for Airgas with a potential return of 0.9% and a maximum potential loss of 6.6%. If Airgas pays a dividend in March as the company has previously, the position will also take advantage of the dividend. The company has been paying a quarterly dividend of $0.32 and with the quarterly dividend the collar has a potential return of 1.3% and a maximum potential loss of 6.2%. The specific call option to sell is the 2012 April 82.50 at $2.70 and the put option to purchase is the April 2012 75 at $1.95. A profit/loss graph for contract of the collar including the divided for Airgas is shown below: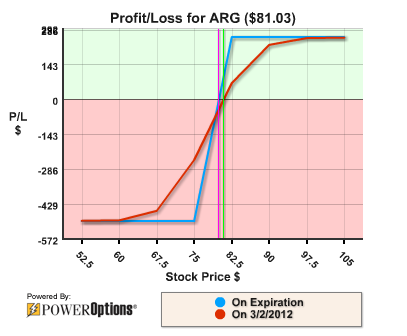 As a bonus, if the price of Airgas' stock is greater than or equal to the $82.50 strike price of the sold call option at April option expiration, the position will return 3.2%.
Investors can combine collar investing with dividends to generate income while simultaneously protecting their investments from catastrophic price declines.
Disclosure: I have no positions in any stocks mentioned, and no plans to initiate any positions within the next 72 hours.