The following portfolio is constructed around a core of nine ETFs that give global exposure, attention to commodities, and places an emphasis on value. Added to the core ETFs are five dividend stocks that have a low correlation with the ETFs.
Portfolio Core: VTI covers the U.S. Equities market while VEU and VWO provide exposure to both developed and emerging international markets. An emphasis is placed on value by allocating a significant percentage to IWN, a small-cap value ETF. Both domestic and international REITs are included with the addition of VNQ and RWX. Rounding out the core holdings are three commodities, DBC, GLD, and SLV.
Stocks: The five dividend oriented stocks were screened from over 10,000 companies. Twenty dividend aristocrats emerged from the screen and from that group I added two more screens. Stocks had to have a postive free-cash flow and carry a low correlation with respect to the highly correlated ETFs. The five stocks that made the cut were: Costco Wholesale Corp. (NASDAQ:COST), The First of Long Island Corp. (NASDAQ:FLIC), McDonald's Corp. (NYSE:MCD), Royal Gold (NASDAQ:RGLD), and Smith & Nephew SNATS, Inc. (NYSE:SNN). No additional analysis was performed to determine the quality of these companies.
The Quantext Portfolio Planner (QPP) analysis below assumes the S&P 500 (NYSEARCA:SPY) will grow at an annualized rate of 7.0% over the next six to12 months. Historical data for this analysis spanned 55 months. Several ETFs did not have five years of data and that is the reason for truncating the number of months down to 55. This period is sufficient to include the last major bear market.
The projected portfolio return is nearly 10% or almost 3% points above that expected for the S& P 500. We pay for that relative high return with a projected standard deviation of 17.7%. Using something called the Risk Reduction model, we plan to hold down the actual portfolio uncertainty well below 15%.
(Click charts to expand)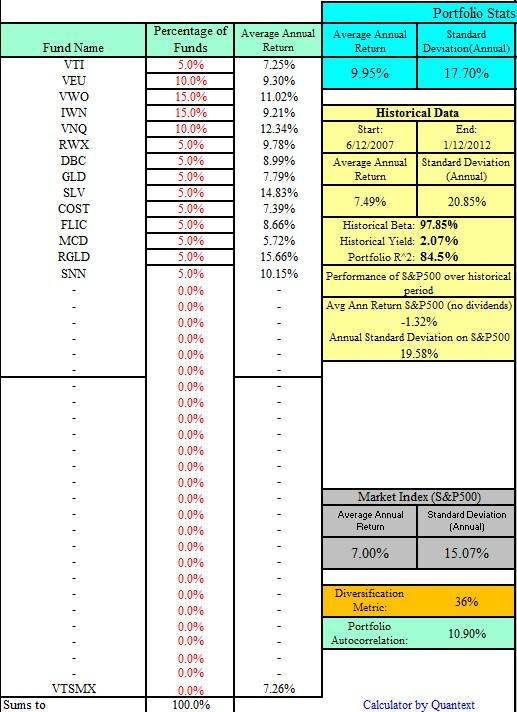 Note the high correlation between the top six equity oriented ETFs. To lower the overall Diversification Metric, three commodity ETFs were added as well as the five individual stocks. Adding bond ETFs would further lower the overall correlations.

The "Delta Factor" data table below provides investors with a clue as to which investments show any probability of performing well over the next few months. The best bets can be placed on RWX, SNN, and VEU.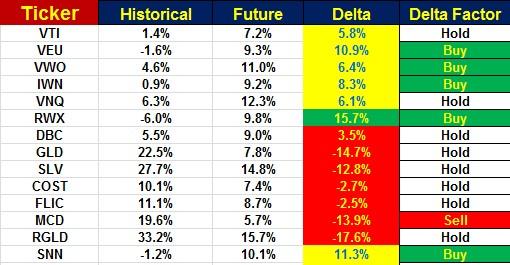 To keep the portfolio simple, bonds where not included. Instead of including bonds to hold down portfolio uncertainty, one can use the Risk Reduction model that is now undergoing testing with five portfolios on the ITA Wealth Management blog.
Disclosure: I am long VTI, VNQ, VEU, VWO, SLV, RWX, IWN, DBC.