A new study from Standard & Poor's illustrates the extent to which junk bonds have come to dominate the market for nonfinancial U.S. corporate bonds.
Since 1981, the number of U.S.-based 'AAA' rated nonfinancial companies has dropped from 61 to four, while the number of speculative-grade companies (those rated 'BB+' and lower) has risen to more than half 2,902 U.S.-rated companies.
Currently, 64%, or 1,421, of nonfinancial ratings in the U.S. are classified as speculative grade, according to "Born This Way: Acceptance Grows For New
Speculative-Grade Companies Through 30 Years Of LBOs, Bank Loans, And Falling Interest Rates."
"This explosion of lower-rated debt has helped fuel growth in many industries," said Diane Vazza, head of Standard & Poor's Global Fixed Income Research. "At the same time, some blame the vast leverage that resulted from the growth in speculative-grade debt as one of the key factors in the credit crisis that erupted in 2008, and from which the world economy is still suffering."
Several factors contributed to the diminished creditworthiness of U.S. companies over the past three decades, but two stand out: a search for yield on the part of investors as interest rates declined, and increasing comfort on the part of company management in taking on debt to increase shareholder value through dividends, acquisitions, and leveraged buyouts (LBOs).
Standard & Poor's Ratings Services started rating bank loans and as LBOs gained prominence, acceptance grew for speculative-grade bonds as an asset class, and Standard & Poor's assigned speculative-grade ratings ('BB+' and lower) to an increasing proportion of companies.
(Click chart to expand)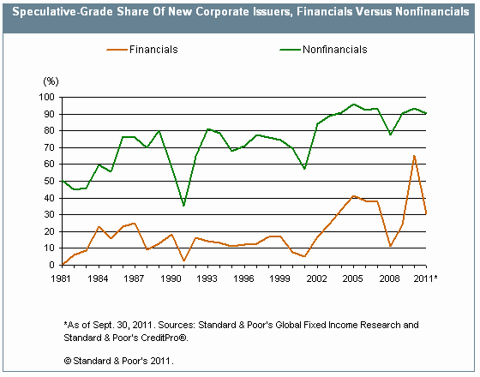 Click to enlarge
"Many industries, including telecommunications, transportation, and media and
entertainment have become predominantly speculative grade," said Ms. Vazza.
Technological advancements, regulatory changes, consolidation, and privatization transformed many industries. Fallen angels downgraded to speculative grade from investment grade ('BBB-' and higher) have contributed somewhat to this change in U.S. corporate ratings, but a greater shift has come from the steady influx of newly rated speculative-grade companies. As more newly rated companies have been "born" into the speculative-grade-category, investment-grade companies have declined as a share of ratings in the U.S.