In my basic options strategy eBook, I approach options more like investments than short-term trades. Based on the questions Seeking Alpha readers ask me, it's clear that a sizable chunk of investors want to use options in a way that more closely aligns with their relatively conservative goals associated with growth and income.
Going forward, I attempt to organize Friday's options column under that theme. How can you use options more like an investor, not a trader?
Ariad Pharmaceuticals (ARIA). With ARIA, I learned my lesson late in 2010 that, particularly with low-priced stocks, you're often just better off buying the stock rather than a call option.
In December, I cashed out of a position in ARIA January $4.00 calls for a decent gain. Had I just bought the stock, held the position long and purchased more on the dips I would have made exponentially more.
Click to enlarge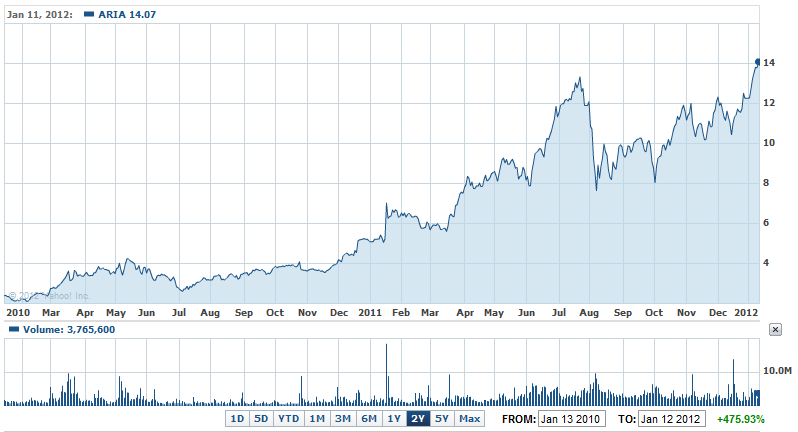 For whatever reason, the stock popped up on my radar in mid-2010. I did some research and liked what I saw. This company was not, and is not, another bio-flash in the pan. I speculated with calls, the stock rose a bit more, dipped, stagnated for a while and I lost track of it.
As the chart suggests, ARIA has been in the news from time to time throughout 2011. It's a hot topic as of late. Options activity continues to pick up on both the call and put side. Clearly, a simple buy-and-hold with periodic additional investments along the way would have paid off just as well as options with less time and energy invested in the process. Sure, I could have gambled on deep out-of-the-money calls and won big, but, that's undisciplined. That's gambling. Make that a habit and your losses could end up offsetting any big hitters.
International Paper (IP). IP has had a nice run over the last few months. As such, optionMONSTER notes that some options traders expect a pullback:
Click to enlarge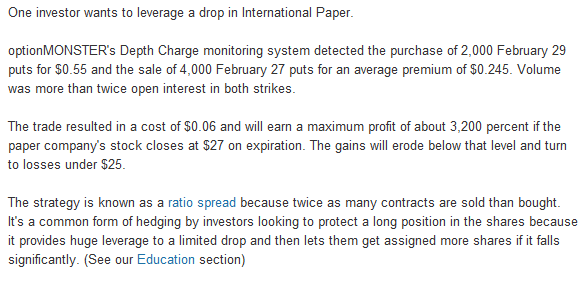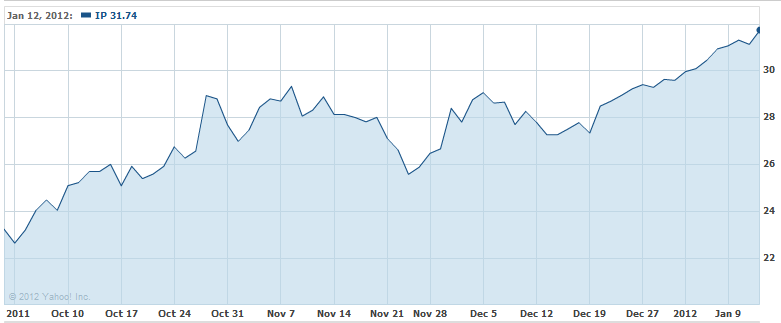 As the note from optionMONSTER explains, it's not an entirely bearish trade, but it is somewhat advanced and near-term.
Maybe you own IP shares, have enjoyed the run, want to hang on for longer, but you fear a pullback. You can enhance the productivity of your position in the stock using options by writing covered calls.
In a situation where you would like to not only get more income out of an investment, but ride out a pullback without selling, the covered call represents an excellent, straightforward route. In IP, as of Friday's close, you could sell the 1 February $33 call and collect $0.47 ($47) in premium income for every 100 shares you own. Of course, you run the risk of losing your shares if your calls wade into in-the-money territory on or before options expiration day.
Sirius XM (SIRI). When it comes to using options to speculate on upside, there might not be a better way to learn the ropes than looking at action in Sirius XM.
Pay close attention to volume and open interest in SIRI calls, as of midday Friday. (Quotes courtesy of Schwab's StreetSmart Edge).
Click to enlarge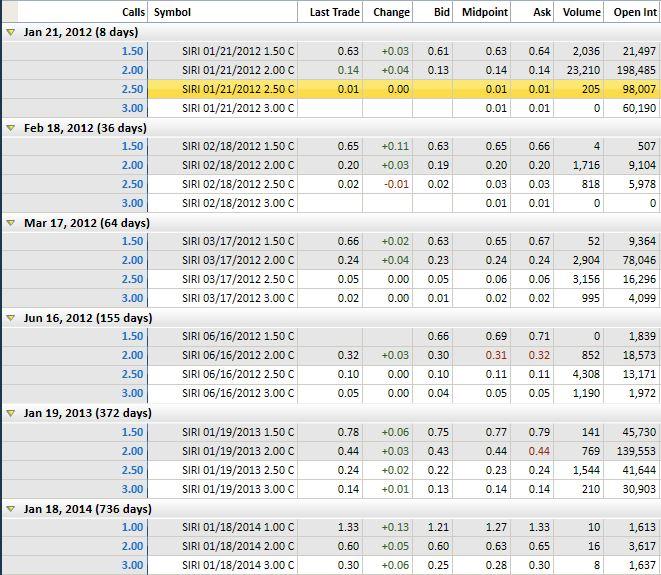 There's a reason why, in nearly every month, volume is lowest at the $3.00 strike and highest at either $2.00 or $2.50. In each and every month, open interest trends from highest to lowest as you move from the $2.00 to $3.00 strike. That's because the smart money is not stupid.
Traders and investors buying SIRI calls may or may not be right in their conviction that the stock will go up. Just like with stocks, you generally have to make the correct directional call to profit from an options trade of any length. That said, they are right, by and large, with the strike prices selected.
It's a really basic concept, yet psychological forces often take control that cause investors to lose sight of the logic. There's more open interest and, generally, more volume at $2.00 than at $3.00 in practically every month because the probability that the presently in-the-money $2.00 call will end up in-the-money is greater than the probability that the presently out-of-the-money $3.00 call will, in any month. That's why, across the board, you pay a higher premium for the $2.00 call than you do for the $2.50 or $3.00 contracts.
A big reason why options get the rap they get as money-losing sucker bets tantamount to gambling is because people tend to succumb to psychology and make poor decisions. Even if you think SIRI will climb to $3.00 and pass that level, you'd probably be wise to put more or most, if not all, of your money into $2.00 strikes. If you're going to go out-of-the-money do it with long-term bullish conviction on LEAPS options. Again, as with stocks, you have to be right, but you do not have to be, pardon my bluntness, stupid.
Keep probability on your side as much as possible. Sure, it costs less to buy a $3.00 strike so you can buy more. And the upside, if the stock skyrockets, could be huge, but you would do quite well in the $2.00 strike, plus you stand a much better change of (A) not getting stung as hard by time decay as expiration nears and (B) having some meaningful intrinsic value if a move past $3.00 does not become a reality or does not happen by a large margin.
Psychology hurts you here in more ways than one. Not only is the allure of the less expensive $3.00 strike too much for some investors to pass up, but once in the trade, many investors cannot let the dream die. If SIRI stays below $3.00, you'll be OK for a while in a January 2013 $3 call. Once summer comes, you'll still be okay. But, all of a sudden, as the leaves start to change color in the Northeast, you better prepare an exit plan, and not let things ride on a recipe of hope and unbridled emotion.
Inside of two months, the further out-of-the-money your call resides the faster time decay eats away at its value. Inside of a few weeks, it's on its way to worthlessness and only a miracle can change that.
By the way, fellow Seeking Alpha contributor Frederic Ruffy highlights interesting options activity in Sirius XM in his Friday column.
Apple (AAPL). As I did last week, it makes sense to update the performance of the two call positions I closed and the one I left open in the $10,000 portfolio.
| | | | |
| --- | --- | --- | --- |
| Option Contract | Investment/(# Of Contracts | Value/% Change, As Of Close, 01/06/2012 | Value/% Change, As Of Close, 01/13/2012 |
| AAPL Jan 2012 $380 Calls | $8,492 (4) | $17,140 / 101.8% | $16,060 / 89.1% |
| AAPL Feb 2012 $380 Calls | $8,310 (3) | $13,995 / 68.4% | $13,170 / 58.5% |
| AAPL July 2012 $395 Calls | $8,110 (2) | $10,900 / 34.4% | $10,150 / 25.2% |
Taking profits on some of those positions looks to have been a good idea, at least at the moment.