Below we provide our 6-month trading range charts for the S&P 500 and its ten sectors. In each chart, the light blue shading represents between one standard deviation above and below the 50-day moving average (the white line). This area is known as the sector's "normal" trading range. The red shading represents between one and two standard deviations above the 50-day moving average, and this area is known as overbought territory. The green shading is between one and two standard deviations below the 50-day, and it's known as oversold territory. Any move above the red zone or below the green zone is considered extremely overbought or oversold.
As shown, even with today's 1% decline for the S&P 500, the index remains in overbought territory. The index has made a series of higher lows since the correction low was made in early October. This week the S&P finally closed above the late-October intraday high that had been acting as a tough resistance level for the index to get through. Even though we're seeing a pullback today, the market looks pretty strong technically.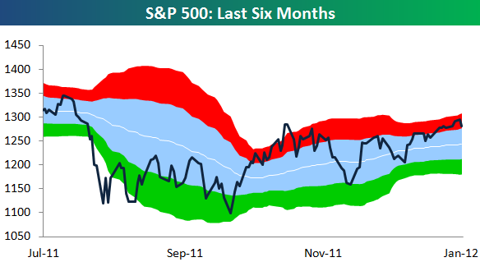 All of the S&P 500 sectors are currently in short-term uptrends at the moment. Even the Financial sector has been performing well lately, and it remains in overbought territory. Industrials, Health Care, Consumer Discretionary and Materials probably look the most bullish from a technical perspective right now. Technology and Energy have been trending higher, but they have yet to break above their October highs. Finally, the non-cyclicals like Utilities and Consumer Staples remain in uptrends, but they've pulled back to the bottom of their uptrend channels recently. We'll be watching these two sectors closely in the coming days to see if they can hold support.