It's the middle of January and the New Year euphoria is long in the tooth. The bubbly has settled, the hoopla of big shows such as the Consumer Electronics Show (CES) is done and over with, as are some of the early January analyst conferences (e.g. the Needham Growth Conference) that tend to focus on vision and hope. You're feeling a bit nervous with the gains you've had this month, and are nervous about recent pronouncements such as the spectre of a Greek Catastrophe. What's one to do to play defense without hiding in a bunker? In the past there was a set playbook for defense - sectors like drugs, staples and tobacco. Now drugs have pipeline issues, staples such as P&G (NYSE:PG) have the uncertainty of consumers 'downshifting' to white label brands, and tobacco and litigation seem to be eternally friendly.
Well, how about betting on a sure thing? I don't mean 'guaranteed profits' (no one in their right mind can guarantee that), but companies whose business model is around one thing that is guaranteed to happen in life - that would be death. I'm talking about Life Insurance companies, a sector that benefits from greater longevity, an aging population and the human need to manage a 'when, not if' event in our lives.
Life Insurance companies have growth that is demographically driven, and predictable cash flows that they can then invest in the stock market. Unlike casualty insurers, they are not as vulnerable to macro catastrophic events like floods and hurricanes. And if you're going into this sector to play defense, stay with better and bigger.
So here are two perspectives on picking right - one conventional and one less so. In Figure 1, you can screen for stability and growth by looking at market cap (mid or large), dividend yield (1.5-3%) and profit margin (5-10%). I've picked a dividend yield level that is better than the bank but also has a high likelihood of robust growth, and a margin range that companies are unlikely to miss. This gives you six companies including China Life (NYSE:LFC), Unum (NYSE:UNM) and Principal Financial (NYSE:PFG). Taking the screen below and applying some qualitative and company-specific knowledge including popularity with hedge funds or unique catalysts (e.g. Japan), and you get the following troika - Prudential (NYSE:PRU), Lincoln National (NYSE:LNC) and MetLife (NYSE:MET).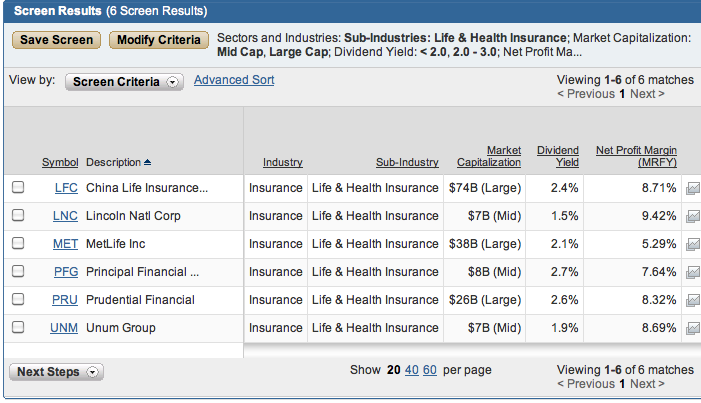 Figure 1. A basic 'safety' stock screen for the Life Insurance sector
So these three companies look good by the numbers, but what do people in the know think? For this I use LinkedIn ( a technique I used in a previous analysis of Corning), based on the theory that employee migration will typically take place from a less successful to a more successful company. So better companies should have both higher than average employee growth, and a migration to them from lesser competitors. (Click to enlarge.)

Figure 2. Employee Growth and Migration over a 12 month period
Based on the migration pattern theory, it would seem that Prudential is both the most desirable and the most successful - with high growth, and a migration of people from MetLife to Prudential. And MetLife in turn isn't doing too badly, attracting people from solid employer in the banking sector that are undergoing duress (e.g. Merrill Lynch and JP Morgan).
So, there you have it - Prudential seems like a solid bet and in fact its performance over the last few weeks indicates that it's a popular trade. That said, MET and LNC aren't too far behind in the race for the tape.
Disclosure: I am long PRU.