In an unprecedented move, Apple (OTC:APPL) released the list of its suppliers that includes, Broadcom (BRCM) and Qualcomm (NASDAQ:QCOM) among others. These companies make good indirect plays of Apple's stellar performance. But which one is the best bet?
Qualcomm. In the last quarter, the company beat earnings estimates on the bottom and the top line, upping its guidance. Specifically, the company reported Q4 earnings of $0.80 per share, two cents above estimates. Q4 earnings came at $4.12 billion, $120 million above estimates. For Q1, the company is expected to earn $0.86-0.92 compared to a $0.85 estimate; and $4.35-4.75 billion in revenues, compared to a $4.25 estimate. The company was trading sharply higher in after hours Friday.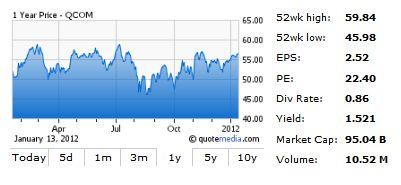 Qualcomm is an innovator and leader in CDMA-based integrated circuits and Radio Frequency (RF) and Power Management (PM) chips and system software that power mobile devices and wireless networks. The company is in a better position to ride the exploding market for mobile devices than its closest competitor, Texas Instruments (NYSE:TXN), which reported disappointing results recently.
| | | |
| --- | --- | --- |
| Company | Recent Price | Forward P/E |
| Intel (NASDAQ:INTC) | $24.57 | 10.65 |
| Advanced Micro Devices (NYSE:AMD) | 5.10 | 4.5 |
| Nvidia (NASDAQ:NVDA) | 15.67 | 16.74 |
| Texas Instruments (TXN) | 31.68 | 12.29 |
| Qualcomm (QCOM) | 53.6 | 14.99 |
| Broadcom (BRCM) | 37.37 | 21.35 |
Source: Yahoo Finance
Texas Instruments versus Qualcomm Financial Performance Statistics in 2011
Texas Instruments

Qualcomm

Dividend

2.20

1.70

Operating Margins

29.40%

32.41

Qtrly Earnings Growth (yoy):

-12.4.0%

34.20%

Qtrly Revenue Growth (yoy):

12.40

34.90
Source: Yahoo Finance
Qualcomm has four advantages over Texas Instruments:
Better company fundamentals: As a pioneer of CDMA technology, Qualcomm enjoys the "first mover" advantage in wireless communications; and with the recent acquisition of Atheros Communications (NASDAQ:ATHR), Qualcomm has strengthened its leadership in the industry. Reflecting these strong fundamentals, the company has experienced a strong sales and profit growth, while Texas Instruments has experienced tame sales growth and negative earnings growth.

Better industry fundamentals: While Texas Instruments is the leader in a number of diverse industries- some already mature- Qualcomm maintains leadership in wireless communications, which is still an emerging industry. Wireless Intelligence estimates that the number of 3G users will reach 2.8 billion by 2014.

Riding the industry upgrade cycle: Qualcomm is expected to be the main beneficiary of the wireless communication upgrade cycle. The GSM Association expects telecom providers to spend $100 billion by 2015 -in High-Speed Packet Access (HSPA), 3G, and 4G.
Disclosure: I am long QCOM.