Interest in timber land has increased over the last few years after bottoming out along with the rest of the market in late 2008 and early 2009. Demand for wood for use in construction has decreased dramatically, corresponding to the decrease in housing starts. Additionally, paper use, though still ubiquitous in our society, is expected to continue to decrease over the years due to digitization and other technological innovations.
Many individuals believe that now is a good time to allocate into timber, noting that it is an agricultural commodity that is needed for wood, pulp and paper, and that some types of wood take years to mature to a desirable quality. Additionally, the cost of raw commodities is expected to increase if inflation were to occur over the coming years.
Due to the reduced demand for timber in home-building, prices were depressed. As a result, most timber growers were allowing their trees to grow. They will be left with more trees and an older stock, where those older trees may produce superior, high priced wood product at a later date.
Homebuilders began to lift up the homebuilding product makers due to some increases in production. This news has recently helped lift many timber investments as well as producers of other homebuilding components, such as drywall maker USG Corporation (NYSE:USG).
Below are four timber REITs that are publicly traded in the United States, listed in alphabetical order: Plum Creek (NYSE:PCL), Potlatch (NASDAQ:PCH), Rayonier (NYSE:RYN) and Weyerhaeuser (NYSE:WY). I have provided their present yields, as well as their 1-month, 3-month and 2012-to-date share performances. I have also included the iShares S&P Global Timber & Forestry Index (NASDAQ:WOOD) and the Guggenheim Timber ETF (NYSEARCA:CUT), both of which have large positions in timber REITs as well as traditional corporations.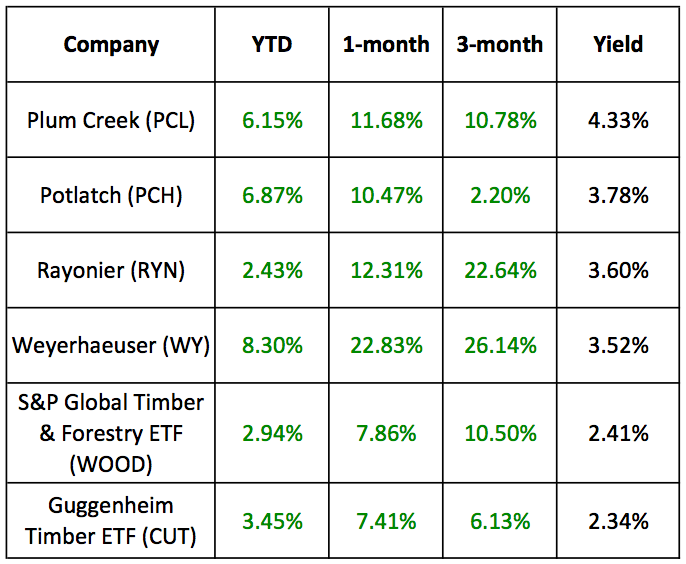 Below is a 1-month equity performance comparison chart, showing the recent strength of these timber investments.
Click to enlarge

Currently, some of the largest owners of timber acreage within the United States are housed within real estate investment trusts. The lack of present demand for timber products may allow and/or compel these REITs to structure themselves in a manner that minimizes expenditures and overhead. Essentially, these companies can shed non-core businesses and simply allow the timber to grow until demand and prices reach desirable levels.
REITs must distribute at least 90% of their taxable income in order to eliminate the need to pay income tax at the corporate level. Under the current tax laws, timber REIT dividends are taxed as capital gains, and not at the corporate dividend or ordinary income tax rates.
 Most REIT dividends are treated differently than timber REIT dividends.
Both of the listed ETFs also hold significant positions in companies that produce and sell products made from trees, such as paper and packaging, and both appear to have performed similarly during the recent market sell-off, even though their portfolios do exhibit several differences.
Disclosure: I am long WY.
Disclaimer: This article is intended to be informative and should not be construed as personalized advice as it does not take into account your specific situation or objectives.