By David Urani
On January 11, Lennar reported its fiscal fourth quarter 2011 earnings results. The Company recorded revenue of $952.7 million, representing an increase of 10.8% year over year. The result exceeded the $916.7 million consensus estimate as well as our $912.7 million forecast. Home closings were up 9% year over year, while the average price per home sold increased to $243,000 from $238,000.
On the bottom line, Lennar reported net earnings of $30.3 million, or $0.16 per share. The result came in just below the $0.17 per share consensus estimate, as well as our $0.19 per share projection. Gross margin improved by 170 basis points year over year, while SG&A expenses went down 30 basis points as a percentage of revenue, mostly as a result of the increase in revenue.
Click to enlarge

Click to enlarge
Sales Trends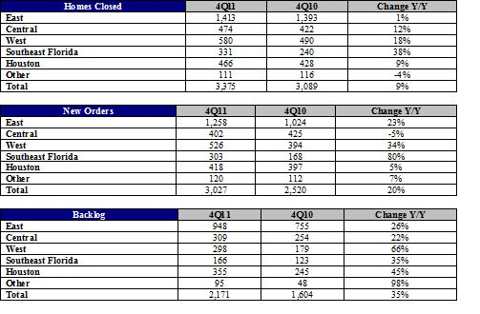 Click to enlarge
Economic Trends
The rise in housing demand continues, with November new home sales up to 315k according to the Census Bureau, versus 310k in October. Gains in the South and the Midwest offset declines in the northeast and west. This is the highest new home sales have been since April. Compared to a year ago, sales are up 9.8%. November existing home sales landed at 4.42 million annually, which is up 4% from October. The gains were broadly spread across all regions. This level of sales is the highest since January, and shows a good recovery since the modest pullback in September when sovereign debt had the world in hysteria. The October Case Shiller home price index fell once again. The non-seasonally adjusted index went down 1.2% month to month, falling more than the expected 0.6%. In real terms, prices were at the lowest since May (reminder: March was the low for the cycle). More alarmingly, the seasonally adjusted index was down by 0.6%, decreasing for a fifth month in a row. Unfortunately, that means that the index has hit yet another new low for the 5-and-a-half year downturn.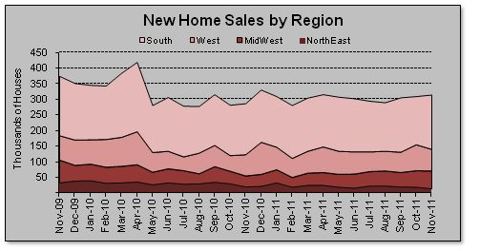 Click to enlarge
Conclusion
Lennar's fourth quarter results were good, with the overall sales results being the highlight. The 10.8% increase in revenue topped expectations by a good margin, with the southeast Florida and west regions showing the biggest gains. Looking forward it got even better, with new orders increasing by 20%, leading to a 35% increase in backlog. As management noted, the market has begun to firm up going into 2012 and overall housing demand is looking brighter.
With respect to profits, the bottom line was a little short of consensus which we think is partially a result of a decrease in gross margin quarter to quarter. Including charges, gross margin dropped to 19.4% from 21.1% in the third quarter. That being said, gross margin was up to 21.6% when excluding $17.9 million of asset valuation charges. Nevertheless, as we noted above, national pricing trends have continued to look unfavorable and that is likely weighing on pricing and property value. In the end though, Lennar still enjoys one of the strongest gross margins in the industry, even when including the asset charges. Versus a year ago, homebuilding operating earnings were $1.8 million lower, mostly because of varying performance from unconsolidated entities and higher interest expense.
The Rialto Investments business continued to be a good driver of extra profits, with the distressed real estate portfolio contributing $46.5 million of revenue and $6.0 million of operating earnings, up from $42.1 million of revenue and $5.7 million of profits in the previous quarter.
While the Company did see a softer sequential gross margin (including charges) and an overall decrease in homebuilding profits, we were impressed with its sales results, particularly in new orders and backlog. We foresee improved demand in 2012 which can help to drive bottom line growth, even if gross margins, interest expenses and unconsolidated entities don't pull their weight. That being said, the perceived improvement in demand also has positive implications for gross margins moving forward.
We would have liked to see more of the Company's revenue funnel down into profits but we maintain that Lennar is one of the stronger homebuilders in the industry and it sells at a relatively high gross margin compared to other builders. Additionally, the Company's Financial Services and Rialto arms continue to provide steady income. As home sales continue to climb off the canvas, the Company is capable of delivering strong profit growth, although macro trends will need to continue to cooperate.