One of the largest threats to Intel's (NASDAQ:INTC) market position and valuation is the way the PC market, where Intel dominates, has been hit by the surge of the smartphone and tablet devices, a market where Intel simply has no presence.
For a while, Intel has been trying to enter the mobile device market (since about 2008), namely with the Moorestown architecture. Intel failed miserably in these attempts, raising the fear that we might be at a defining crossroads, where Intel would turn into a lumbering dinosaur with no growth prospects at all. Sure, Intel's dividend yield was juicy, but still such prospects made sure that the stock would trade at a deeply discounted valuation (Intel's forward P/E is a measly 10.6 as of today).
Intel, however, still had fighting blood in it. Much like it once got temporarily overrun by Advanced Micro Devices (NASDAQ:AMD) during AMD's Opteron and Athlon CPU generations in the early 2000's, Intel fought back.
The results of it fighting back were apparent in Intel's CES 2012 (Consumer Electronics Association) presentation, where Intel brought two reference devices running on their new Medfield mobile CPU architecture. This architecture is finally competitive with today's best mobile technology, both on performance (where it beats every product on the market) and - critically - on power consumption. The chart below, from Intel, illustrates this: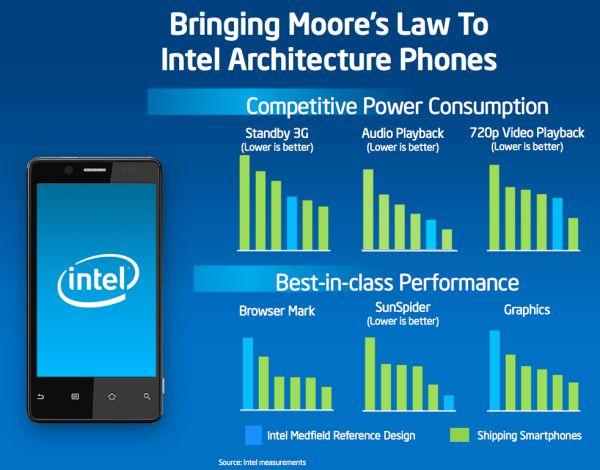 Click to enlarge
These claims were not hollow, as they had been before. Contrary to the previous generation, that gathered no design wins for Intel, this time Intel not only had something competitive to show, it also had partners lined up ready to use it in products. As such, Intel announced that both Motorola (NYSE:MMI) and Lenovo would shortly be bringing products to market based on Medfield.
As much as this is a positive for Intel, it might also be seen as a negative for ARM Holdings (NASDAQ:ARMH), which presently provides the IP (intellectual property) for the large majority of CPUs in the mobile market -- though the CPU's themselves are mostly produced by Apple (NASDAQ:AAPL), nVidia (NASDAQ:NVDA), Texas Instruments (NASDAQ:TXN) and Samsung (OTC:SSNLF). This isn't an idle threat. ARM Holdings mostly has 100% of the market, and might now be facing a giant that traditionally not only excels on product tech, being able to make its products more powerful and less power hungry, but also excels on production tech, meaning Intel is usually at least 1 generation ahead of most other semiconductor producers, enabling it to lower costs and increase performance on its products.
Conclusion
All signs point towards Intel finally having cracked the mobile market. While its new Medfield architecture is already competitive, we would expect Intel to grow strongly from there due both to its strong technological abilities regarding both product and production tech. If Intel builds its presence on the mobile market, one would expect both multiple expansion on Intel, and multiple compression on some of its competitors, ARM Holdings chief amongst them.
Disclosure: I am long INTC.