21st Century Stocks & Sectors page highlights undiscovered micro-cap companies - typically low-priced companies with market caps of 500 million or less in three key sectors we believe are headed for substantial growth over the next decade: (1) Healthcare, (2) Internet and IT, and (3) energy and environmentally clean technology. Micro-cap companies typically lack Wall Street analyst coverage and are inefficiently priced and/or often thinly trading the proverbial "tree in the forest."
Important Long-Term Sector Themes
Health Care
The acceleration in the use of Information Technologies to provide breakthroughs in health care delivery, as well as reining in spending, could help companies drive down costs of our nation's health care system.
Internet & IT
Worldwide adoption of mobile, social, local, and cloud technologies is in the early stages. According to Gartner Group, the number of mobile computing devices, including smart phones and tablets, is projected to increase from the current 200 million to 5 billion by the end of the decade, resulting in more online spending and increased payment options.
As a result of the rapid socialization of everything on the web, look for social networks to become the World's dominant media platform by the end of the decade.
Online ad spending is exploding and will soon overtake TV ads, as spending for it catches up to the amount of time spent by consumers online. The market for mobile advertising is growing rapidly and is expected to exceed $20 billion by 2015 driven by the increased penetration of smart mobile computing devices.
Energy
According to the International Energy Agency - publisher of the World Energy Outlook - global demand for Energy is expected to increase by a factor of eight-fold in the next 20 years. The majority of the increase, approximately 93%, is coming from just two countries, China and India.
High projected prices of oil in the long run, increasing costs of finding and extracting it, and environmental concerns are all expected to drive up demand for renewable energy, making it the fastest growing source of Energy.
The following Companies have the potential to benefit from our long-term sector themes:
CareView Communications, Inc. (OTCQB:CRVW) is an information technology provider to the healthcare industry. The company engages in the acquisition, development, and operation of high-speed data network systems that can be deployed in a healthcare facility using existing cable television infrastructure.
The company recently announced the signing of a contract with Health Management Associates (NYSE: HMA) to provide the CareView System with its patient rooms. HMA owns or operates fifty-nine hospitals in fifteen states with approximately 8,900 licensed beds. Last year, the company announced a joint venture and licensing agreement with Weigao Holding company Limited, the leading medical device manufacturer in the People's Republic of China ("PRC").
In doing so, its has acquired exclusive license to manufacture and distribute the CareView System in the PRC, and will allow this joint venture to gain complete penetration of the PRC market. The company has recently started to ramp up revenues dramatically, with revenues up 122% last quarter, and is currently providing guidance of break-even by the end of the year. CRVW closed on Friday at $1.76 up $.01 or .57%.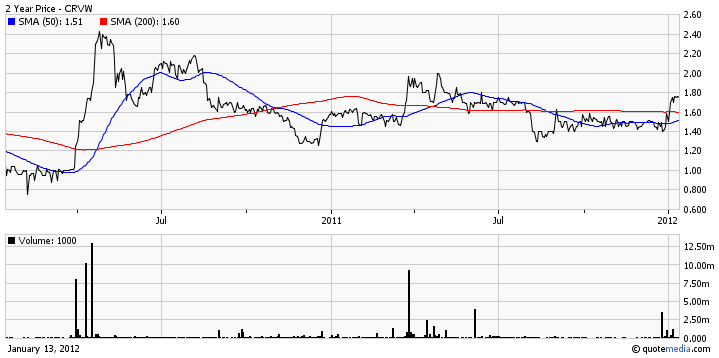 Click to enlarge
Augme Technologies (AUGT.OB) is a technology and services leader in interactive media marketing that offers the only patented and innovative end-to-end mobile marketing platform. Augme's platforms, including Ad Life , have provided measurable successes across an industry-leading 130,000+ campaigns for such clients as Macy's (NYSE:M), Molson Coors (NYSE:TAP), Nestle, KFC (NYSE:YUM), and Clear Channel (NYSE:CCO). The company has experienced triple digit revenue growth recently fueled by the demand for smart mobile computing devices. In addition, the company is well positioned to benefit from the transition of ad spending directed to online and mobile from traditional media.
Over the last several years the company has filed lawsuits against a number of companies including Yahoo (NASDAQ:YHOO) and AOL (NYSE:AOL). Augme has assembled a top tier legal team to protect and monetize their intellectual property. Future damages from patent infringement claims and/or licensing fees could be substantial. AUGT closed on Friday at $ 1.59 up $.13 or 8.9%.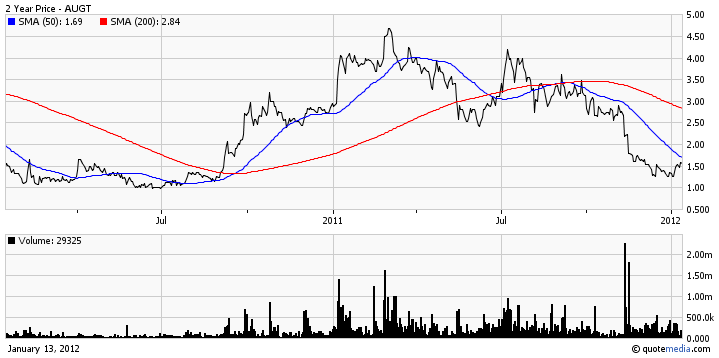 Click to enlarge
Mitek Systems (NASDAQ:MITK) is a software application developer of mobile transaction technology that allows users to remotely deposit checks or pay their bills by snapping a picture of them with their mobile phone cameras. The company has first mover advantage by signing contracts with over 40 financial institutions, including six of the top 10 U.S. retail banks, as well as Charles Schwab, Fidelity Investments and PayPal.
Mitek technology increases convenience by eliminating the need to have to go to the bank's automated teller machine, and cuts bank processing cost by as much as 90%. Mitek is a pure play on the boom in smart phones and tablets.
With multiple patents in place, they are well positioned to be a dominant player in mobile and financial transactions currently in embryonic stages but that are heading towards mainstream usage with increasing adaptation of smart mobile computing devices worldwide. MITK closed on Friday at $8.83 - up $.75 or 9.28%.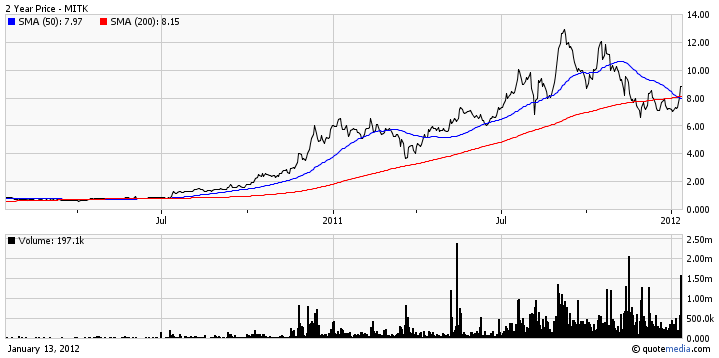 Click to enlarge
Samson Oil & Gas Limited (NYSEMKT:SSN) is engaged in the exploration and development of oil and natural gas properties in the United States. Samson owns a working interest in each of its three material producing properties, through which we have entered into operating agreements with third parties under which the oil and gas are produced and sold. The Company's growth strategy is focused on oil production in the Niobrara and Bakken formations in the USA.
Since 1972, the S&P 500 Oil sector posted the strongest results during the presidential election year, gaining an average of 15.6%. Oil remains volatile and could spike as a result of geopolitical factors, such as tensions with Iran or Nigeria, supply disruptions, etc. SSN closed on Friday at $2.25 - up $.042 or 1.9%.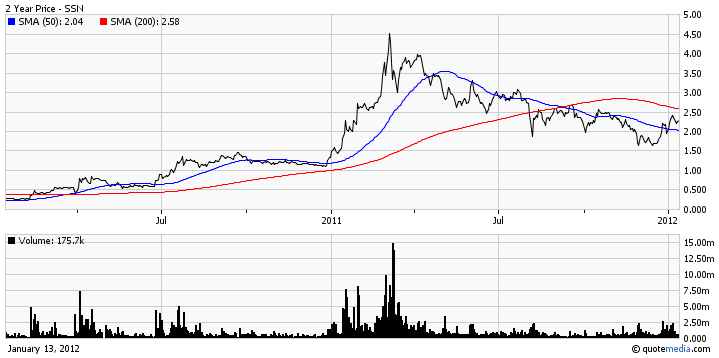 Click to enlarge
TechPrecision Corp (OTCQB:TPCS) is an industry leading manufacturer of precision, large-scale fabricated and machined metal components and systems with customers in the alternative energy, clean tech, medical, nuclear, defense, aerospace and other commercial industries. The company has been ramping up its growth trajectory recently as a result of the appointment of its new CEO, James Molinaro, who has brought to the company a new aggressive business development approach. In the 18 months following his appointment, the company has increased its roster of Tier-1 customers ($500+ million in sales) from one to five.
In addition, the company has expanded production capacity to exploit the worldwide demand for large-scale precision components. The company recently updated their revenue guidance of between $56-79 million in revenue for fiscal year 2013 (starts April 1, 2012) and earnings of $.27 versus an estimate of $43 million for fiscal year 2012 and $.16 in earnings. Singular Research and Wunderlich Securities both maintain buys on TPCS, with 12-month price targets of $4 per share. TPCS closed on Friday at $1.05 - up $.03 or 2.94%.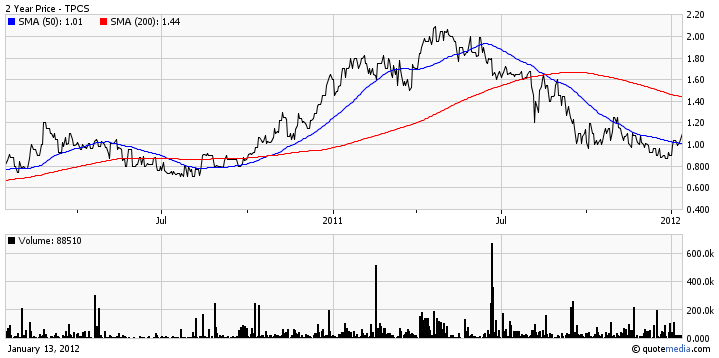 Click to enlarge
Disclosure: I have no positions in any stocks mentioned, but may initiate a long position in OTCQB:CRVW, AUGT.OB, MITK, SSN, OTCQB:TPCS over the next 72 hours.