I continue to be a skeptic of the pundits rhetoric that a European recession could lead to a true contraction of the economies of China and India.
This is unlikely, and bordering on impossible.
China has a "command" (top down) directed economy, and has been driven by major infrastructure investment, and export / domestic driven manufacturing. Although it is obvious there are certain imbalances (such as an over-reliance on trade and real estate), a command economy can:
change direction relatively rapidly,
backstop the bad,
mobilize a new economic direction, and
move unconstrained by the political turmoil of a democratic capitalistic system.
India is a bottom up driven economy. The majority of the population lives near survival levels – and is truly unable to contract. India has a trade balance shortfall, and cannot be considered an export based economy. Although a European recession would provide economic headwinds, it would likely be lost in the noise of all the economic dynamics.
Click to enlarge

Click to enlarge
Since the beginning of the 2007 global recession, mainstream economists and political debate have lectured China to direct their economy to more of a consumer consumption base with less reliance on exports. Pundits believe (spout) that export economies – such as China – will go on life support in the event of a European recession.
For the BRICs to be on life support would mean the advanced economies have died.
Click to enlarge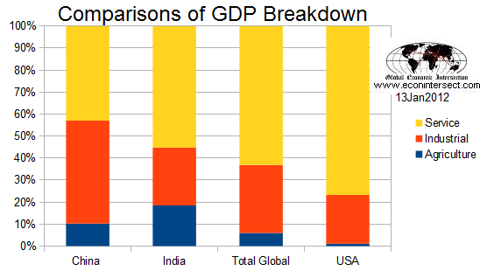 Click to enlarge
The graph above compares the economies, and evidences the low service sector spending in China's economy. The service sector of an economy is the portion of the economy that produces intangible goods – education, finance, communications, health care, utilities, wholesale and retail trade, and transportation. This is a significantly lower percentage than for any of the top 20 economies.
China's economy is not balanced for the long term, but that does not conversely mean the short term balance is wrong. A slowdown in Europe favors production of low cost producers as business and consumers shift to lower cost purchases of necessary items. China is an export based economy, and overall, would experience strong headwinds with a major European recession.
A command economy has options to adjust for these headwinds.
There is a bias in the economic forecasting and opinion of forecasters foreign to that economy – they extrapolate elements of their own country's economies and impose it on the others. These forecasters miss the mindset and unique dynamics of those being analyzed. Pundits continue to base opinion on no adjustments to the status quo.
There is no global economic model which can accurately forecast, and I find little basis for those who express opinions that China or India are in for a "hard landing". Yes, China must make some (or a lot) of adjustments. These adjustments will determine how their economy will play out; an extrapolation of the status quo will not.
Opinion is not fact.
Economic News this Week:
Our economic forecast for January 2012 continues to predict a weakly improving economic growth.
ECRI has called a recession. Their data looks ahead 6 months and the bottom line for them is that a recession is a certainty. The size and depth is unknown but the recession was to hit before the end of 1Q2012. Although our January forecast is not recessionary (one month look-ahead), we take this recession call seriously. This week the actual level of ECRI's WLI index decayed from -8.2 to -8.6. The index was in a range between -7.4 and -7.8 for seven weeks ending 23 December 2011. This index is indicating the economy six months from today will be weaker.
Click to enlarge
Initial unemployment claims rose 24,000 (from 375,000 which was revised up from a preliminary 372,000 last week) to 399,000. Historically, claims exceeding 400,000 per week usually occur when employment gains are less than the workforce growth, resulting in an increasing unemployment rate. The real gauge – the 4 week moving average – grew to 381,750. Because of the noise (week-to-week movements from abnormal events), the 4-week average remains the reliable gauge.
Click to enlarge

Click to enlarge
Overall the data this week continued to confirm a weakly improving economy. The data releases seem to go in waves – good weeks, less good weeks. The data this week was less good. No data released this week has any economic intuitive capability (forward looking) – all are rear view looks at the economy.
The following pictoral is the articles posted this week on economic indicators. To go to an article with active links - please click on the graphic or click here.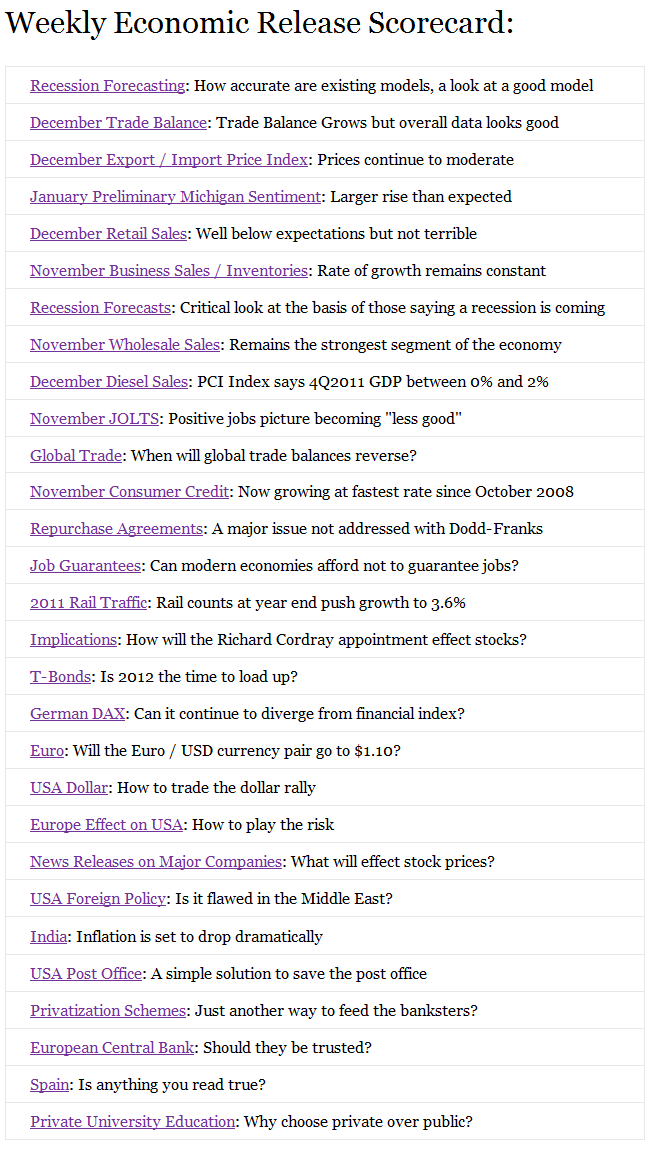 Bankruptcies this Week: Privately-held International Media Group, Privately-held Hostess Brands
Bank Failures this Week: None
Disclosure: I have no positions in any stocks mentioned, and no plans to initiate any positions within the next 72 hours.