With the unfortunate passing of Steve Jobs late in 2011, a lot was written about what the future held for Apple (NASDAQ:AAPL). Although opinion was far from unanimous, the consensus was that Apple would be fine for at least a few years with the product upgrades they had in the pipeline. However, the jury was out on whether Apple would be able to find the next big thing as they had done consistently under Jobs. The stock rode this consensus to post solid gains over the last three months. However, lately it seems Apple has lost its optics mojo and negative stories (which were a rarity under Jobs) seem frequent recently.
Recent events that concern me:
The new CEO, Tim Cook, dominated a news cycle with his massive $378mm payday. Given the 1% vs. 99% theme of this election season, that can't be a good thing for Apple's image.
Apple just had to suspend 4S iPhone sales in all its mainland China stores.
The company is partnering with Target (NYSE:TGT) to offer product in 25 Target stores. I understand the appeal to Target, but Apple choosing a downscale retailer for this sort of arrangement escapes me. Nordstrom or Saks maybe, but Target? How is that good for Apple's high end image and price points?
Apple has way too much going for it to short the stock (see below), but it is hard to add to positions given recent missteps.
$100B in cash on the balance sheet
Rising earnings estimates for FY2012 and FY2013
A stock selling for less than 11 times forward earnings despite 15% to 20% growth in EPS and revenues for the foreseeable future.
Rising price targets by analysts
I think investors should play Apple by being patient. Given the current market rally feels tired and the continuing troubles in Europe, I believe that one will be able to pick up new shares near its medium term technical support range of $360 to $375 (see chart) in the near future on the next market pullback. Along with selling covered calls on my current shares, this is the strategy I am employing on Apple.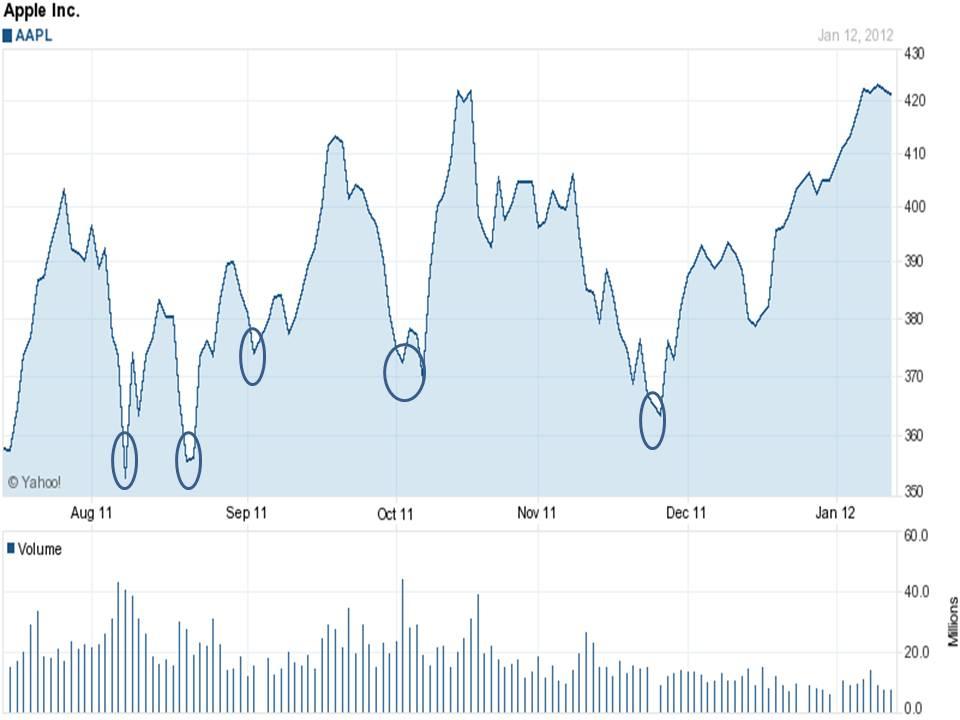 Disclosure: Long Apple, but recently sold covered calls against core holdings.