The silver market made a major move to the upside by closing near the 30 per oz level. The pattern that we can identify is what some technical traders call a "head and shoulders bottom". This classic geometrical technical formation is considered very bullish for prices once the market breaks above the 30 dollar per oz neckline level.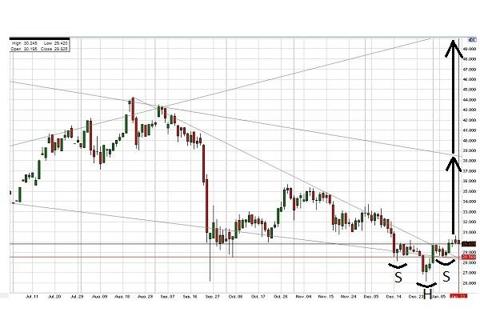 This puts into question the overwhelming negative publicity the silver and gold markets have been getting in the media over the last several months from some very popular analysts that seem to change their opinion at a whim every time the market has a deep correction or the volatility increases, or we get the CFTC to raise the margin requirements for the paper silver and gold markets over a long weekend when the physical markets are closed. It's very obvious that we have a historical tug of war going on between the paper market and the physical market in precious metals and this will be resolved by market forces in the very near future as the fundamentals dictate a much higher price level for precious metals.
I think we see the writing on the wall. The world financial system is broken and things are going to get a lot more volatile as we move into the second half of this year with the 2012 Presidential elections taking place in November on the back of a major expanding euro zone economic crisis that continues to expand its contagion to the rest of the world, potentially derailing the democratic objectives set out by the Obama administration. One thing seems to be for sure...volatility will be king in 2012.
FUNDAMENTALS:
GOLD
According to the World Gold Council's Gold Demand Trends report for Q3 2011 released Friday, this increase was driven by investment demand which rose by 33% year-on-year to 468.1 tonnes, generating record quarterly demand of US$25.6bn.
The report also details a number of other developments:
Investment demand in Europe reached a record quarterly value of €4.6bn, equating to 118.1 tonnes - a year-on-year increase of 135%. The increase in overall investment demand was all the more impressive given the sharp gold price correction in September, which encouraged a wave of profit taking among bar and coin investors. Virtually all markets saw strong double-digit growth in demand for gold bars and coins.
Chinese jewellery demand was 13% higher year-on-year at 131.0 tonnes, equivalent to RMB46.0bn. The bulk of this increase was seen in smaller cities as retail chains expanded their networks to meet increasing demand fueled by rising income levels. China's growing appetite for gold as a means of investment saw demand for gold bars and coins expand by 24% from year earlier levels to 60.2 tonnes.
Jewellery demand in India was sluggish during the seasonally slow months of July and August, compounded by high inflation and greater volatility in the local gold price. Buying has since recovered slightly with the onset of the festive and wedding season. Overall, Indian jewellery demand in Q3 saw a 26% decline in tonnage, when compared to the same quarter in 2010, to 125.3 tonnes, however yearly demand to the end of September is very close to the record levels seen in 2010.
SILVER
According to the silver institute, total fabrication demand grew by 12.8 % to a 10-year high of 878.8 Moz in 2010; this surge was led by the industrial demand category. Last year, silver's use in industrial applications grew by 20.7 % to 487.4 Moz, nearly recovering all the recession-induced losses in 2009, and is now seeing pronounced advances in 2011. Jewelry posted a gain of 5.1 %, the first substantial rise since 2003, primarily due to strong GDP gains in emerging markets and the industrialized world's improving economic picture. Photography fell by 6.6 Moz, realizing its smallest loss in nine years, as medical centers deferred conversion to digital systems. Silverware demand fell to 50.3 Moz from 58.2 Moz in 2009, essentially due to lower demand in India.
World Silver Demand
**
TECHNICALS:
The major long-term cyclical wave pattern in gold is in an uptrend until 2017, with a projected target price above $2500 an ounce. If we use the current gold /silver ratio currently at 54, silver should be priced well above $125 per oz.
The bottom completion of this corrective leg, or the beginning of the first 2012 wave pattern unfolded as scheduled December 15, 2011 at $1563 with a head and shoulder bottom confirmation on January 10, 2012 at $1524 per oz.
It appears we could experience the most explosive energy part of this cycle wave pattern unfolding during the first half of 2012 above $2300 for gold and $70 for silver, before a bearish outlook takes place for the rest of the year projecting gold to the $1300 levels into the November 15, time frame and silver priced in the 20's.
WEEKLY FIBONACCI PRICE TARGETS
GOLD:
1. 1640
2. 1687
3. 1730
4. 1765
A weekly close above 1765 projects the 1920 target levels or the 2011 Highs for the year!
SILVER:
1. 32.65
2. 35.54
3. 38
4. 40.25
A weekly close above 40.25 projects the 49.85 target levels or the 2011 Highs for the year at 50 per oz!
The most interesting part of this pattern is that if we get this correction into late 2012, it would set the stage for the major long term 9 year wave III, bottom cycle pattern that projects prices above $3,500 per oz by 2017 for gold and silver well above $150 to $175 per oz.
Additional disclosure: Precious metals products trading involves significant risk of loss and is not suitable for everyone. Past performance is not necessarily indicative of future results.