Financial stocks have been on a winning streak of late. It seems early on that investors have chosen to take a more optimistic approach towards the sector's ability to rebound from the horrific performance of 2011 - a year in which many who were exposed heavily to financials are happy that it's gone. The fact of the matter is, financials or bank stocks in particular made fools of even the most seasoned investors. The reason being, bank executives just could not live up to expectations. But it seems so far in 2012, little has changed in terms of what analysts are expecting from the sector.
Click to enlarge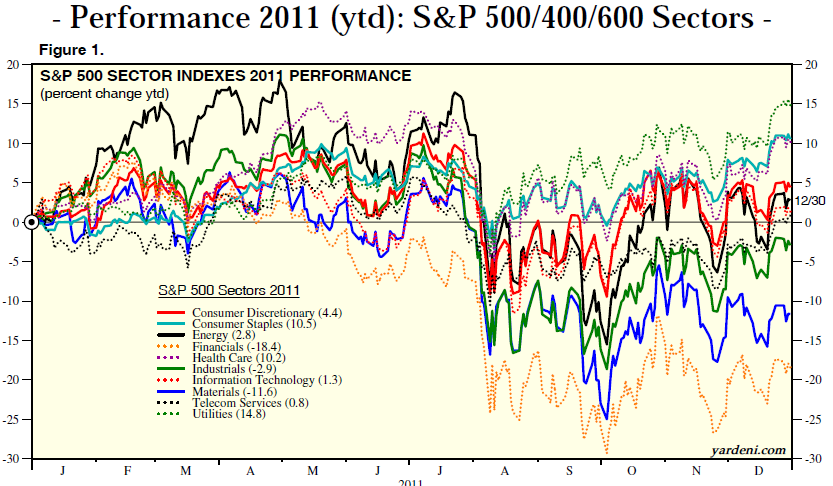 Click to enlarge
The chart above paints a clear picture of how investors allocated their money last year and the irony in the graph is that financials lost most of it. This was difficult to predict when you consider all of the optimism that started for the sector at the beginning of 2011 where a Bloomberg survey predicted that profits at the biggest banks would increase by 32 percent during the year. The figures didn't come close.
So far in 2012, it seems that there is even more optimism as analysts expect bank profits to rise 57% - this according to yet another survey by Bloomberg. The question is will the second time be the charm or will this become a simple case of "fool me twice?" Let's take a look at a few banks and see if they are worthy of consideration.
JP Morgan Chase (NYSE:JPM)
JP Morgan has always been considered "the lesser of the evils" amongst the banks. It's been awarded that distinction particularly because of how it managed its credit exposure during the housing bubble. In other words, it hasn't been categorized as a predatory lender to the extent of its peers. On Friday the company reported its fourth quarter earnings and without putting too much spin on it, the results were pretty weak. Its earnings were down 23 percent compared with the same period of a year earlier.
The company said that it was hurt by a fourth-quarter slump in investment banking as well as other Wall Street businesses, which suffered amid the sluggish economic recovery. Another factor were the concerns surrounding the European debt situation. On the bright side, the bank showed tremendous growth in corporate loans. The commercial banking unit's profits rose to $643 million, a 21 percent increase from the previous year, as lending to corporations grew for the sixth consecutive quarter. So where does that put the bank amongst its peers and where is it heading going forward? These are the important questions to consider.
The way I look at it, there were no surprises in the report and nothing was revealed to suggest that the company is in better or worse shape than before. The bank will continue to be highly regarded relative to its peers. And as it works to resolve its problems and shows that it can execute effectively, it will stand out as one of the (if not the) best banks within the sector. Today, that may not be saying a whole lot, but the sector will rebound eventually and JP Morgan has the potential as well as the management structure to outperform.
Bank of America (NYSE:BAC)
I think it is still too early to say with any degree of certainty that the bank is back on track. But the stock is getting very interesting. I've discussed Bank of America quite a bit because the stock has the potential to not only double but even triple from current levels. The only thing that continues to make me gun-shy is its ability to execute and prove that it can run its business effectively. The company's negative image continues to be a concern but to its credit, it is something that it has been working hard to rebuild.
The bull case for buying the stock comes down to one thing at this point, it is not going to zero. Its distinction of "too big to fail" should serve as some support for investors. But this does not mean that it is immune from poor execution - downside risk is still there. But investors have to appreciate where the company is today and match that with realistic long term horizons. In other words, it is going to require a great deal of patience to make money on the stock. Also, the mere fact that it has been able to stay above that all important $5.00 threshold to the extent that it even surged during the first couple of weeks of trading on the New Year, shows that it still has life. I've rated it a buy with a $10 target.
Citigroup (NYSE:C)
As with Bank of America, the question for Citigroup is where is the value? Though the stock is up 17 percent so far on the year, many investors remain unconvinced that the company can the maintain the level of performance required to keep the stock trending upward. While the company is working to repair its brand, its main issue continues to be with what is perceived to be a lack of strategic direction. It seems not only has the company been unable to communicate its approach, but it has also been unable to remove all of the uncertainty. This has caused several investors to abandon the stock.
Assuming the bank continues to restructure and executes its business without any significant drawbacks, I have to think that the company can recapture double-digit percentages of return on equity. This would make the stock significantly undervalued by at least 20 percent and make it a buy at current levels. But this is a big assumption as its track record of late has not inspired much confidence that this is possible.
Goldman Sachs (NYSE:GS)
It's hard to imagine another company on Wall Street that is loathed more than investment bank giant Goldman Sachs. This has made the company one of the more polarizing brands and stocks on the market. But when I look at the fact that it is now trading under $100, I can't help but drool at how incredibly cheap it is. But I also say this with some trepidation knowing that it has a lot of work left to do to restore confidence in its brand - and that's the case for the entire sector as a whole.
Fellow Seeking Alpha contributor Stock Croc offered what I thought was an excellent bearish case for the stock. In a recent article, he said the following:
Overall Goldman Sachs does not stack up well when compared with its competitors. It currently has a forward P/E of 7.5, which compares favorably against JPMorgan's 7 and Morgan Stanley's 8. However its return on equity of 8% is less than JPMorgan's 11% and Morgan Stanley's 8.7%.
Goldman Sachs, despite reducing its long-term debt in the third quarter 2011, does not have a particularly strong balance sheet with a high debt-to-equity ratio of 3.3. This does not bode well for price stability or the company's future earnings if we were to see a double-dip recession eventuate or further economic headwinds from a prolonged European debt crisis or Chinese property bubble collapse.
Those are indeed extremely valid points. But I sense that these metrics are virtually interchangeable within the entire sector. And honestly, when a stock has become as cheap and beaten up as it has, all of the bearish metrics become virtually known and priced in. Not to mention that as the stock sits at $93 it is trading at a considerable discount to its book value. To me, the stock is a buy at current levels and I would place a $150 - $200 price target on it over the next two to three years.
Wells Fargo (NYSE:WFC)
Wells Fargo's stock is up 8 percent so far on the year. Yet, when I look at its valuation I continue to see a bargain. As with other banks it still has a lot of work to do to clean up its balance sheet. And one has to consider that its acquisition of Wachovia will take some time to fully integrate. Nevertheless, at $29, Wells Fargo is clearly trading considerably below its true potential.
Though its recent earnings announcement was somewhat of a disappointment, the bank should have no problems producing decent returns on equity - I would project 10% to 15%. As with Citigroup, this potential makes it a compelling long-term buy at current prices. With the volatile nature of all bank stocks, it is one that should be considered by patient investors with realistic holding time-frames.
Disclosure: I have no positions in any stocks mentioned, but may initiate a long position in BAC, JPM, WFC over the next 72 hours.