Since June of 2011 natural gas prices have trended strongly downward. They have fallen from the June high of $4.98 to the recent low of $2.62. This is sure to hurt a lot of natural gas companies, and it has consequently knocked the prices of many of those companies downward recently.
One that doesn't seem likely to be hurt badly is Linn Energy. Linn Energy LINE is 100% hedged on expected natural gas production through 2015 and 100% hedged on expected oil production through 2013 (80% hedged in 2014-2015). The chart below shows the various hedges.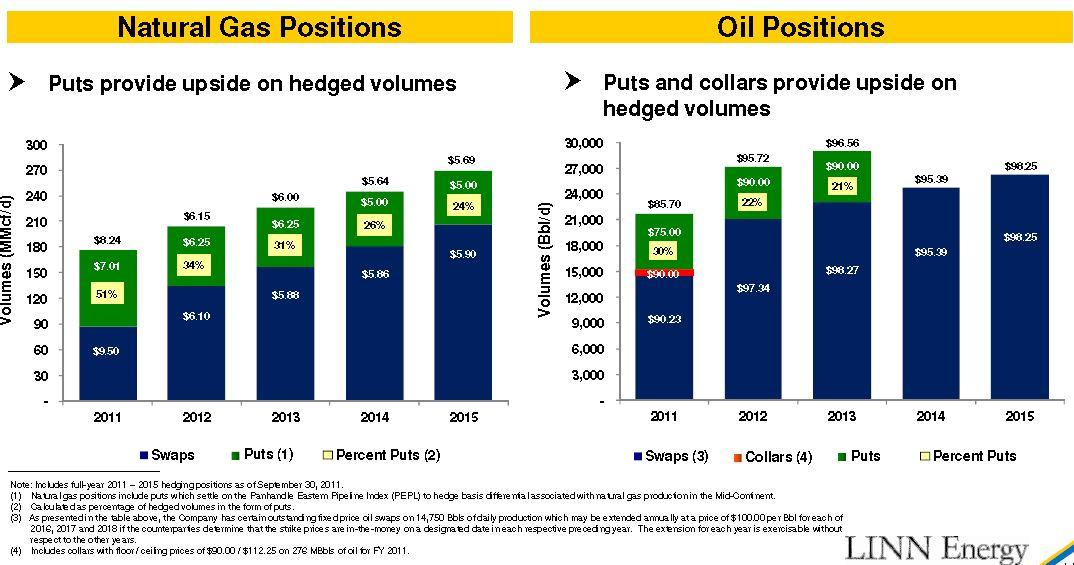 Click to enlarge
click to enlarge
The chart below compares the hedging of Linn Energy to that of its peers. With an EU recession coming (and already low natural gas prices), Linn Energy seems likely to be able to outperform its peers easily over the next year or two.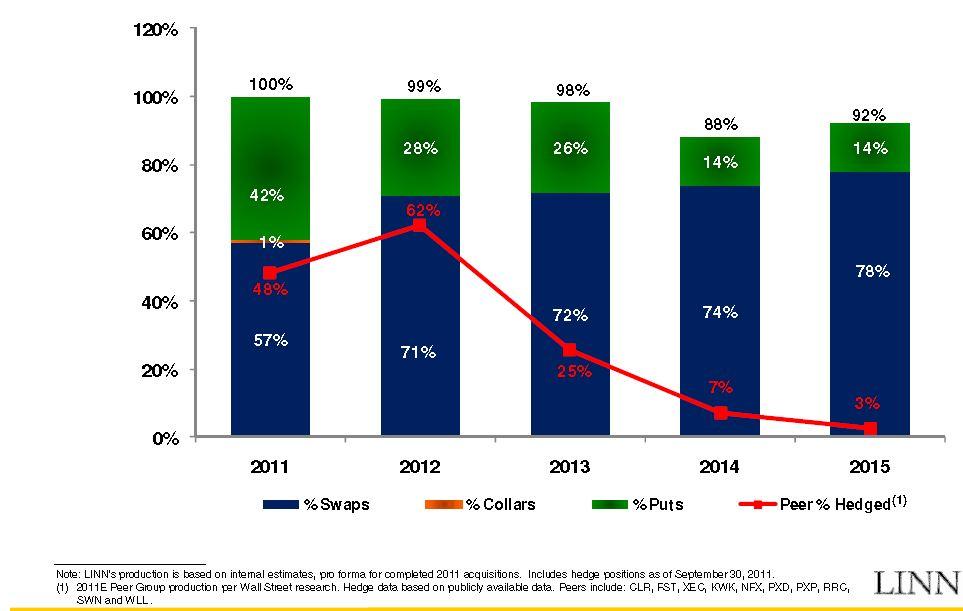 Click to enlarge
LINE also pays a large dividend of $2.76 (7.68%). This by itself looks attractive. It looks even more attractive when you see the stability of the dividend payout history (see chart below). When you consider that much of this time was recessionary, this performance is even more impressive.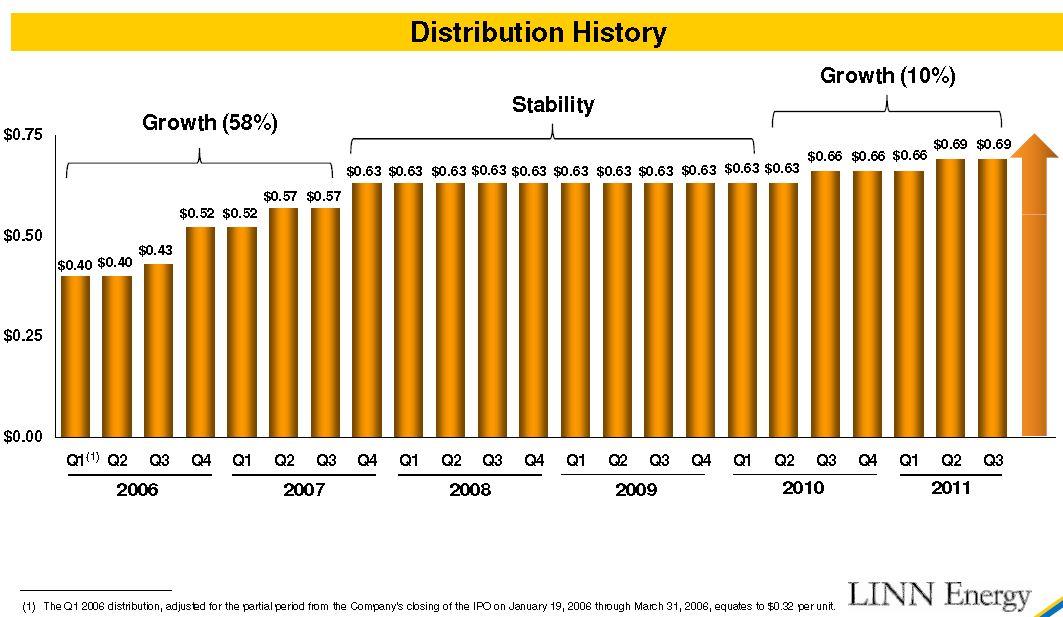 Click to enlarge
LINE has made good progress moving from natural gas to a higher percentage of oil and NGLs production. The chart below illustrates this growth well.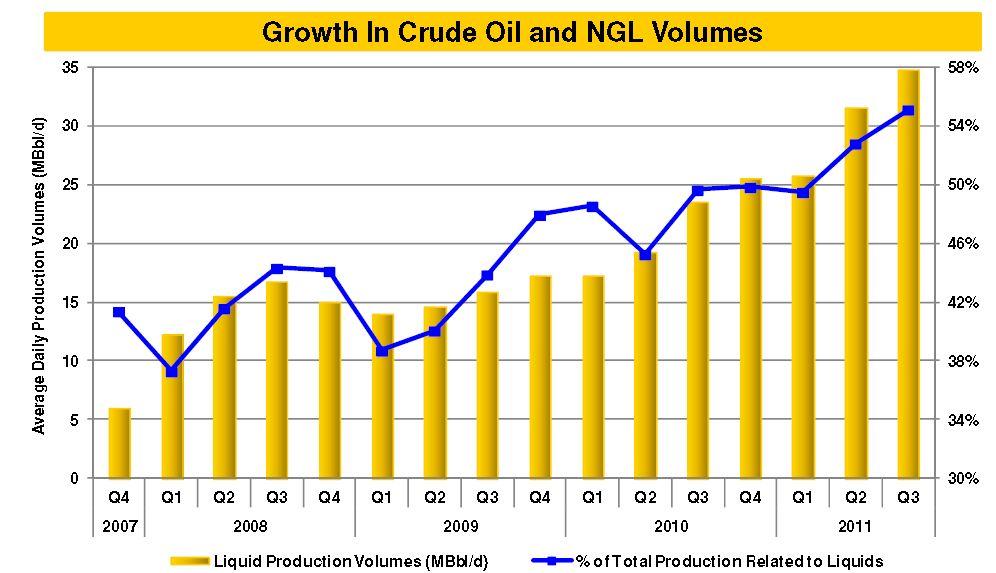 Click to enlarge
This oil and NGL's production percentage growth bodes well for the near future for LINE. Oil prices are forecast to generally trend upward with the growth in emerging markets. Natural gas prices are falling, but are forecast to rebound as the winter becomes cooler and as the use of LNG increases around the world. Specifically, two large liquefaction terminals are under construction in the US (Coos Bay, Oregon and Sabine Pass, LA). When these are complete, they will allow at least some US natural gas companies to export their natural gas to more expensive markets such as Asia and Europe. I am sure there are more planned and planning liquefaction plants. Longer term worldwide natural gas use is forecast to go up three times as fast as oil use over the next 20 years (BP Energy Forecast). US natural gas prices will go up.
LINE not only provides a great dividend, but it gives one the opportunity for stock price appreciation. The LINE stock price has risen approximately 202% since its Jan. 2006 IPO. During the same period the S&P500 is only up about 10%. It has grown production from approximately 200 Mmcfe/d at year end 2009 to approximately 320 Mmcfe/d at year end 2010 to approximately 370 Mmcfe/d at the end of Q3 2011. Part of this has been due to organic growth, and part of it has been due to approximately $3B in acquisitions over the last 2 years. LINE plans to continue both the organic growth and the acquisitions. LINE's current forecast is for production to increase to approximately 525 Mmcfe/d by year end 2015 due to organic growth alone. Further acquisitions, which LINE does expect to do, should add to this total. LINE is likely to at least double production from its current level by year end 2015.
LINE has positions in many of the most prolific oil shale fields in the US. In 2011 alone it acquired net production of approximately 20,000 Boe/d of which approximately 40% was liquids. The acquisitions had proved reserves of approximately 100MMBoe with potential for lots of organic growth. The outlook for LINE looks very promising.
The basic fundamentals of the stock are good too. It trades at a PE of 15.68 and an FPE of 15.91. It has an average analysts' recommendation of 1.5 (a strong buy). Plus it has a next five years EPS Growth forecast per annum of 9.29%. It has a profit margin of 25.16%. It has been growing both revenue and EPS strongly. These are great statistics for a company that pays a 7.68% dividend.
The 2 year chart show that LINE is also likely a good technical buy (see below).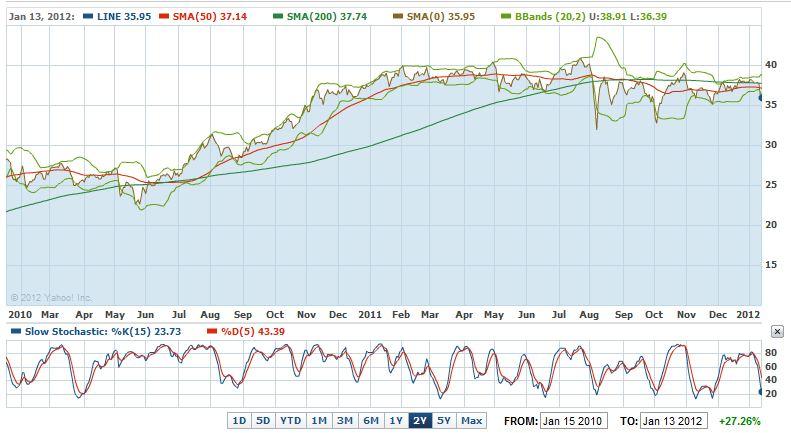 Click to enlarge
The slow stochastic sub chart shows that LINE is near over sold levels for the near term. The main chart shows that the stock has been consolidating for over a year. This is impressive. Many stocks have retreated since earlier in 2011. LINE has maintained its value well. With its strong hedges, it seems likely to be able to maintain its stock price in the face of an EU recession.
After a long consolidation, it is in a position to rise further. On worsening EU credit problems, it could well rise along with other high dividend paying US stocks. If not, it may be putting itself in a great position to rise significantly after the EU emerges from the coming recession. Meanwhile the investor will get to collect the steady 7.68% dividend. Averaging in is often a good policy.
Good Luck Trading.
Disclosure: I have no positions in any stocks mentioned, but may initiate a long position in LINE over the next 72 hours.