CEF Weekly Review: On average, the 13 closed-end fund (CEF) types registered a share price increase of 0.8% for the week ending 1/13/12. The high-low spread (percentage price change difference between the highest and lowest fund types) registered this week was a narrow +1.9% versus +3.8% the previous week. On an aggregate unweighted basis, the weekly average price change for the 500 plus CEFs in the Growth Income database was up 0.9%.

Actionable Items:

Highest Positive Spread: Aberdeen Chile Fund (NYSEMKT:CH)
Lowest Negative Spread: Eagle Capital Growth Fund (NYSEMKT:GRF)
Focus Stock of the Week: Nuveen Global Value Opportunity Fund (NYSE:JGV)
Last Week's Focus Stock: Nuveen Global Value Opportunity Fund (JGV)

The PowerShares CEF Income Composite (NYSEARCA:PCEF), an ETF that invests in taxable income CEFs, decreased 0.3% for the week. PCEF is up 1.2% YTD. S&P 500 advanced 0.9% this week and 2.5% YTD.

CEF Weekly Fund Type Performance: Given the change in investors' mood from the beginning of the week to the end, some of the fund type trends may need to be discounted when looking into the upcoming week.

WrldEqFnds and USMrtgBndFnds were both the leading fund types in terms of weekly price performance, while LoanPartFnds and InvGrdBndFnds were the laggards, -0.1% and flat, respectively. The performance of WrldEqFnds was broad based with Morgan Stanly China "A" Shares Fund (NYSE:CAF) up 7.9% on inflation easing and the prospects of monetary loosening spurring economic growth.

The fund types with the greatest negative PrcNAVSprds were the NatlMuniBndFnds and SingleStMuniFnds—where the percentage change in share price was less than the respective change in NAV. In both cases, the weekly change in NAV's was over 2.0%.
Click to enlarge: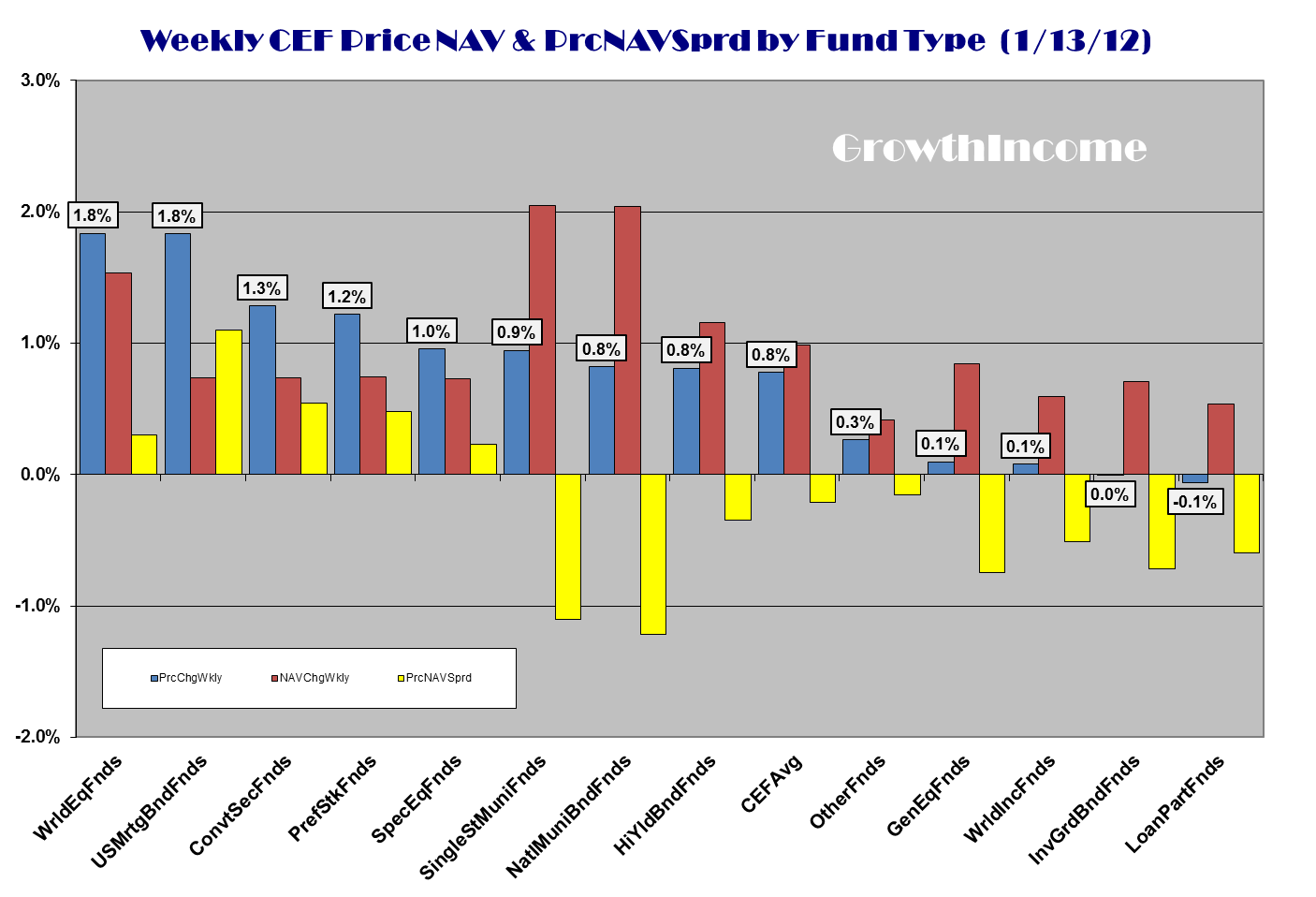 Weekly CEF Winners and Losers: One of the CEFs with the greatest positive PrcNAVSprd for the week was and the Aberdeen Chile Fund (CH). CH's price increased 6.7%, while its NAV advanced a more modest 1.7%. This generated a positive PrcNAVSprd* of 5.0%.
CH was up on the strong advance in copper prices. Chile is the world's largest producer of copper and it is a copper-driven economy. It is also the home of the Escondida mine, the largest single source of copper production owed by BHP Billiton (NYSE:BHP). Investors found encouraging news in the recent report that China's imports of copper in December hit record levels.

CH has $140 million in unleveraged net total assets, is selling at 8.2% premium and last years generated a 11.5% distribution yield base upon its managed distribution program from which the distributions were deemed 100% long-term capital gains.

CH has a less than direct stake in copper production. Only 8.3% of its portfolio is directly invested in metal and mining companies. Its biggest stake is in consumer staples and financials which combined, represent 60% of its portfolio. Its biggest single company holding is in Empresas Copec SA. It is the largest Chilean company with a diversified portfolio of businesses. Its largest concentration of activities is forestry, energy generation and fuel distribution.

One of the CEFs with the greatest negative PrcNAVSprd for the week was Eagle Capital Growth Fund (GRF). GRF's share price decreased 15.3% while its NAV advanced 1.1% generating a negative PrcNAVSprd of 16.4%.

The shares saw extremely heavy volume on Friday. There were 176,000 shares traded compared to a 3 month average daily volume of 12,000 shares. There has been no indication of insider trading.

As the name implies, GRF invests in the equity securities of public companies which embody the prospects of long-term capital growth. GRF's unleveraged total assets are very small at $21.2 million. Its biggest positions are in business service companies and include Automatic Data Processing (NASDAQ:ADP) (7.3% of the portfolio) and Paychex (NASDAQ:PAYX) (5.5%).

In mid-December, GRF went ex-dividend with a distribution of $1.05 per share which caused its share price to run up 6.2% from the date of declaration to its ex-dividend date on fairly heavy volume. GRF also received a 5-star rating from Morningstar around the same time period.

In the waning weeks of this year, there was another spike in volume on December 27 and 28 of around 60,000 shares each day which represents 10 times its normal average 3 month daily volume. There was no indication of recent insider or institutional buying. The last time there was insider buying was with the CEO in May of this year when he acquired 5,000 shares.

Economic & Earnings Outlook: (Click here for next week's economic calendar; click here for earnings' announcements and estimates.)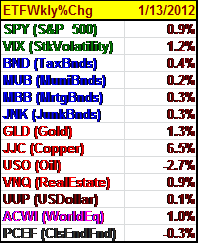 CEF Distribution Announcements This Week: Click here.

CEF Focus Stock(s) for the Week: The focus stock of the week is the same as last week: Nuveen Global Value Opportunity Fund (JGV). See below.

JGV was one of the few CEFs in the WrldEqFnds type that registered a share price decline last week. Its share price was off 2.1% versus its NAV increasing 1.1%, thereby generating a negative PrcNAVSprd of 3.2% last week. JGV's weekly share price performance was counter to WrldEqFnds' average performance which was up 1.7% over the same period.

The same pattern occurred this week. JGV stock only advanced 0.6% versus the sectors advance of 1.8%.

Distinction with a Difference: The distinction being the difference is that JGV is heavily invested in gold miners, as of their most recent filing at the end of the 3rd Qtr. Its top three positions are Barrick Gold (NYSE:ABX), Newmount Mining (NYSE:NEM) and Gold Fields (NYSE:GFI), representing 12.4% of the portfolio (the gold ETF (NYSEARCA:GLD) was also up 1.3% this week. JGV has a quarter of its portfolio in metals and mining.

The Gold Debate: The debate regarding gold and gold miners as investment vehicles at this juncture is heated. One group anticipates further quantitative easing, not only in the U.S. but the in the eurozone, though the ECB's accommodative lending, would fuel inflationary concerns and place a higher premium on gold as a storehouse of value.

Second Issue: The second issue in this debate is the performance of gold miners versus gold as a commodity. No less than Larry Fink, CEO of BlackRock, the largest asset manager, expressed to Forbes his belief that the gold miners are trading at the equivalent of $800 when the metal was trading at $1,800 per ounce. The positive side for gold miners is that they can pay dividends, the negative is that they operate in politically unstable countries.

JGV has $330 million dollars in unleveraged total net assets. JGV's investment objective is to invest in a diversified portfolio of global value-oriented stocks and to a lesser extent fixed-income, 2/3's and 1/3, respectively. Its current annualized quarterly distribution yield is 8.4% under a managed distribution program. It's currently trading at a 5% discount which is below its 52 week average of 2.9%.

First Trust Portfolios, LLP, owns 10.2% of JGV.

I own a diversified portfolio of CEFs and ETFs and am long stocks in the CEFBig10™ and CEFMuni10™.
The first is a balanced equity-income portfolio (CEFBig10™) and the second a tax-exempt income portfolio (CEFMuni10™).
---
[*] All things being equal, price and NAV should move in tandem. A price movement greater than the NAV generates a positive PrcNAVSprd and may be interpreted as negative on a near-term basis and indicate that the stock is overvalued relative to its NAV which in theory is the stock's intrinsic value. The opposite would be true for a negative PrcNAVSprd.

Disclosure: I am long PCEF.