Many analysts thought a death knell sounded for the gold bull market last month. However, driven by surging investment demand in China, as evidenced by record-high imports from Hong Kong, and the recapturing of the 200-day moving average, the gold price added to its gains from the first week of the year, while silver mounted an even bigger surge.
All this occurred despite a stronger trade-weighted dollar (that normally moves opposite of metal prices). However, credit downgrades late on Friday and an expected further decline for the euro are sure to test the recent enthusiasm for precious metals in the days ahead.
For the week, the gold price rose 1.4%, from $1,616.60 an ounce to $1,639.70. Silver briefly topped the $30 an ounce mark for the first time in a month, before ending slightly below that mark. That's up 3.5% from $28.75 an ounce to $29.77. Gold is now down 14.7% from its high last summer while the silver price remains 39.9% below its early-2011 peak.
Surging Chinese gold demand and soaring premiums in advance of the Lunar New Year were by far the dominant stories for precious metals last week. The Hong Kong Census and Statistics Department reported a record 103 tonnes of gold entered the mainland from Hong Kong in November, up from 86 tonnes in October as shown below via Reuters.
Click to enlarge: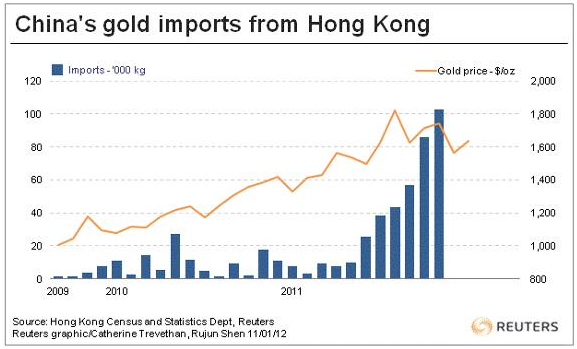 Click to enlarge
Though Hong Kong is not the only route for gold to enter China, the trend for Hong Kong imports is considered a good proxy for overall imports.
China is now the biggest gold producer in the world. When combined with annual mine production of over 350 tonnes, the recent import data sets the stage for what might be a blockbuster report on gold demand in China for 2011.
Wages are surging, as income for households reportedly rose more than 15% last year. And steadily rising inflation has only recently abated. As such, Chinese investors continue to look for ways to protect their wealth as home prices and stock prices fall, leaving few alternatives.
The Chinese central bank is also suspected of being responsible for some of the late-2011 buying. However, the world is not likely to find out for years. Recall that back in 2009, the Peoples' Bank of China announced that its gold reserves had increased from 600 tonnes to 1054 tonnes after remaining silent on the subject since 2003.
China has long wanted to increase its gold reserves, but have been reluctant to buy in large quantities for fear of driving the price higher, so, it has been a quiet buyer on price pullbacks. The late-2011 swoon for the gold price may have prompted more buying.
Clearly, signs that gold buying in China jumped last fall, as prices declined, are bullish for the overall market. Particularly when considering that none of that imported gold will leave the country because exporting gold from China is illegal.
In India, where the rupee recently reversed course and reached a one-month high against the U.S. dollar, dealers reported a resurgence in physical demand prior to the resumption of the Indian Wedding Season that begins on January 15th and continues until mid-April. But gold in Vietnam has reportedly lost some of its luster after the government enacted a 10% export duty that has all but eliminated profit margins for dealers.
Here in the U.S., coin sales are off to a rollicking start in 2012. The U.S. Mint reported that gold coin sales so far this year have surged to 85,500 ounces. That's a pace that, if sustained, would produce the highest monthly sales since December 2009. The mint sold 4.26 million ounces of American Eagle silver coins through the first ten days of the month, a record breaking pace.
Lastly, there were a number of updated price predictions released last week. Goldman Sachs cited negative real interest rates for the foreseeable future as the driver for the gold price to reach $1,940 an ounce by the end of the year. Morgan Stanley reiterated its view that gold could average a record $2,200 in 2012.
UBS precious metals analyst Edel Tully, a key figure in the LBMA (London Bullion Market Association), predicted the gold price will go as high as $2,500 an ounce, while averaging $2,050. The LBMA's annual survey showed that 23 of 26 respondents expect gold to reach a record high this year. As for the short-term, a Bloomberg survey on Friday indicated 18 of 23 analysts expect the gold price to rise in the week ahead, the highest percentage of positive responses since early November.
It is quite possible that last week's European downgrades will cause the gold rally to stall in the days ahead. But, that should be only a temporary condition as the fundamental factors driving the price higher remain intact. Last week's vote of confidence for the metal from mainland China proved to be just what the market needed after a dismal December.
Disclosure: I am long GLD.