The following is a historical analysis of Cisco Systems (CSCO). The analysis will use a system that I designed that is based on the ratio that Mr. Warren Buffett released to the public in 1986, which he coined the term "Owner Earnings." For those new to this type of analysis, I would recommend reading an introduction to my system by clicking here.
In analyzing Cisco Systems from 1991 to the present, I will also prove (using historical data) why the markets are inefficient. Back in 1995, Cisco Systems was trading on the stock market at a split-adjusted total market capitalization of approximately $9.1 billion. In that year most of us got our first look at an enterprising young CEO named John T. Chambers, who at the time began implementing a new game plan for his company. Using what he must have believed was an overvalued stock as currency, he began buying out his competition. After all when Cisco Systems went public at a split adjusted price of $.06 a share on February 16, 1990, by January 2, 1995 (just 4 years later) it was selling at a split adjusted price of $1.87. If you do the math, Cisco Systems' stock price soared 3,016%, while its owner earnings, during the same period in comparison, only went up 600%.
Therefore using Cisco Systems overvalued stock certificates as currency, Mr. Chambers went on a huge shopping spree and bought 62 companies from 1995-2000. Here is the list of what he bought: (Click to enlarge)

This was during the initial craze of the dot com boom and companies like Microsoft (MSFT), Intel (INTC) and General Electric (GE) had their stock prices go to insane heights. The CEO's who ran those companies all looked like geniuses that could not lose.
Mr. Chambers eventually paid a total of $33.4 billion for those companies in the table above and issued 2.005 billion shares to do so, even buying 23 companies in the year 2000 alone (one new company every 2 ½ weeks). The new combined company would eventually hit a top market capitalization of $588 billion with 62 new companies added in a very short period of time. This created a serious problem on Main Street as Cisco Systems now had to incorporate 62 different corporate cultures and tens of thousand of new employees into one new entity. This also had to be done during a market crash (2001) where Cisco Systems stock fell from a market capitalization of $588 billion ($78.22 a share) on March 24, 2000, to one of $134 billion ($18.42 a share) on March 23, 2001. So much for the efficient market theory!
At its high, Cisco Systems stock price went up 130,266% in just a little over 10 years. From there it went down -76.45% in 365 days. If you look at Cisco Systems' stock price today (a full decade later), the stock is still trading at around the same price as it was in 2001. Why is this so? Well the answer is an easy one. It has taken Mr. Chambers and his team that long to bring the business on Main Street up to equal its Wall Street price, which was so mis-priced by the inefficient market in 2000 that it took some 12 years for things to balance out (even after a -76.45% drop in its stock price in 2000-2001). The same thing happened with Microsoft and I proved this when I wrote an article earlier this month called "Why Microsoft Has Been Dead Money since 1999, and Why That May Soon Change". Cisco Systems' story is almost exactly the same as Microsoft's and that's why the stock has been dead money since 2000.
Here are the Main Street numbers for Cisco Systems: (Click to enlarge)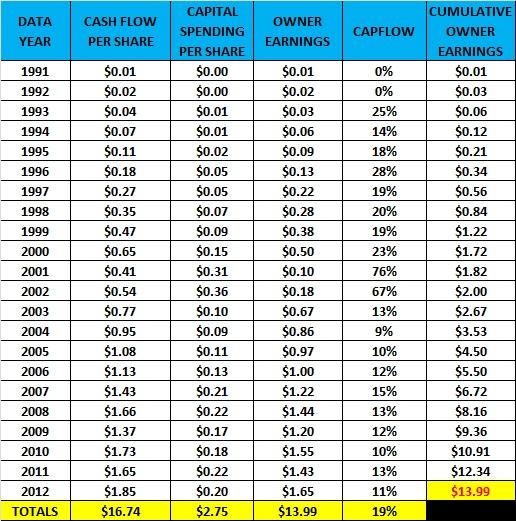 For those wondering what the $13.99 in bold red represents, it is the result of my Cumulative Owner Earnings (COE) ratio. I created that ratio in order to replace book value per share in my work. What it does is cumulatively add all previous years of owner earnings per share together and then come out with a final dollar figure that you can compare to its stock price. A company that trades at or below its COE is one that is very oversold. COE is more powerful than book value per share because with book value one can never really know what the assets on the balance sheet are really worth. John Paulson and Bruce Berkowitz found that out last year when they loaded up on financials. COE, on the other hand, adds up all the owner earnings that a company made over its history. I have data on COE going back to 1969, but because this information is not readily available and even took me years to gather, I have decided not to include it as part of the system I am using to analyze stocks here at Seeking Alpha.
As you can see from the table above, Mr. Chambers has done an amazing job running Cisco Systems all these years and it's not his fault that the markets are inefficient and gave his shareholders a wild roller coaster ride. In the end, he basically bought 62 companies by simply exchanging an overvalued number of stock certificates for real businesses on Main Street. If I had been in his shoes, I would have done the same thing as it was just smart business to do so.
It must have been hell getting all those corporate cultures to work together, while at the same time having Wall Street Analysts breathing down your neck every step of the way (quarter by quarter). It took him more than a decade to do so but he did it successfully; the company is now a lean and mean machine.
As an added treat, here are the current owner earnings results for Cisco Systems and its industry using my system: (Click to enlarge)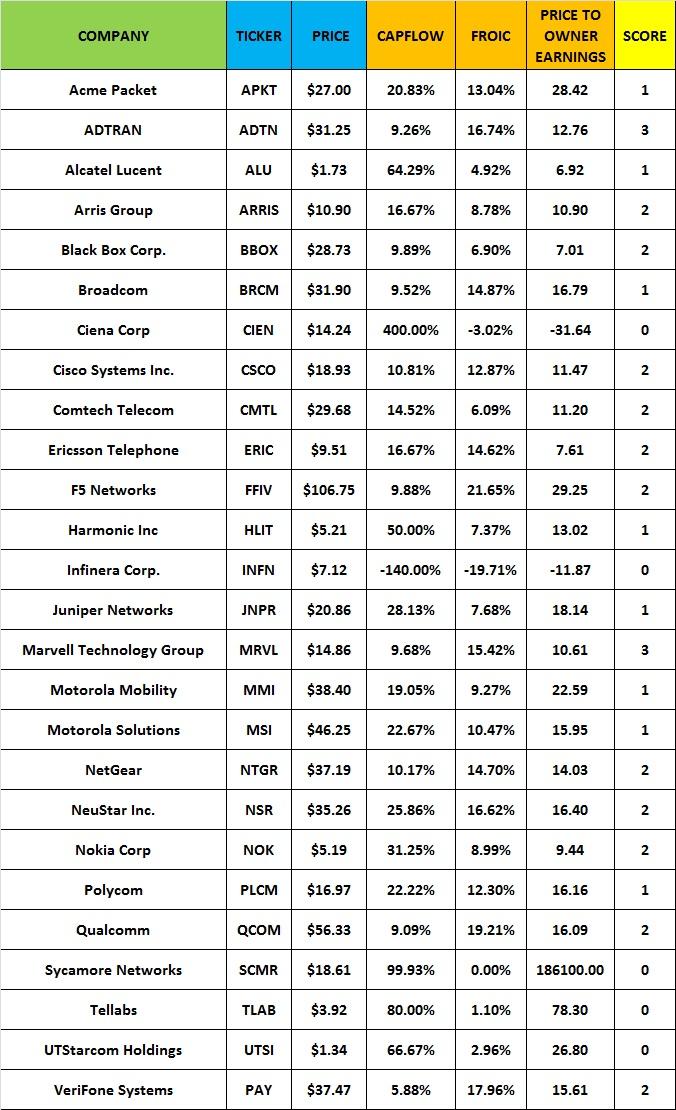 In conclusion, as the results from the table above show, Cisco Systems still needs to decrease its total capital a bit so its FROIC will increase past the 15% marker. Once there, it will then score a "1" and achieve a total score of "3" on my system. Its cost controls are excellent and as I have proved above, Cisco's CEO is excellent as well. All Mr. Chambers has to do to achieve this is simply reduce Cisco Systems $44 billion in cash hoard, by paying a one-time dividend like Microsoft did years ago. Just like Apple (AAPL), Cisco Systems management is just sitting on way too much cash. And since cash is only earnings 1% at best these days, a one time special dividends by both companies would increase their FROIC scores considerably.
I believe after the rating agencies downgrade Europe and the markets correct, that we may just see some kind of special dividends from Cisco Systems. The company cannot grow quickly without increasing its FROIC, and 1% interest on $44 billion in cash is not something Mr. Chambers should be proud of.
Disclaimer: Please note, investments involve risk and unless otherwise stated, are not guaranteed. Past performance cannot be used as an indicator to determine future results. Strategies mentioned may not be suitable for everyone. The information contained in this article represents the opinions of Peter "Mycroft" Psaras, and should not be construed as personalized investment advice. Before acting on any information mentioned, it is recommended to seek advice from a qualified tax or investment adviser to determine whether it is suitable for your specific situation.