Exxon Mobil (NYSE:XOM) is widely recognized as one of the best companies in the world; this grandchild of Rockefeller's Standard Oil Company is an extremely efficient company that has provided huge returns to its most faithful shareholders; in 2011 alone it has earned more than $40B on $470B revenue, which corresponds to a 9% profit margin, and is currently selling at an interesting P/E ratio of 10. Impressive results and cheaply priced. But what if i told you that there is another energy company that has done even better than Exxon and is selling at a P/E ratio slightly above 3? Hard to believe, but that company exists and is Gazprom (OTCPK:OGZPY). Take a look at these figures for the year 2010:
| | | |
| --- | --- | --- |
| --- | EXXON MOBIL | GAZPROM |
| REVENUE | $383B | $120B |
| NET PROFIT | $31B | $32B |
| NET MARGIN | 8% | 26% |
| RETURN ON ASSETS | 13.5% | 14% |
| PRICE / CASH FLOW | 7 | 2.76 |
| DEBT / CAPITAL | 9% | 15% |
(Source: Financial Times)
Also consider the numbers for the first half of 2011
| | | |
| --- | --- | --- |
| --- | EXXON MOBIL | GAZPROM |
| REVENUE | $230B | $75B |
| NET PROFIT | $21B | $25B |
| NET MARGIN | 9% | 33% |
This chart shows how Gazprom compares to other integrated Oil and Gas majors, including emerging markets players Petrobras (NYSE:PBR) and Petrochina (NYSE:PTR).
click to enlarge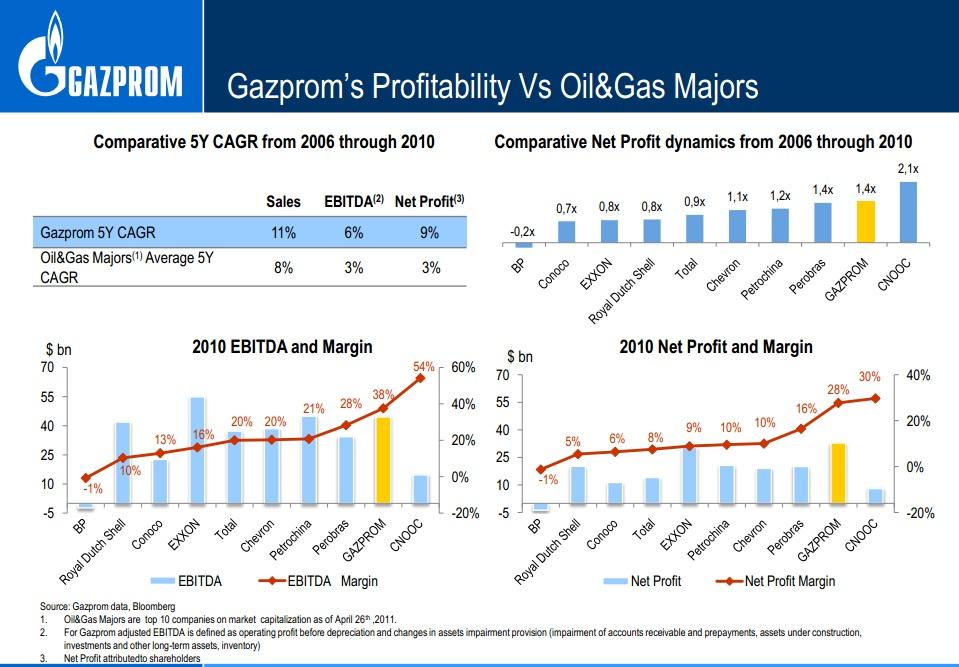 (Source: Gazprom IFRS 2011 Financial Results)
Gazprom's results are impressive and they definitely should command a higher stock price, but the shares are cheap for some reasons. The company is slightly over 50% owned by the Russian Government - as a consequence the Kremlin appoints six out of eleven members of the board, and their political agendas probably don't list minority shareholders' interests at the top. Domestic policies force Gazprom to sell its gas in Russia at less than a third of the export price and although the company is likely to be allowed to raise prices by 15% this year, this results in billions of dollars of profits left on the table.
Another factor putting downward pressure on the stock price is that the world has seen its gas reserves revised up after the recent shale gas boom; some reports state that Europe's gas reserves could go up by at least 50% if Poland's shale reserves are confirmed and, if that's the case, very soon the European countries will be much less dependent on Russian gas and Moscow will be forced to lower prices to be competitive. Moreover, Gazprom sooner or later will be required to pour billions of dollars in new projects to increase its declining production rates and to renew its aging infrastructure, that comprises more than 100,000 miles of pipelines, many of which are 30 to 40 years old.
At the same time, investors demand more transparency from a company that is still a relic of the Soviet Ministry of Gas, made up of hundreds of subsidiaries engaged in sundry activities such as aviation (Gazprom Avia), banking (Gazprom Bank) and television (Gazprom Media) and participation in questionable companies such as "Future Fatherland Fund", "Vega Investment Company" or "Nagelfar Trade & Invest Ltd - Virgin Islands", thus internally inefficient and suspected of lacking integrity. Adding uncertainty to the company's future prospects is the increasing competition from other gas sources in the strategic Chinese markets, where Gazprom is negotiating a 30-year contract to supply 30 bcm of gas a year. The construction of the announced 1,700 mile long Altai gas pipeline, linking Western Siberia to Northern China, has been put on hold and delayed indefinitely
Even so, I consider Gazprom a great value play at these prices. The current market cap is $133B; with expected full 2011 year profits of $40B, the P/E ratio is 3.3 , a figure that speaks for itself. If we assume that profits are going to grow a very conservative 10% a year, the PEG ratio is 0.33; as at June 30, 2011, the book value is stated at RR 6.9T while the market cap on the MICEX (Moscow Stock Exchange) as of today is stated at RR 4.2T hence the price to book ratio is 0.61. I dare you to find another large cap - not financially distressed - so cheaply priced.
Also consider that the company has announced it is going to increase its dividend in 2012 to RR 8.39 per share. With the current market price at RR 178, it translates to a very attractive dividend yield of almost 5%.
The International Energy Agency in the 2011 World Energy Outlook concludes that "The factors that drive natural gas demand and supply increasingly point to a future in which natural gas plays a greater role in the global energy mix" so considering all the aforementioned facts, even in the worst case scenario I see a big margin of safety in Gazprom at current market prices and good growth prospects, so I recommend you add it to your portfolios.
Disclosure: I am long OTCPK:OGZPY.