If you are a Tesla (NASDAQ:TSLA) shareholder, you may be very disappointed with the performance of the stock. On the last thirty minutes of the trading day on Friday, Tesla plunged almost 20%.
click to enlarge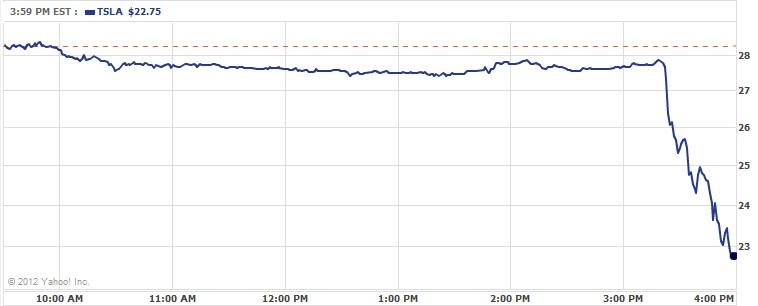 Click to enlargeSo why such a drop? Well it was announced that two executives that were working on the Tesla Model S are leaving. Chief Engineer Peter Rawlinson and supervisor of chassis engineering, Nick Sampson, are both leaving the company for personal reasons.
This news caused the stock to spiral downward in just the last hour of the trading day. While it is unfortunate to see execs leaving before the launch of the Model S, it doesn't mean much. Too be honest, the market may have just gotten ahead of itself on this. These engineers were working on the Model S for quite some time and now that the car is finally finished, it gives them the opportunity to focus their attention on their personal lives. The timing of their departures is understandable and it was nothing shocking.
A Tesla spokesperson even stated that Nick Sampson's role has been fully transitioned off to another executive. So it is not exactly clear why such a drop would occur. It could be possible that a large shareholder was looking to offload shares and was just waiting for the news to pop up.
While the stock fell 20% during the day, I believe buyers began to eventually enter. During the after hours session, the stock jumped up nearly 8%. Elon Musk stated that the Model S is not experiencing any problems and that the fall in the stock price was unnecessary. Musk mentioned that the Model S will be available before July.
I personally think the only thing surprising regarding the news was the effect that it had on the stock price. The timing of the departures is normal. The market often gives us great opportunities and sometimes we need to act on them quickly.
Disclosure: I have no positions in any stocks mentioned, and no plans to initiate any positions within the next 72 hours.